Playoff picks: Alabama and Florida State will meet for national title
Editor's note: Throughout the season, Bruce Feldman and Stewart Mandel have presented their weekly picks.
Below are their selections for the playoff seminfinals (all times ET). Enjoy.
***
ROSE BOWL: No. 2 Oregon vs. No. 3 Florida State (Thursday, 5 p.m., ESPN)
Mandel: For most of the season Florida State played average football against average competition. But bowl season is a new season, and I'm picking Florida State to upset Oregon in its bowl game. That's because none of the four playoff teams will benefit more from its December layoff and those extra few weeks of practice than the young and beat-up 'Noles.
Former starting defensive tackle Niles Lawrence-Stample, who suffered a pectoral tear Sept. 20 against Clemson and who FSU really could have used up the middle, is expected to return. Defensive tackle Eddie Goldman and cornerback Ronald Darby will be healthy, too. Meanwhile, an offensive line that coach Jimbo Fisher reshuffled midstream has now had extra weeks to gel, while important freshmen like RB Dalvin Cook and WR Travis Rudolph now have several extra weeks' experience. I expect FSU will play better against Oregon than it has all season.
The game will most likely be a shootout. Marcus Mariota will get his share of yards. But Goldman and the rest of FSU's athletic defensive front will fare better against Royce Freeman and the Ducks' rushing attack than it has against previous opponents. Most importantly, the 'Noles won't let Oregon put them in a deep hole early like in so many games this season. (If they do, the Ducks win.) Cook will gash Oregon's defense and create play-action opportunities for Jameis Winston, who I fully expect to shred Oregon's depleted secondary. FSU — much to the chagrin of neutral America — will win its 30th straight game.
Florida State 38, Oregon 34.
***
Feldman: Wait — Stew's picking FSU?!? After a few months of us bickering on our podcast, where people came away thinking we hate each other primarily over our disagreement over the merits of the 'Noles (Stew's been spectacularly wrong), he's now predicting FSU will defeat the Ducks? Not sure how I feel about this.
But I can't fault Stew's rationale. Cook and Rudolph have emerged as standouts, especially the freshman RB from Miami. The defense is healthier than it's been all season. Watch out for sophomore star Jalen Ramsey. He'll be everywhere for FSU on defense and will be a guy the nation's football fans will be buzzing about come Friday morning.
The Ducks, on the other hand, will be without their top coverman. In truth, Oregon will miss Ifo Ekpre-Olomu's leadership back there more than anything in terms of how the Duck DBs communicate. Even if Ifo played in this game, I'd still pick the Noles. Winston's not going to lose a college game at FSU. His leadership has carried his team through numerous shaky outings, because his confidence doesn't waver.
Oh, one other reason: FSU has the nation's best kicking game, too.
FSU 41, Oregon 35.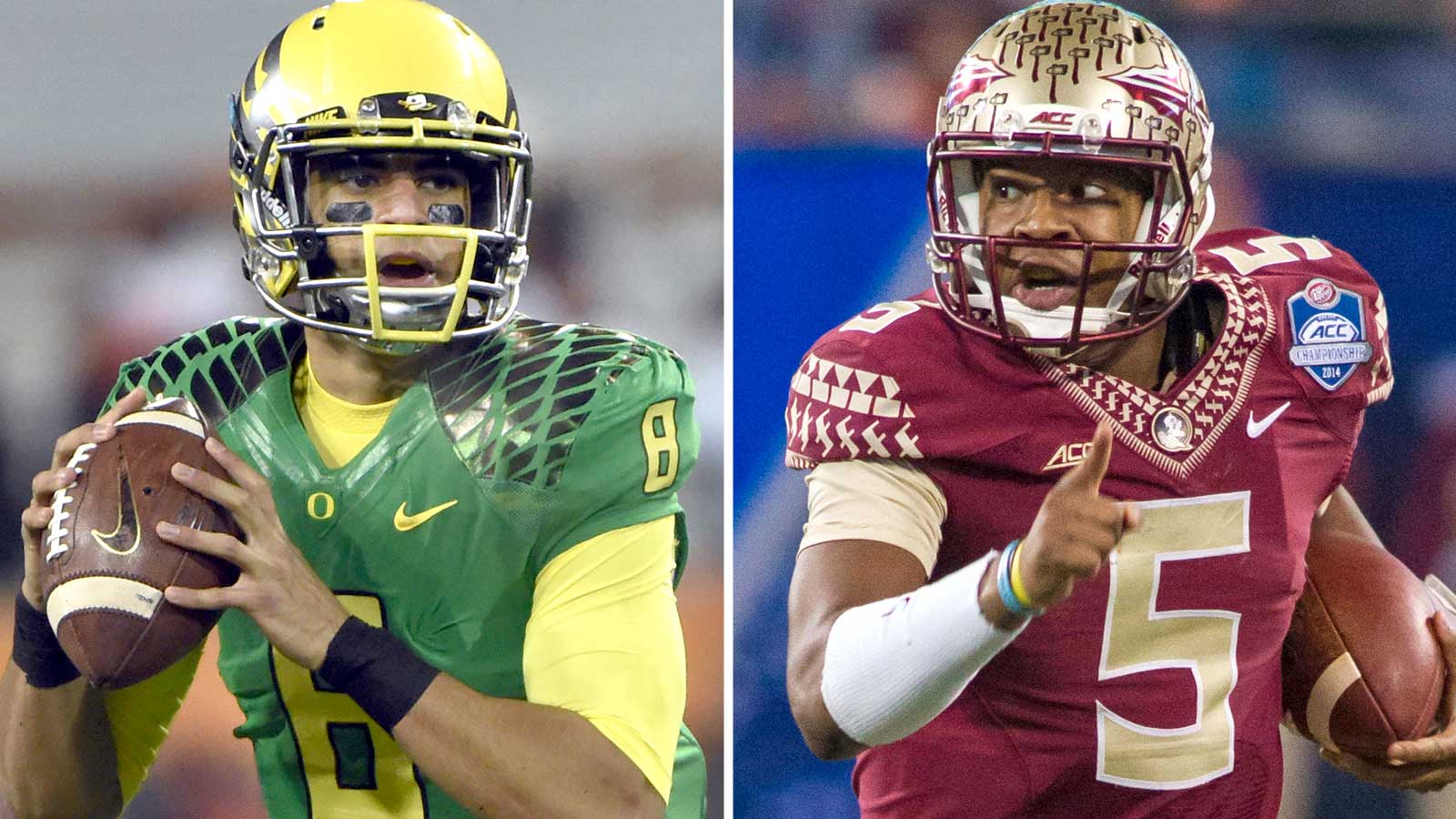 SUGAR BOWL: No. 1 Alabama vs. No. 4 Ohio State (Thursday, 8:30 p.m., ESPN)
Mandel: The chess match between Ohio State's Urban Meyer and Alabama's Nick Saban will be fascinating. I fully expect Meyer and offensive coordinator Tom Herman to put quarterback Cardale Jones in the most favorable possible positions, and to come out with some wrinkles they threw in during bowl lead-up. And I fully expect Saban and defensive coordinator Kirby Smart to adjust accordingly.
The Buckeyes' chance is for Joey Bosa and the rest of their talented defensive front to dominate their matchup with Alabama's good-but-not-overpowering offensive line. If they do, they can take the Tide's run game away and make them one-dimensional. Meanwhile, the Buckeyes' offense is all about big plays, and the Tide's defense has given up more than usual this season.
But even if Jones and Ezekiel Elliott have success early, I expect 'Bama to clamp down in the second half. I also think Ohio State did not face the caliber of offenses in the Big Ten to prepare them for the onslaught that Blake Sims, Amari Cooper, T.J. Yeldon and all those complementary playmakers can unleash. They have had their way with plenty of talented defenses already. They're going to make plays. And when they don't, Alabama's secret weapon, punter J.K. Scott, will make sure Ohio State has to drive most of the field to respond. They won't be able to for 60 minutes.
Alabama 31, Ohio State 20.
***
Feldman: As impressive as Cardale Jones was against Wisconsin, the Tide have much better athletes than the Badgers do. Still, I can see OSU hitting some big plays. They have a ton of speed, and Nick Saban's corners are a weak spot on the Tide D, according to rival coaches.
I think Bosa's a difference-maker, and I like Michael Bennett on the Buckeyes' interior, but my hunch is Bama will wear down the Ohio State defense and their backfield tandem will take over in the second half.
Expect the Buckeyes to keep it interesting into the second half, but Urban Meyer's program is still a year away from going toe-to-toe with a powerhouse like Alabama.
Alabama 37, Ohio State 27.