Five things the Jameis Winston era will be best remembered for
With Florida State losing to Oregon in the Rose Bowl, 59-20, and thus ending its 2014 season one game short of the national championship, Jameis Winston has a decision to make: The redshirt sophomore can return to FSU or enter the 2015 NFL Draft.
Winston is widely expected to turn pro — although he hasn't said which way he's leaning — and it would be a surprise if he comes back to school for a second time.
If that holds true, one of the most successful and polarizing eras in college football history has come to an end. Here are five things the Winston Florida State era would be best remembered for.
5. Unwavering confidence and brashness
Say whatever you want about Winston but give him this: The guy never publicly wavered in his belief in himself or his teammates. In the face of off-field trouble and on-field adversity, Winston's personality on the field never cracked and he helped the Seminoles win all but one of their games. "I believe I'm a confident guy, but I believe I have more confidence in my teammates than they have in themselves," Winston said in the week leading up to the Rose Bowl.
This pregame speech before facing No. 3 Clemson on the road last year — only the fifth start of Winston's career — sums up everything we'll remember about Winston's attitude and confidence.
4. His late-game comebacks
Winston almost made second-half comebacks a habit while at Florida State. The biggest one was when the Seminoles were down by four to Auburn with 79 seconds left in last year's national championship game. Winston drove the Noles down the field and hit Kelvin Benjamin for a TD with 13 seconds left to give FSU its first national title since 1999.
This year brought numerous comebacks — from Louisville to Notre Dame to Miami — but FSU couldn't come up with one more against the Ducks. Still, Winston's propensity for late-game magic will always be part of his Florida State legacy.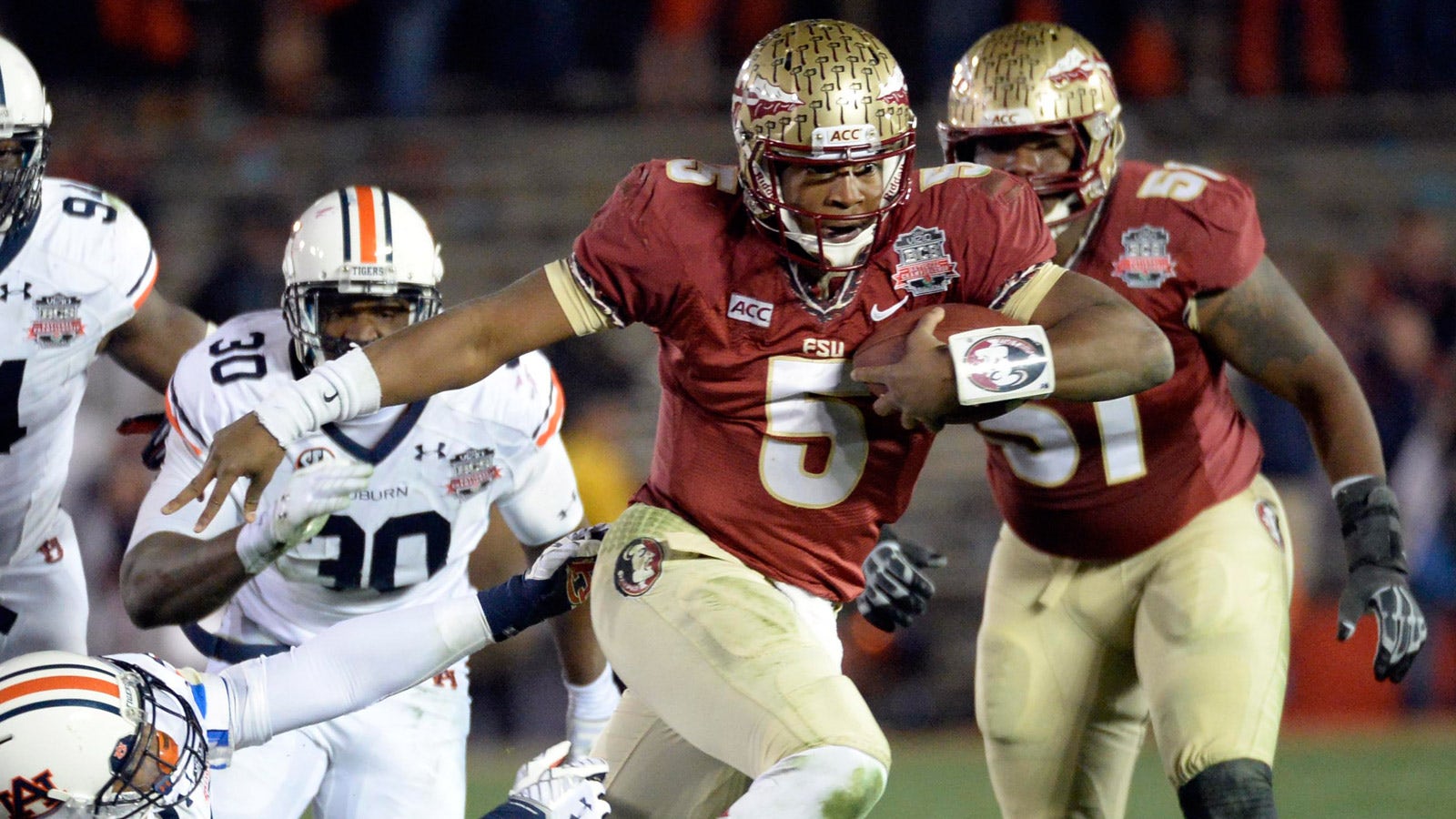 3. Youngest ever to win Heisman Trophy
As a redshirt freshman in 2013, Winston threw for 4,057 yards and 40 touchdowns with 10 interceptions while completing 66.9 percent of his passes. Following Johnny Manziel in 2012, Winston became the second consecutive redshirt freshman to win the Heisman and it wasn't close. He was first with 2,205 points, about 1,500 more than runner-up AJ McCarron of Alabama. At 19 years and 342 days old, Winston was the youngest ever to win the Heisman.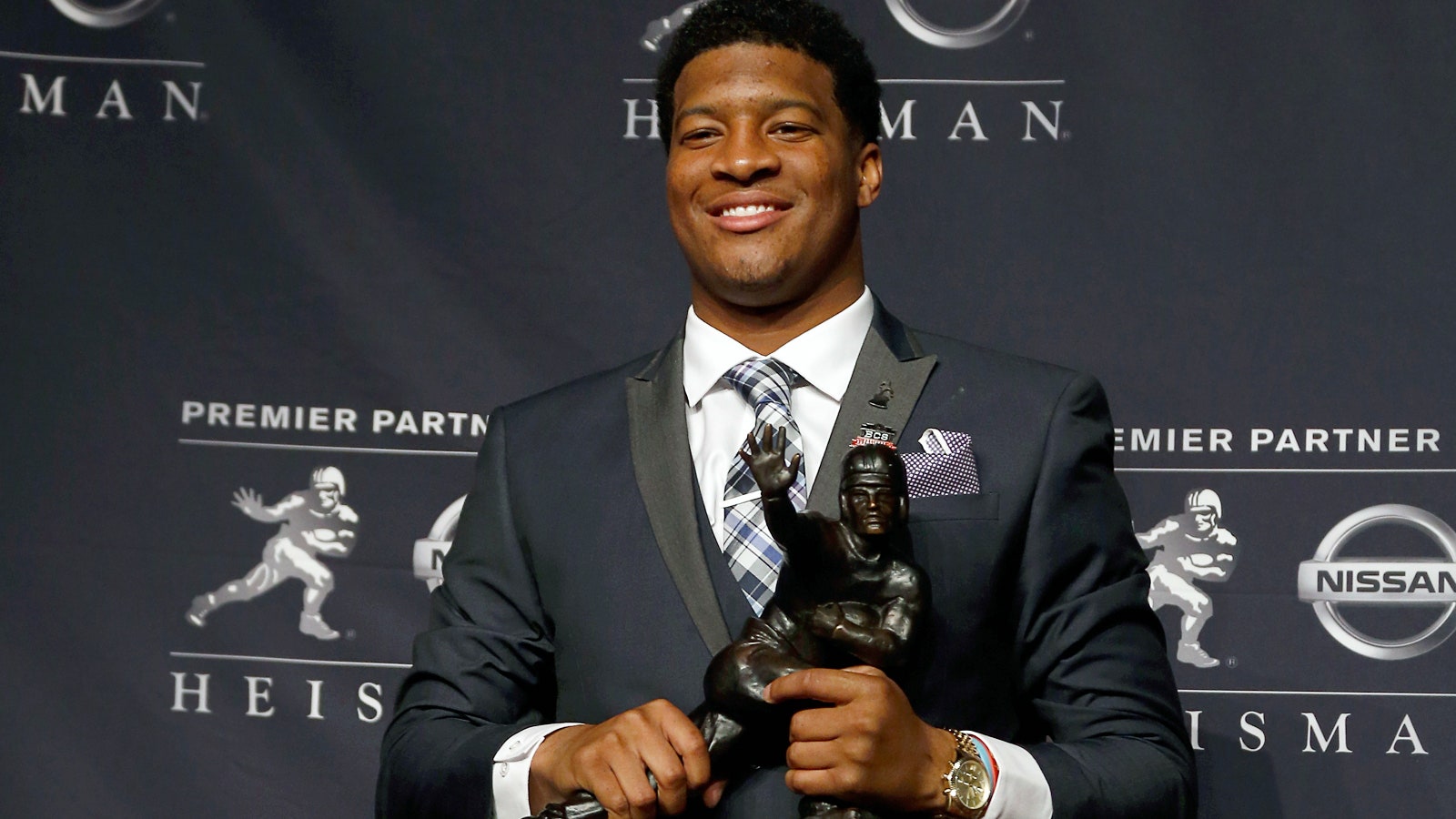 2. Florida State's on-field success
Because of all the off-field drama, what Winston and the Seminoles accomplished probably hasn't been appreciated enough. FSU won two ACC titles, a national championship and 29 straight games before losing to Oregon in the Rose Bowl. Andrea Adelson has a good piece on FSU's win streak. Some of my favorite nuggets:
• FSU tied Miami (1990-92) and Michigan (1901-03) for 13th on the all-time win streak list.
• Of the 15 teams to win at least 29 games, only six have come in the past 50-plus years.
• Out of the 29 opponents FSU faced during that streak, 19 were bowl teams.
Despite everything else the Winston era entailed, the winning stands out.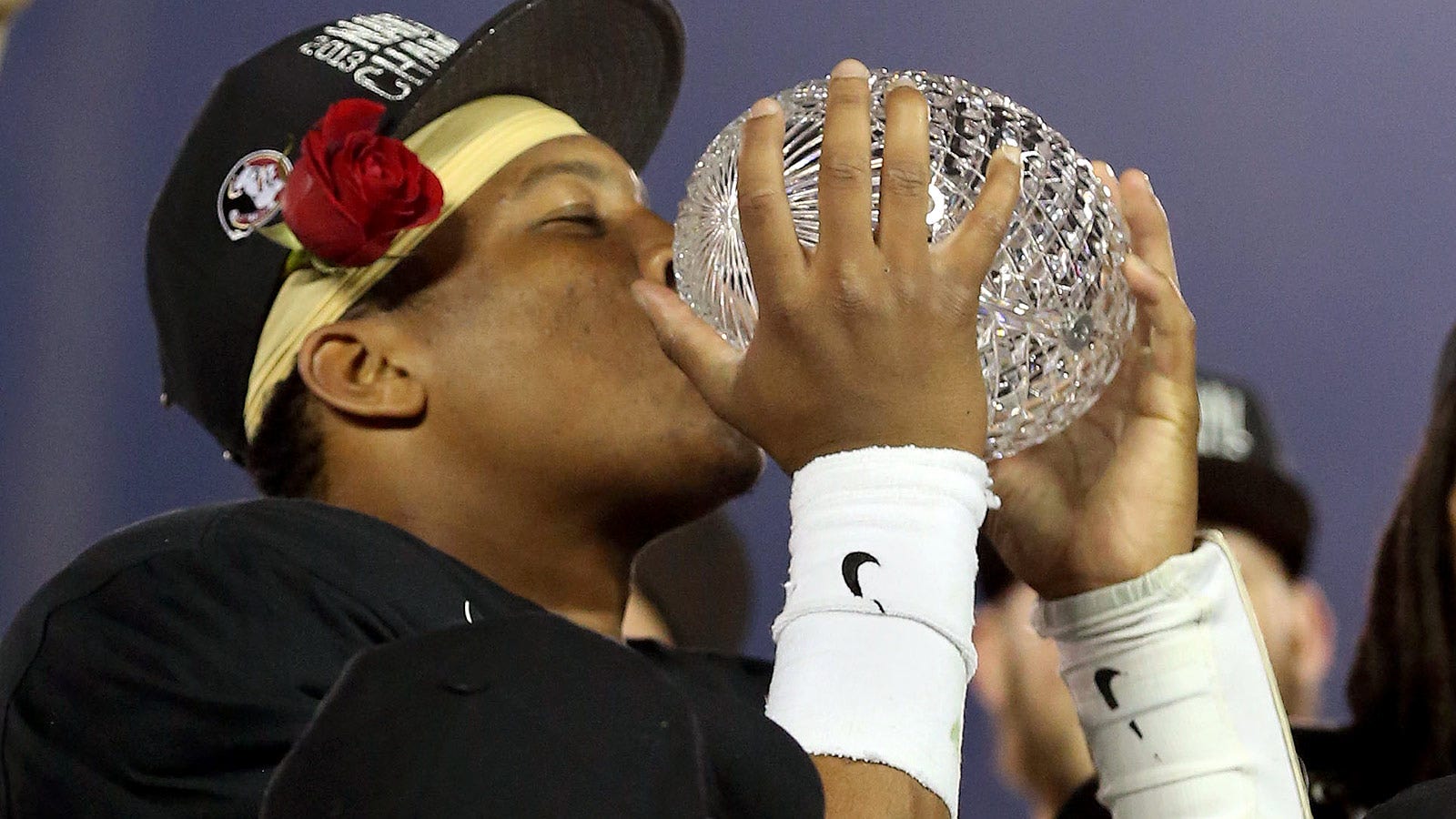 1. Off-field controversy
I'd like to remember Winston for the win streak, the national title and how mesmerizing he was as a player, but this is inevitable.
Beginning near the end of the 2013 season, when news broke that Winston was the subject of sexual assault allegations, there's been an almost non-stop flow of off-field news with Winston. In April 2014, Winston was cited for shoplifting crab legs for a local grocery store. In September, Winston yelled a lewd comment offensive to women — yes, while his sexual assault case was ongoing — on campus and was suspended for the Clemson game. In October, it was reported that FSU was looking into whether Winston accepted money for his signature; nothing came of it.
Although prosecutors determined in December 2013 there wasn't enough evidence to charge Winston with rape, the sexual assault case followed him for another year as FSU conducted an investigation into whether he violated the school's code of conduct policy; he was found innocent of that. If his accuser decides to take her case to civil court, the sexual assault case will stick with Winston even after he leaves Florida State.
Despite everything he and the Seminoles achieved in the past two seasons, if this is the end of Winston's FSU career, the off-field issues — and mainly the accusation of sexual assault — will be what the Winston era is most remembered for.
Considering the 2013-14 Seminoles went 29-1, won a national title and produced a Heisman-winning quarterback, that's a stark reality.
Teddy Mitrosilis is an editor and writer for FOXSports.com. Follow him on Twitter @TMitrosilis and email him at tmitrosilis@gmail.com.