Reported: Marshall starting QB out for today's game against Louisville football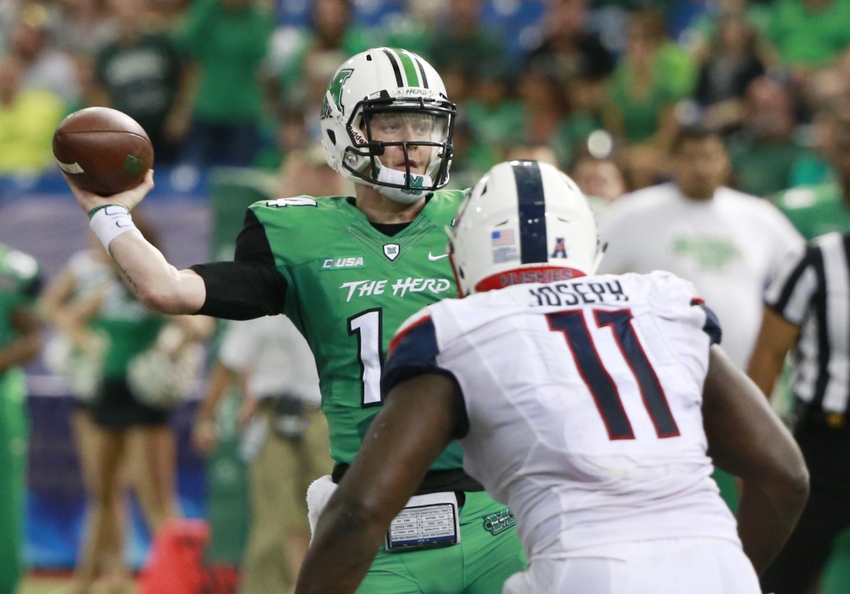 It has been reported that starting quarterback Chase Litton is out for tonight's game against the third ranked Louisville Football team.
This was already going to be a tough game for Marshall to try and win against a tough Louisville football team. However, things have just gotten tougher as it has been reported that starting quarterback Chase Litton will be out for tonight's 8:00pm contest.
Louisville is already a huge favorite going into this game, but this news should make the gap even wider between the two schools. It looks as though this is going to be a long evening for Marshall football fans.
The news was first reported by ESPN's Brett McMurphy a few moments ago:
Marshall starting quarterback Chase Litton will not play against Louisville on Saturday night, a source told ESPN.

Litton, a sophomore, suffered a concussion in last week's loss to Akron and was not cleared by the school's medical staff, a source said.

Freshman Garet Morrell is expected to make his first start against the No. 3-ranked Cardinals. He has completed 2 of 8 pass attempts this season.

The 6-foot-6 Litton threw for 722 yards and 10 touchdowns in the Thundering Herd's first two games.
Garet Morrell will be making his first career start against the best team that Marshall that probably ever faced in their program's history. Louisville should be able to throw a variety of looks and pressures at him this evening.
Marshall needed to be able to put up some big-time points in this game and it looks like that isn't going to happen after all.
The Cardinals should come in focused and take care of business this evening on the CBS Sports Network.
This article originally appeared on