Reminiscing On Rolling Toomer's Corner For The First Time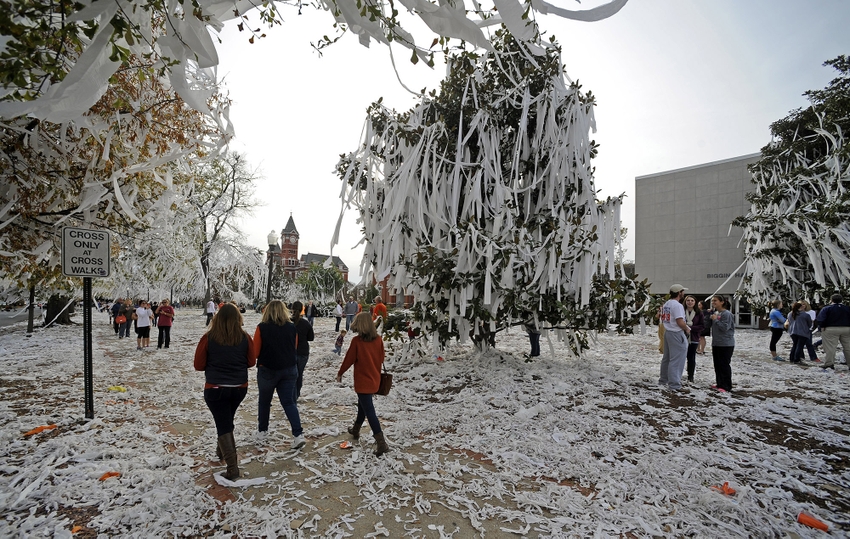 Football season is upon us once again, and with it, a beloved tradition returns to Auburn. Yes, the new trees at Toomer's Corner are ready to be rolled by the Tigers faithful after big wins just nearby in Jordan-Hare Stadium.
What is your favorite memory of rolling the trees? I'm sure everyone's story will differ and be as special to you as mine is to me, so I am here to tell you mine.
In 1997, my father took me down to Auburn for my first ever game on The Plains. See, I grew up in the middle of Big Blue territory in Kentucky, and most of my weekends were spent at Commonwealth Stadium watching another opponent beat the snot out of the Wildcats while Kentucky fans counted down the days until basketball season.
It was my first campus visit, and it wasn't just any game: it was the Iron Bowl. My favorite player, Dameyune Craig, had led Auburn to an amazing season, and just a simple win over the Crimson Tide would clinch the SEC West divisional title.
It wasn't so easy that night, but Ed Scissum fumbled, Jaret Holmes made a field goal, and the Tigers came away with the victory.
That is when I first experienced the magical scene that is Toomer's Corner after an Auburn victory.
Listen, I was 16 years old, and I always tried to act cool under any situation. That day, I was a 6-year-old kid at Disney World, and Toomer's was my meeting Mickey Mouse. The toilet paper was already everywhere as my father and I tried to maneuver our way through the madness. Testing out my arm, I picked up a loose roll on the ground and let it fly. It was a magical moment, but honestly, I was still a newcomer so my TP didn't travel too far.
We are lucky to have that Toomer's moment that we will never forget. My father, who was just happy Auburn won the game or else he would have to deal with an angry and moody teenage kid afterwards, still brings up that game.
For you, it might be the first time your parents or grandparents take you to the corner and let you roll around. For others, it might be the complete opposite: the first time they see their kids enjoy the festivities.
For me, it was November 22, 1997. It is a date that has special meaning for me. It was the day I fell in love with Auburn University and it hasn't diminished any to this day.
This article originally appeared on