Reflecting on the Ohio State 59-0 Beatdown Against Wisconsin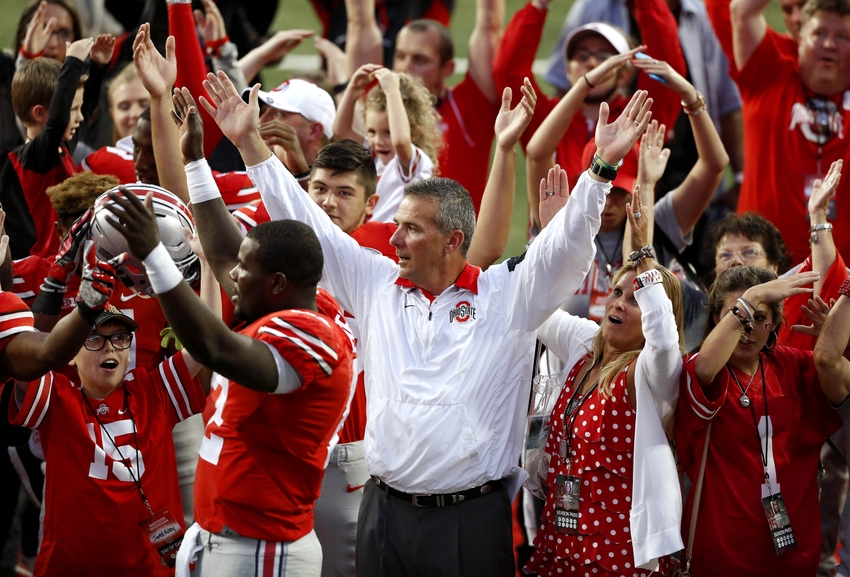 Don't you think the Badgers may be looking for revenge for the way Ohio State dominated Wisconsin in their last meeting?
One of my favorite Ohio State games that I have watched in my entire life is the 2014 Big Ten Championship. There's no doubt that Wisconsin will use that game to motivate its players, but before we move into preparation for the Saturday night showdown in Madison, lets reflect on the beat down from a couple years ago.
If I was the Wisconsin coach, I would sit down every single one of my players and make them watch the entire 2014 Big Ten Championship game in silence. As a player whose team went through that, you couldn't help but be extra motivated by thinking about a chance at revenge. As a Buckeye, we can use this as a chance to reminisce on a legendary game in the storied history of OSU.
As we all know, 2014 was a weird season. Right before the season, Heisman front-runner and Ohio State QB Braxton Miller suffered an injury that would put him down for the entire season. Some guy that nobody has ever heard of named JT Barrett was thrown into the starting position.
Now we know that JT has a chance to become one of the best ever to put on the Scarlet and Gray. At the time, all we knew is that JT was a 4-Star QB out of Texas that hasn't played a football game in two years.
JT's first road test was against Virginia Tech. His career got off to a rocky start there as he threw a pick-six that sealed the win for the Hokies. And just like that analysts were ruling out the Buckeyes of the inaugural College Football Playoff as they dropped to No.  22 in the AP Poll.
Not so fast.
JT Barrett and the Buckeyes rattled off 10 consecutive wins, slowly climbing up the polls after each win. There was hope. In their 42-28 win over That Team Up North, something horrible happened.
The Heisman candidate and valuable JT Barrett was injured, and was likely gone for the season. A second quarterback is one thing, but entering the post-season with a 3rd string QB is something that was not even a thought for Coach Meyer.
The Ohio State 3rd string quarterback was actually pretty well known before the game. Thanks to a not-so-smart tweet. "We ain't come here to play SCHOOL" is an actual quote from Cardale Jones. The internet really had fun with this when they found out Jones would be starting in the Big Ten Championship…
More from Scarlet and Game
Even if Ohio State won the B1G championship with a third string QB, there was still no way they would jump into the Playoff. TCU was ahead of them, and their season was over. They didn't even have a chance to lose.
Not if Cardale Jones had anything to say.
12 Gauge threw a 39-yard dime to Devin Smith on the opening drive of the game and the Buckeyes were off to a hot start. Cardale would only have to throw the ball 17 times that game, thanks to Ezekiel Elliott, but still managed to throw for 257 yards. Jones had 3 touchdowns. All longer than 35 yards, and all to Devin Smith.
Ezekiel Elliott's 220 yards and 2 TD's led the way to a convincing 59-0 victory over the nation's number 13 team.
This was enough for the CFP committee to move Ohio State up into the number 4 slot and give them a shot at the "unbeatable" Alabama Crimson Tide. That's a story for a different day.
This Saturday will be the first match-up between these teams since that storybook game, and it's likely going to be a lot different. JT Barrett will finally get his shot at the Badgers,
This article originally appeared on