Recap: Iowa Hawkeyes Can't Tame the Badgers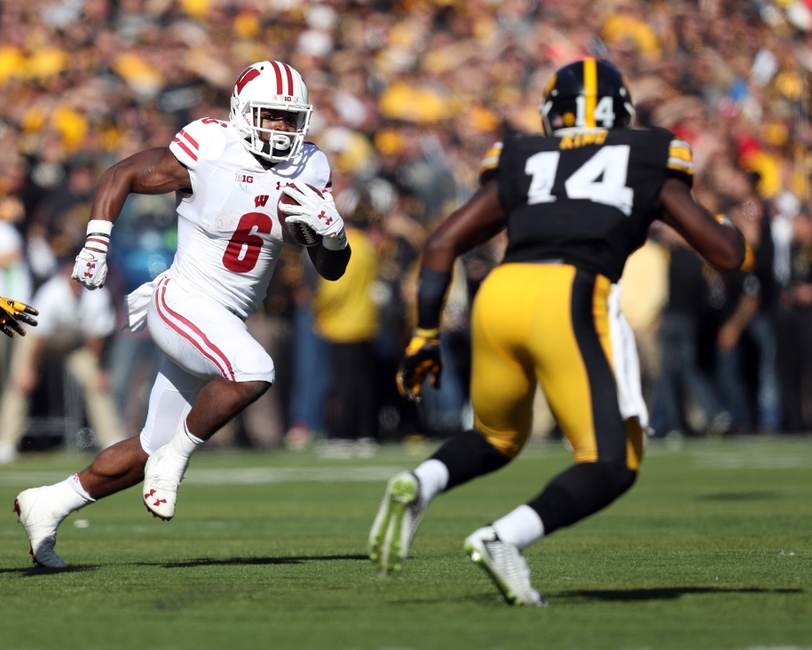 A recap of the Iowa Hawkeyes taking on the Wisconsin Badgers
The tenth ranked Wisconsin Badgers marched into Kinnick Stadium on Saturday afternoon and defeated the Iowa Hawkeyes, 17-9. The Hawkeyes fall to 5-3 on the season and 3-2 in conference play. Wisconsin snapped their two game losing streak and improves to 5-2 on the season and 2-2 in the Big Ten.
Wisconsin Badgers at Iowa Hawkeyes: Game Info, TV, Live Stream, Odds and More
Despite the Hawkeyes losing, this game was everything that people hoped and expected for. Both teams struggled to establish a ground game, defense dominated all game and it was exciting until the end. Besides Iowa's two field-goals in the second quarter, neither team scored more than once in any quarter.
Even though Iowa failed to find the end zone, the Hawkeyes offense fared better than some expected. LeShun Daniels Jr and Akrum Wadley averaged 3.9 yards per carry, gaining 79 yards on 20 carries. Also, C.J. Beathard didn't force passes, and he and Jay Scheel just missed connecting on a long pass that could have led to a touchdown.
When it comes down to it, both teams gave up long drives a couple of times this game, but neither team completely broke. Sure, Iowa gave up two touchdowns, but they also made a couple of really nice stands to keep Iowa in the game.
The defense stuffed Corey Clement on two goal-line runs before forcing a fumble and recovering it in the end zone to stop the Badgers from scoring a touchdown right before half that could have blown the game open.
Then in the fourth quarter, after allowing Corey Clement to run for a 34-yard gain, the Hawkeyes ended up holding the Badgers to a field-goal late in the fourth quarter. It did not make a difference in the end, however it kept the Hawkeyes in the game, nonetheless.
The difference in the game was that Wisconsin managed to make a couple of big plays and Iowa did not. Drops hindered the Hawkeyes all afternoon and Wisconsin had a couple of big gains to set them up for scores.
Still, despite a 17-6 deficit late in the fourth quarter, Iowa showed what this team is made of and never gave up. Desmond King returned the ensuing kickoff 77 yards to Wisconsin's 23. A couple of plays later Noah Fant caught a touchdown, but this week the booth overturned the call after it seeing that the ball hit the ground during the process of the catch. Iowa's comeback effort goes unrewarded, but it's great to see a team never give up.
Barring upsets over Michigan and Nebraska, Iowa's hopes of repeating as Big Ten West champs are bleak at the moment. They had their chances to win and gain momentum, although their offense could never do enough to find the end zone.
Quick Hits
Akrum Wadley led the team in rushing (10 carries, 44 yards) and receiving (7 catches, 72 yards).
Besides Clement's 34-yard scamper, Iowa did a good job holding him in check. Clement ran the ball an astounding 35 times for 134 yards and touchdown — also had a lost fumble on 3.8 yards per carry.
Wisconsin changed quarterbacks in the second half from Alex Hornibrook to Bart Houston. Hornibrook threw for 197 yards on 11-of-19 passing.
Eight different Badgers caught a pass on the afternoon.
Wisconsin dominated the time of possession (37:02 – 22:58) and had nearly double the yards (423 – 236), yet Iowa managed to stay close the whole way.
Iowa only committed five penalties, a week after committing 12. Although, Wisconsin had no penalties on them.
The Hawkeyes will be off next week, but in Happy Valley the following week to take on Penn State.
This article originally appeared on