Recap: Iowa Hawkeyes Bounce Back, Sort of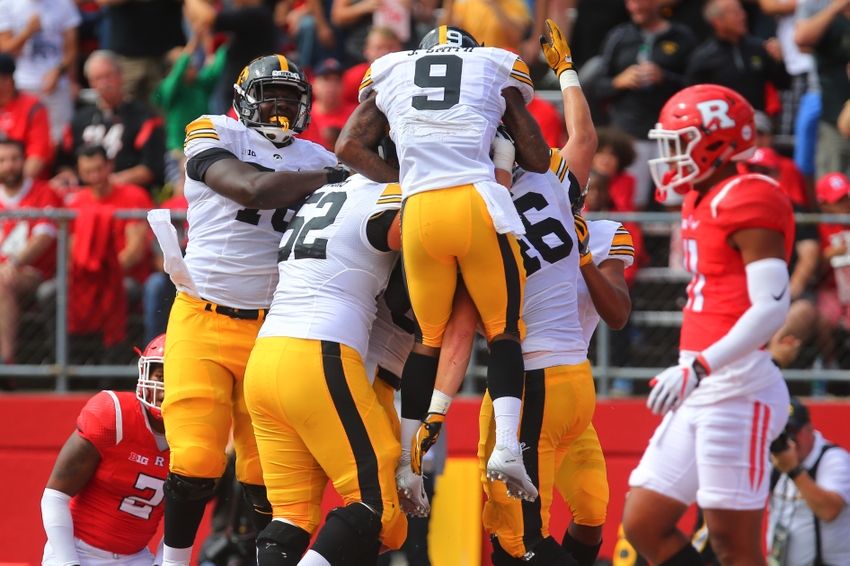 The Iowa Hawkeyes somehow escaped with a win over Rutgers
I looked down at the clock in the third quarter and saw there was just three minutes left. Somehow, through 42 minutes of Saturday's game between the Iowa Hawkeyes and Rutgers Scarlet Knights, they combined to score just seven points. The Hawkeyes were leading a brutally played game 7-0 heading into the fourth quarter.
The Hawkeyes and Scarlet Knights each scored a touchdown in the fourth quarter, ending the game with Iowa on top, 14-7. In one of the worst played games in college football up to this point, the Hawkeyes escaped with a win and start conference play 1-0.
Even though the Hawkeyes escaped with a win, it's safe to say they played even worse this week. Their refusal to try to establish a ground game early in the game was confusing. C.J. Beathard isn't a bad quarterback, although Rutgers forced him to scramble a lot and delivered a lot of big blows on him.
Beathard finished the game only completing 12-of-23 passes for 162 yards and a 36-yard touchdown pass to George Kittle in the first half. He also ran for 37 yards, although that number is somewhat deflated due to the couple of sacks Rutgers had.
On the ground, Akrum Wadley and LeShun Daniels Jr both had an equal part of putting away Rutgers late. Following a forced fumble and recovery by Brandon Snyder in the fourth quarter, Wadley tiptoed down the sideline for a 21-yard touchdown on the next play. He finished the game with 84 yards on 12 carries and a touchdown in his home state.
Daniels, on the other hand, had a couple of crucial runs on the Hawkeyes final drive after they forced a turnover on downs. The Hawkeyes needed to run out the clock, and a big 12-yard gain on third and seven put the nail in the coffin for Iowa's victory. He finished the game with 77 yards on 13 carries.
Still, the Hawkeyes continued to try to get something going through the air. Their receivers couldn't get open all game, and Beathard continued to take on big hits, as well. After Beathard was forced to leave the game against the Bison a week ago, it seemed mind-boggling why Kirk Ferentz refused to try to establish a run game, rather letting his quarterback sit in the pocket when Rutgers' secondary continued to shut down Iowa's receivers.
Defensively, the Hawkeyes did their job. There were a couple of times that penalties ruined drives for both sides, although the defense kept Rutgers out of the end zone for most of the game. The Scarlet Knights didn't score until 12:45 remained in the game. At that point, it was tied at seven, although the Hawkeyes offense is more to blame for the surprising tie game in the fourth quarter.
After being torched on the ground last week, Iowa's defense fared much better this week. They got off to a rocky start when Robert Martin gained 59 yards on eight carries in the first quarter, however Martin only finished with 106 yards on 21 carries. The Hawkeyes held him to just 47 yards on 16 carries in the final three quarters — 2.9 yards per carry.
Sure, Martin had a couple of big runs here and there, but he didn't consistently run for five yards up the heart of the defense the whole game. Despite the Scarlet Knights owning a mediocre offense, Martin is one of the few bright spots.
Iowa caught a break, though, when Janarion Grant left with a serious ankle injury in the second quarter. He caught a short pass that went for 76 yards down to the three yard line. It was an impressive display as Grant weaved through defenders, although Jim Thorpe winner Desmond King missed a lot of tackles trying to take him down.
When he finally took him down, he stepped on his ankle, forcing him to leave the game. He didn't return to the sideline until late in the second half when he walked back with a big boot and crutches.
The Hawkeyes stopped Rutgers four straight times from inside the five following Grant's big gain. It was evident that the loss of their big playmaker took a toll on them that drive and during the rest of the game. Grant had all five of Chris Laviano's completions prior to getting hurt, therefore it's clear why their passing game struggled all game.
Rutgers drove down the field late in the fourth quarter, however Iowa stopped them on downs inside the 20. Despite the time possession battle being fairly even, their defense still looked a little tired in the fourth quarter. Luckily, another fourth quarter score didn't happen this week.
It was a very ugly game the whole way, but Iowa went into New Jersey and escaped with a win.
Quick Hits
Both defenses benefited from multiple penalties halting drives. It seemed like whenever a team started to gain momentum on offense, a big penalty forced them back into a second/third and long situation.
C.J. Beathard continued to hold onto the ball too long, and never formed chemistry with George Kittle and Matt VandeBerg.
Quarterback Tylin Oden came in for a couple of plays for Rutgers and had three runs for 13 yards. He almost broke a long touchdown run on his first play.
Both teams had chances at short field goals, however both teams went for it on fourth down and didn't convert. A questionable decision, for Kirk Ferentz considering the Hawkeyes had failed to get on the board up to that point.
Arguably the best game for the Hawkeyes in terms of pressure on the quarterback. Finished with four sacks and didn't give him a ton of time all game. Luckily, though, Laviano overthrew many open receivers.
Iowa's offense needs to get better fast. Can't rely on the defense to keep them in games every week.
The Iowa Hawkeyes will host the Northwestern Wildcats next weekend for homecoming weekend. The game will kickoff at 11AM CT.
This article originally appeared on