Razorbacks Welcome LSU, Memories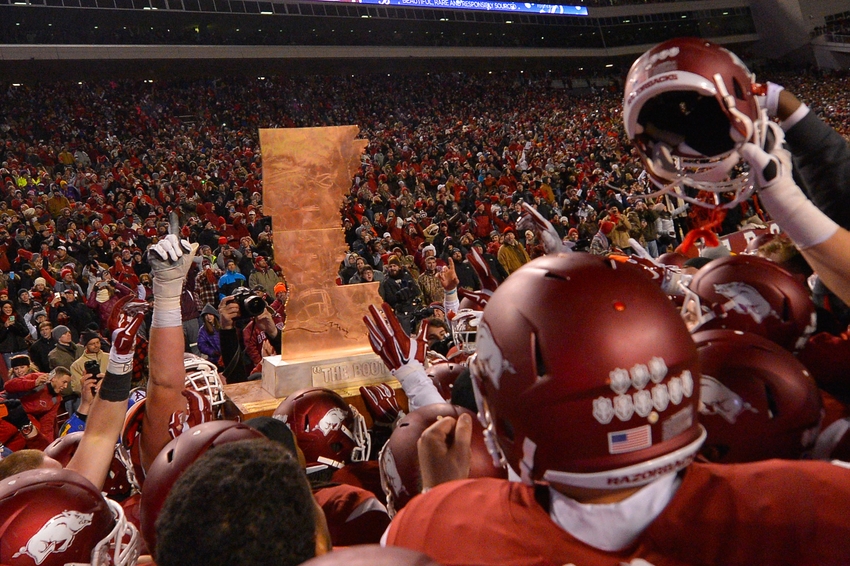 Reflect back throughout the SEC era of Razorbacks Football. Now, within those twenty-four years, what are two of the most memorable plays that come to mind?
If your responses are the Miracle on Markham and the Miracle on Markham II (also known as the Madness on Markham), then you are probably on par with a lot HOGS fans who have followed Arkansas Football since before the Obama presidency. The first "Miracle" (in 2002) featured an 81-yard march down the field, using 25 of the last 34-seconds, including two long  passes from Matt Jones.
The quarterback had only completed two passes the entire game before connecting for 50-yards to Richard Smith. Following an incomplete pass, Jones threw a tight spiral to the back corner of the end zone to DeCori Birmingham to for a 31-yard touchdown to tie the game. David Carlton sealed the Razorbacks 21 – 20 victory with a 35-yard extra point due to an excessive celebration penalty. No matter the result, the victor of that game would be the West's representative in the SEC Championship Game.
The Second Miracle
The latter of the two games came in 2008 at the close of Bobby Petrino's first season as head coach, as well as Casey Dick's last game as a Razorback. The situation being very similar to the one that prior squad had experienced on the same field at War Memorial Stadium in Little Rock, saw Arkansas down late with minimal hope of a comeback.
That is until on a late heroic drive, and with 22-seconds remaining, Offensive Coordinator Paul Petrino called for "the bomb" instead of a safer option on '4th and 1', turning what would have been criticism into praise. London Crawford caught the ball in both the same fashion and the end zone corner as Birmingham had done six years earlier. There were so many other happenstances and dramatic occurrences surrounding this game, however,  one that every fan can also recall is the final score, Arkansas – 31, LSU – 30.
 Flash Back to the Now
Since Arkansas's inclusion in the SEC, this game has seen changes. What once was always played on the Friday after Thanksgiving on CBS, has been moved to an earlier season's slot. Also, the game that was always held in Little Rock for our home option (with the exception of the first game in 1992, yet still leaving many fans often stating "I've seen every SEC team in person with the exception of LSU") has been moved to Fayetteville. Meanwhile, one thing that has not changed is that this game has so frequently had major bearings on the SEC West, awarded bowl games, and even a national championship or two (2003-04 & 2007-08).
This weekend there is not so much automatically at stake. With the loss last week to Alabama, LSU has fallen completely out of contention for an SEC West title, furthermore, with three losses, they possess not even the slightest hope of making the CFB Playoffs. Arkansas is in the same scenario – no SEC West Title, nor even a jester's chance at a playoff. However, what they both have to play for (outside of the Golden Boot) is pride, a ranking, and jockeying for the best bowl game possible. Both squads are the victims of tough schedules this season, and both need this victory for recruiting and to prove something.
What must happen?
This game has been analyzed from different aspects. Chris Jackson talked about how the HOGS plan to hold Leonard Fournette to under 100-yards rushing. Is it possible for the Razorbacks to do this two seasons in a row? We cannot allow him to extract revenge for knocking him out of the Heisman race last season. Carrying on with the discussion, can Arkansas's offense that embarrassed Gator Nation last week prevail over LSU's solid defense that held #1 Alabama to ten points this past weekend? Write this down: Special teams are going to be a major factor in this ballgame. Also, everyone knows that the Razorback offensive line has to play above and beyond their capabilities week after week to have any chance of protecting Austin Allen and procuring an SEC victory.
What about the momentum that has befallen the Ed Orgeron regime?
Sorry, Tiger fans, that is over. Alabama took the wind out of that proverbial sail. Now that the tide has ended, the resurgence of energy has been replaced. Replaced with what you ask? LSU knows that they now have no choice but to go out there and play football. The inspiration is over, and it is time to buckle up for the remainder of the SEC season.
And for The HOGS?
Meanwhile, with their victory over a then 11th ranked Florida team, Arkansas let it be known that they are as good as many thought that they were when they were ranked in the Top Twenty. Now the momentum stays on 'The Hill' for both senior night and continuing the streak for one of (if not the) coolest trophies in college football. Let's hope that the forward resurgence stays and that the emotions wear off quickly. Arkansas can easily lose this game to a very fast and talented group of Tigers. On the other hand, the Razorbacks are beyond capable of winning this game in good fashion. Dare I say this is what rivalries are made of?
LSU and Arkansas both believe that they are better than their records project. Which one will be able to prove it on Saturday? Go HOGS!!!
This article originally appeared on