Razorbacks Football: 2017 Signees That Play In Year One
Chris Jackson/FanSided via Razorbackers

Fansided
Now that we have a look at the 2017 Arkansas Razorbacks football class, we can play a little game of predictions.
The Arkansas Razorbacks football team next year is going to be very different after this 2017 class. Does that mean that this entire class gets playing time in year one? Of course not but the ones who do get time on the field will be game changers.
I am taking a look at this class and seeing who are the most likely newcomers to see game time in their first year from this class. I'll be selecting the three most likely to play players on each side of the ball.
How am I selecting these six players, you ask? Well, first I am looking at the needs Arkansas has right now. That's one specific group on offense and one on defense.
Secondly, I watched some of their film, which you can find over here and I looked to see who I think is ready right now or could be after spring ball to find playing time. Thirdly, and most importantly, I'm pretty much making semi-educated predictions.
Defense
So let's start things off with where Arkansas struggled the most, defense. Ask any casual Razorback fan out there and they will tell you that Arkansas needed help in the secondary badly. It's no secret.
So obviously the three players I am looking at from this class on the defensive side of the ball are gonna be helping out in this area. I believe that two of them could start and one of them will get some playing time in the rotation at some point in the year

CB
Jarques
McClellion
6-0, 180 lbs (Delray Beach, FL),

★★★
McClellion may not be the four or five-star Alabama prototypical cornerback but he's still a stud. Jarques is the 92nd ranked cornerback in the country and the 115th player in the state of Florida.
On film, Jarques looks like a video game glitch. What I mean by that is he covers his receiver so tight that he looks like he's got cheat codes enabled. His coverage is great.
He is pretty quick, running a 4.55 in the 40. He may not be blazing but he is fast enough to be able to make a pass breakup or a pick if he is within range to get there. What's the next best thing if he doesn't get a chance to get hands on the ball?
Get a shoulder into the receiver and wrap up of course. I see a lot of people on twitter think this is easy but it's not as simple as you think. Firstly, you have to be able to take good angles to get to the ball carrier. Jarques is really good at taking the best angles, something that even the best on Arkansas' team last year struggled with.
His speed, although it isn't on the level with the Flash or anything, is still useful in stopping the run as well. In his film, he seems to be good at reading an offense and sniffing out the run, which is great for the Hogs because, well Auburn.
With his ability to read the play as a run, he is fast enough to respond and get control over gaps which will help Arkansas out tremendously. I think he needs a bit of work but that's what the spring and fall are for right? I feel pretty confident that if he has a good camp, you're gonna see him this coming season.
S
Montaric
Brown
6-0, 182 lbs (Ashdown, AR),

★★★★
It's always nice to get a safety that Alabama offered to come be a Razorback. Especially when the recruit is from Arkansas. 247sports.com actually gave Bama a 60% chance and Arkansas a 40% chance on their crystal ball prediction for where Brown would go.
Montaric is the number one recruit out of the state of Arkansas and the 19th nationally at the safety position. I'm watching his film as I type this and can see exactly why he has the 4-stars, state and national recruiting ranking.
Montaric Brown is the real deal. His speed is about the same as McClellion with a 40 time of 4.50, but on the field, Brown looks a bit faster. Also, like Jarques, Montaric takes great angles to get to the ball and take down the carrier. Although he can hit hard, he does what few at Arkansas have done since 2014. He wraps up.
As I watch him, I can see that there's no doubt he will be seeing the field this coming season. Montaric is everything that Arkansas was missing at the safety spot. One thing that crossed my mind with him is now that Arkansas is going to the 3-4, Brown would make a good QB spy.
Want your voice heard? Join the Razorbackers team!
He has enough speed to help if a dual threat quarterback breaks contain as well. Arkansas struggled badly against the dual threat QBs last season but Brown could very well be a neutralizing threat on the defense to that type of opponent. Unlike what I said with Jarques, there's no maybe here. Montaric is gonna see playing time this coming season barring any injuries or being arrested.

CB
Chevin
Calloway
5-10, 180lbs 4.45-40 (Dallas, Texas,

★★★★
Chevin was the best player hands down that Arkansas landed on National Signing Day. Don't believe me? Well, let's check in with Bielema and company when Calloway made his announcement.
I have to say, my reaction was about the same. Chevin gives Arkansas' secondary some much-needed speed. He may only be 5-10 but Calloway is more than athletic enough to go up and get it. If I had to make one pick on defense from the 2017 Class to bet on whether they start or not, I'd put my money on Chevin. He's playing.
Chevin is another one that Arkansas stole from Bama. Not only did Arkansas land him over the Tide, but over 20 other premier schools as well as several other schools from lesser leagues than a power 5. We actually landed him over Alabama AND Texas so that's a double win in my book (Horns down).
[mobile_app align="right" app_name="fansided"/]
Chevin does everything right. The cornerback sticks to the receivers like glue and takes great angles like the other two guys on my list but unlike them, he does have the 4.4 speed. Defensively he's the number one player I am looking forward to seeing and the number one on my defensive countdown.
Offense
Now that we've got the defense problems figured out, let's flip to the other side of the ball. The offense wasn't the worst of the problems last year but it was in no way the savior of the team. Arkansas struggled mightily.
The biggest problem with the team last season was the offensive line, but that was a lack of experience. The biggest spot Arkansas needs help with after last season is at the wide receiver spot. After losing a good majority of their weapons it was a must the Razorbacks reloaded, which is exactly what Bret Bielema did.
[nextslide teaser="The Son of the Legend" slider="true"/]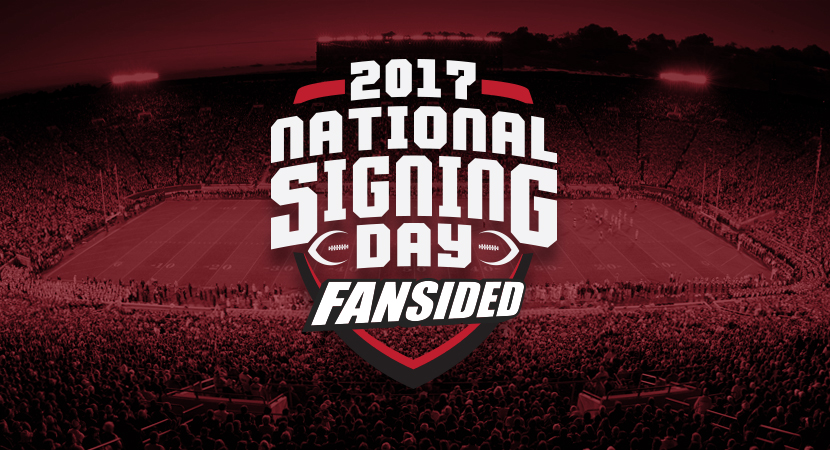 [mockdraft order="WR" firstname="Koilan" lastname="Jackson" position="6-3, 207 lbs (Little Rock, AR)" from="★★★" league="ncaa" teamlogo="arkansas"]
Koilan Jackson, son of Arkansas native and radio broadcaster Keith Jackson, is an in-state talent that many are saying is underrated. Not underrated in the sense that he's a little better than fans might think. No, some sports analysts are saying he could be the best player in this class.
There's some serious offensive talent coming in with this 2017 so for anyone who studies the game professionally to say that he could be the best is big time. So what makes him so good?
Well, it all starts with his ability to run routes. You can have the athleticism of Randy Moss and be a bad receiver because you can't run a simple slant or post. Watching the film, it looks like Jackson is solid on his fundamentals from the line to the point of contact with the ball.
[relatedstory url="http://razorbackers.com/2017/02/01/arkansas-razorbacks-football-recruiting-live-tracker/" teaser="Update: NSD Live Tracker and Early Enrollees"/]
What he excels at, however, is his yards after the catch. Much like I was talking about how a DB has to be able to take smart angles to make a play on the ball carrier, so do the receivers. Koilan takes really intelligent routes that make it a challenge for the DBs to get to him.
Also what I am seeing is that he has a great ability to move the ball through traffic. Yeah, he is a pretty large guy, 6-2, 210 lbs, but it's not his size that is creating the additional yardage or in some case positive yardage from behind the line. It's his great eyes and feet that allow him to find the lanes that will get the largest gain.
So is Jackson some sort of hybrid that reads the lanes like Collins and is as solid down field as Drew Morgan? We will see when he takes the field, but one thing I can tell you is that the more I watch his film, the more I think he may be the sleeper of '17.
[nextslide teaser="In case of doubt, attack – Patton" slider="true"/]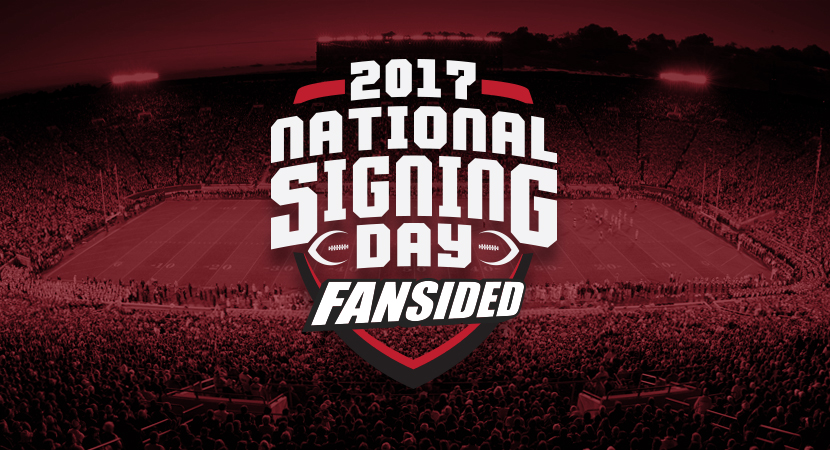 [mockdraft order="TE" firstname="Jeremy" lastname="Patton" position="6-6, 230 lbs JuCo Arizona Western College" from="★★★★" league="ncaa" teamlogo="arkansas"]
So that may have been a quote from General Patton and not Jeremy Patton but it still applies. Firstly let's acknowledge that Patton is ranked as the best tight end in the 2017 class and 9th ranked JuCo by ESPN. That's pretty sweet.
Patton has 2 years of eligibility so if he expects to find his way to the NFL, he needs to come out and do big things quickly, so I am looking for him to make a big impression on the coaches this spring. By fall, I expect him to be in the regular lineup.
He is a giant tight end (6-6, 230 lbs) that runs a 4.59 40 yard dash. I forsee a Jeremy Sprinkle version 2.0 or maybe even better. Patton runs great routes and has an exceptional ability to break coverage to get open.
It's what he does after he gets open that is what is more like another Arkansas tight end. Hunter Henry. WHOA! Before you start tweeting me @ChrisJacksonWPS with your "how could you say that" tweets, hear me out.
[apply_now site_url="razorbackers.com"/]
Hunter could get open. Hunter NEVER dropped a pass his final year. Patton has hands that are just as clutch. I don't know if you remember this, though, Hunter used to have a bit of trouble blocking. There's a difference with Patton in that he is a nasty blocker.
In this one bit of film, I think I am on pancake block three. I don't know honestly but I can tell you he looks good in his blocks. I think overall, he is a spectacular player that will have no trouble finding his way into the mix this coming season
[nextslide teaser="Zoom Zoom" slider="true"/]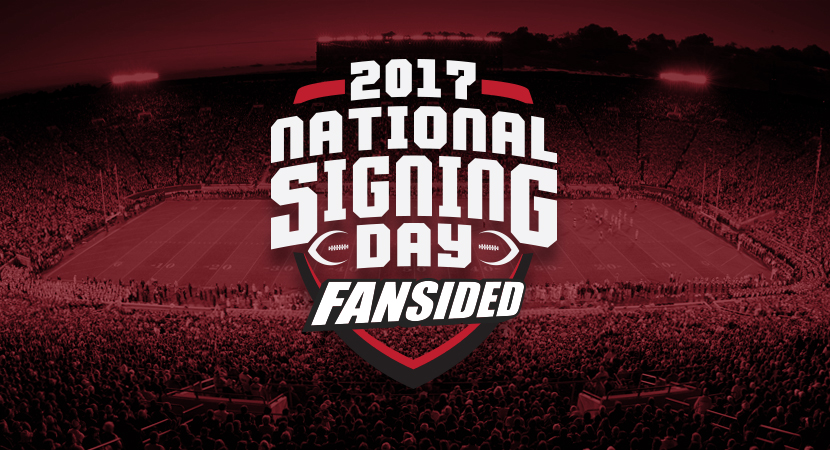 [mockdraft order="WR" firstname="Brandon" lastname="Martin" position="6-4, 205 JuCo Mississippi Gulf Coast " from="★★★★" league="ncaa" teamlogo="arkansas"]
Brandon Martin is a big guy standing at 6-4 and weighing 205 lbs. He is also really fast and I don't mean fast for his size, but I mean 4.4 in the 40-yard dash. That's a really big guy going down the field really fast and that is exactly what Arkansas needs.
I had a discussion with Ty (AKA Tyzilla83) about what we expected from Martin coming into this season. My first reaction after looking at just his stats was that I was doubtful he would live up to the hype. In fact, my first comment was "I hope he isn't another Dominique Reed."
Ty immediately told me to go a rewatch his highlights and that's just what I did. I watched and was starting to see where Brandon excelled in the ways that Reed struggled. Most notably in his route ability.
Want your voice heard? Join the Razorbackers team!
I won't sit here and talk about the downfall of one player to build up another but what I will say is after looking at the film and really studying it, I truly believe that Brandon Martin is the real McCoy. His ability to create space and find the ball on a well-run route is so natural to him that it looks like he could do it half asleep.
I guess there is a reason that 247sports.com had him listed as the number 2 JuCo wide receiver and the number 3 recruit in the state of Texas. His four-stars are solid and I really see him doing big things here at Arkansas.
Kind of like a few of the other members of the 2017 class, it makes me feel even better seeing the teams that tried to get him on campus. LSU, Mississippi State, Auburn, Florida, Georgia, Louisville, Kentucky, West Virginia, South Carolina and lastly Alabama all wanted the big speedster.
Brandon Martin is easily my number one pick for the 2017 class's offensive immediate impact player. Not only would it not shock me to see him in the rotation from the very first game of the '17 season but I wouldn't be shocked in the least if he was a starter.
This article originally appeared on