Razorback Football: The Achilles Heel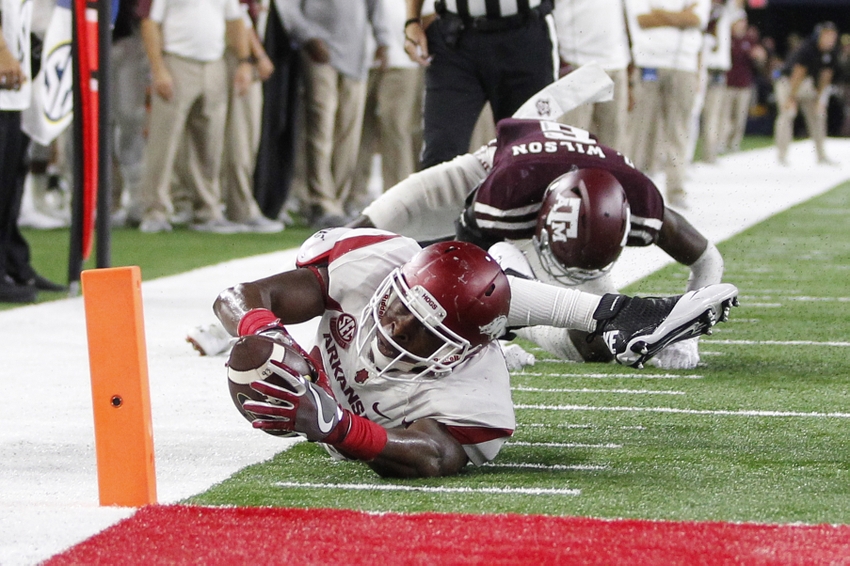 It was only two years ago that all across Arkansas, sports radio shows talking about Razorback Football, took call after call praising Rob Smith. Where are these callers now?
The year was 2014 and Arkansas had come so close to beating Alabama. I listened to sports radio all day and all I heard was how great this defense was. Ron from Midland is now a staple on Bo Mattingly after his rants back then saying to give Smith a raise.
Oh, how times have changed. Ron still calls Bo but I have yet to hear about his praises of the Razorback defensive coordinator. I look at this season and think to myself, what has changed from that team to this. Is it all Smith? Or is there and underlying issue no one has addressed?
Pass Defense
All offseason we heard nothing but that the secondary would be vicious going into the 2016 season. Before you starting frantically tweeting at me @ChrisJacksonWPS to say "Oh Ryan Pulley is going to be amazing or Brooks Ellis is NFL material.", please know that Arkansas is ranked 61st. What's that? All they have played is spread teams you say? So have other terrible teams that are better than Arkansas at defending the pass. It's college football. Everyone runs the spread. In 2014 Arkansas finished 37th in the nation in passing defense.
Run Defense
When a program hangs its hat on being a tough, physical style of team but can't stop the run, something is wrong. Arkansas hasn't even played Alabama or LSU and has given up 662 yards, putting the Hogs at 76th in the nation. The most telling factor in this is the rushing touchdowns allowed. Two years ago, the Hogs finished 12th in the nation against the run and gave up 11 rushing touchdowns that year. In the first four games this season, Arkansas has already given up 10 touchdowns to the run.
One can easily look at the two years and say, "Well, you don't have Spaight, Philon and Flowers. So, of course, they're not as good.". In my opinion, however, it has less to do with the recruiting and more to do with the coaching. For them to give way to the run THAT much is a problem with the scheme.
Watching the A&M film, it's easy to understand how Trevor Knight got a big portion of the yardage he did. As soon as the ball is snapped, Brooks Ellis immediately begins to shift and go for the running back. As he shifts, the middle of the field is open thus all Knight had to do was keep the ball, speed walk like a Saturday morning mall walker and hit the end zone.
Last year Arkansas had no defense whatsoever so offensively they had to put up stupid numbers, which they did. However, this year, there are struggles on both sides. Yes, the offense will gradually get better but unless Rob Smith can get this figured out, it might be a lot longer season than people thought. It is starting to look like unless Smith has the rare talent on hand, his ability to scheme is mediocre and basic.
More from Razorbackers
This article originally appeared on