Ranking the Three Worse Losses of College Football Week 9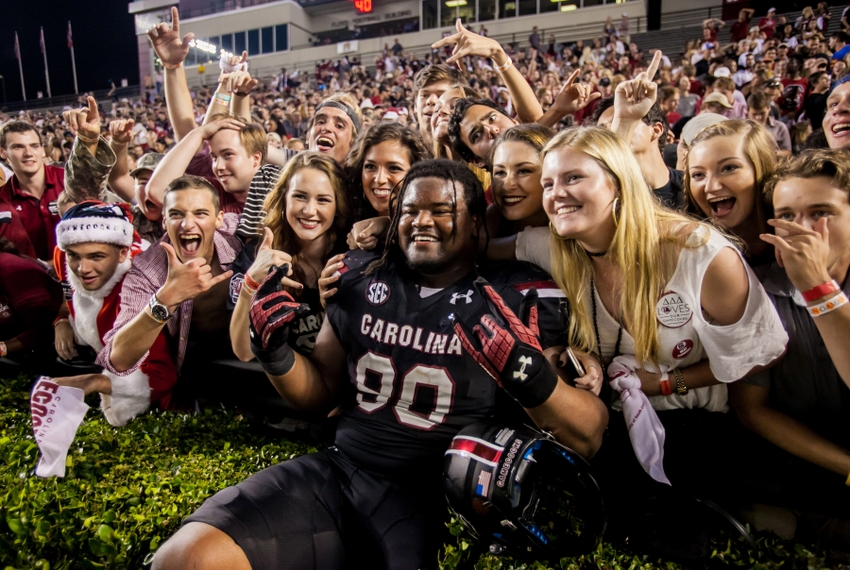 Another week of college football is in the books. Which three losses stood out as the worst of the worst this week?
There was actually quite a few damaging losses this weekend in college football. Whether you got blown out, saw your season goals destroyed, saw your destiny fall out of your hands or lost in heartbreaking fashion, there was a lot to choose from this week.
Navy saw some of their cushion in the AAC West disappear. Baylor suffered their first loss and essentially got eliminated from the playoff hunt. Nebraska joined Baylor as an undefeated squad suffering their first loss of the season. However, these three losses were not the worst three of the weekend.
Dreams were crushed. Goals were ruined. With the College Football Playoff rankings coming out on Tuesday and every week going forward, each loss becomes more and more devastating. Time is running out as college football enters it's final month. It's almost too late to lose now and have time to make up for it. The pressure is on and it's going to make for a wild month of college football.
Now, lets get to which losses in Week 9 were the worst of the bunch.
3. Boise State Loses to Wyoming
Boise State was poised to grab the Group of Five New Years Six bowl slot as the highest ranked team from a non-power five conference. However, their 30-28 loss to Wyoming on Saturday pretty much ruins that.
Wyoming is not a bad team as they stand at 6-2 now, but for Boise, they shouldn't lose to a team like that, even on the road. The loss doesn't just ruin their chances of making a big time bowl game, it put a real dent in their chances to win the conference.
The defeat dropped them one game behind Wyoming for first place in the Mountain West Mountain division. Basically now they need Wyoming to lose two conference games in the final month now with them owning the tiebreaker. So Boise has a hill to climb if they want to even make the conference title game.
A lot was lost when the Broncos were defeated by the Cowboys this weekend. They have an enormous hill to climb now to try to reach what they lost.
2. West Virginia Loses to Oklahoma State
West Virginia was flying high as a surprise top ten team and perhaps emerging with Baylor as the Big 12's last chance at getting a team in this years playoff.
That all came to a screeching hault as the Mountaineers joined Baylor in defeat in Week 9. Their 37-20 defeat ruins those chances. They make the list over Baylor thanks to the utter domination they suffered to Oklahoma State.
It was a disheartening way to lose. West Virginia was sloppy all game with their three turnovers, two of which came on interceptions from QB Skyler Howard. Howard was playing great football before this week but took a step back in the loss.
West Virginia can still win out and win the conference, but any playoff hopes are gone now. They still have a trip to Texas and home games against Oklahoma and Baylor to go. There's a legit chance we can now see this season spiral out of control for the Mountaineers after all their momentum was lost this past weekend in Stillwater, Oklahoma.
1. Tennessee Loses to South Carolina
The Vols were supposed to coast into the SEC Championship game. They were chasing Florida who figured to lose another game that would put Tennessee back on top in the east. All they had to do was beat South Carolina, Kentucky, Missouri and Vanderbilt, all teams they should handle.
Not so fast my friend.
They suffered a damaging defeat to South Carolina, 24-21 on Saturday. Making matters worst, Jake Bentley, the QB of SC, should be a senior in high school. Thanks to his year early graduation, he's at South Carolina and helped defeat the Vols.
The loss drops Tennessee to 2-3 in conference play. Now they need Florida to lose two more conference games while they have to win out. Any dream of reaching the playoff as a two loss conference champion is lost now. Even somehow reaching the title game and beating Alabama won't be enough. The committee won't take a three loss team.
Josh Dobbs played horrible again as he threw two interceptions and looked much worse than a high school kid at quarterback. This was supposed to be the year Tennessee was "back" and ready for prime-time. That ship has sailed and another season is lost for Volunteer nation as they take the crown of the worst of the worst of college football this weekend.
This article originally appeared on