Ranking the 3 Worst Losses of College Football Week 10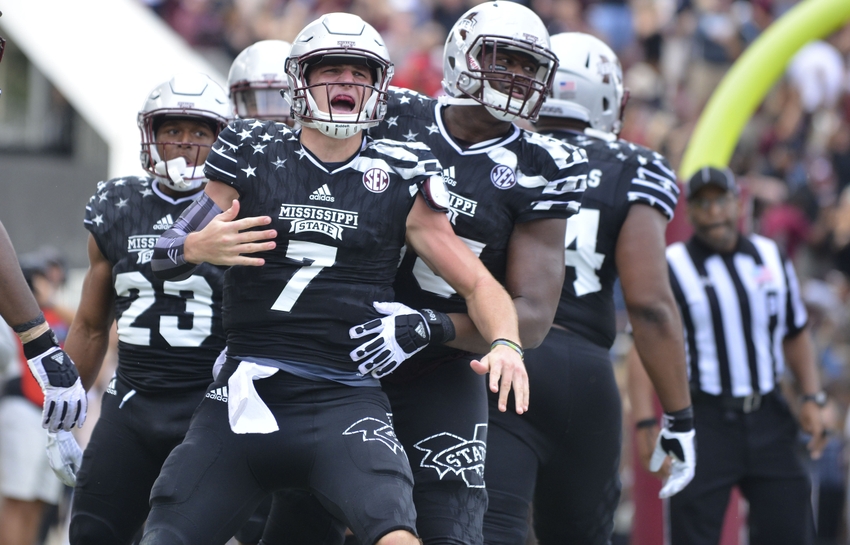 With college football Week 10 in the books, we are another week closer to the end of the regular season. Which losses were the worst of the worst this week?
We are entering the second week of the college football playoff rankings and we are seeing some big impact losses already. We saw five of the original teams in the first top 25 rankings go down this weekend.
There will be a bit of a shakeup when the new rankings come out this week. The madness is just beginning too. Every game is a must win now and teams will continue to fold under the pressure which will lead to upsets like we saw this week.
Not making this week's top three but deserving of mention is losses like Notre Dame, who lost to Navy for the first time since 2007 and drops to 3-6 on the season. A bowl game is now a long shot for the Irish. What a miserable season.
Joining them on the miserable season list is Michigan State who lost to Illinois of all teams and is now 2-7 on the season. Nebraska is another honorable mention for their 62-3 loss to Ohio State. They may not have been expected to win and they did lose their QB, but they should have been able to keep it a little closer than that.
Now for the worst of the worst.
3. Florida Loses to Arkansas
The Gators laid an egg on the road against the Razorbacks in their 31-10 loss on Saturday. Florida came in to the weekend ranked 11th and in first place in the SEC East. They essentially had a two game lead over Tennessee. That's down to one now. Their margin of error is much thinner now with LSU still to come on the schedule.
Florida was anemic on offense with QB Luke Del Rio leading the charge. He was just 19-of-37 for 229 yards and two interceptions. Florida only produced three offensive points all day as their only touchdown came on a pick-six.
They only had a total net yards of 12 when it came to rushing the football too. There was only so much their top defense could do when their offense wasn't doing their thing.
It's an embarrassing loss with so much on the line for the Gators. It was certainly a non-showing.
2. Baylor Loses to TCU
The 17th ranked Bears were throttled at home 62-22 by the Horned Frogs on Saturday afternoon. It was their second straight loss and really ruins their chances of a Big 12 title or a playoff berth. It was a pathetic showing.
They gave up 688 total yards to TCU, an average of over seven yards per play. TCU was moving the ball at will all game. They gave up a whopping 431 of those yards on the ground. They were simply demoralized by the running attack of TCU.
The loss drops them to 3-2 in conference play and they have a real good chance at a third straight loss this weekend with Oklahoma on the docket.
Obviously there are way more important things in regards to Baylor than football right now but they continue to be unable to get to the next level of success. Maybe they've hit their peak as a pretty solid program but will never get to that elite status.
With performances like this past weekend, they may never reach that next level. They have to dig deep and find something or else they could lose just as bad against Oklahoma.
1. Texas A&M Loses to Mississippi State
It was just a disastrous day for the Aggies on Saturday. They came into the game with the fourth ranking the first playoff rankings and perhaps would have been in if they won out. That ship has now left port and sailed far, far away.
The 35-28 loss to what was a 3-5 Mississippi State team who lost to teams like South Alabama and Kentucky, is brutal for Texas A&M. They now have no shot to win the SEC West, go to the playoff or even make a New Years Six Bowl. The loss extends beyond the scoreboard too.
They lost their star QB Trevor Knight to an arm injury on Saturday too. He was seen on the sidelines with a sling on during the game. Backup QB Jake Hubenak threw for 222 yards, two scores and an interception in his absence. He just doesn't bring to the table what Knight does.
It was an all-around disastrous day for the Texas A&M Aggies. The committee came out on Tuesday and stuck their neck out for them by ranking them ahead of Washington and then they come out and do this right after. It seemed like this could be the year they take the next step in the SEC but now it looks like it will end up looking like a typical season.
They surely were the worst of the worst that was college football losses in Week 10.
This article originally appeared on