Q&A: Former Clemson football player Matthew Knowles praises Dabo Swinney.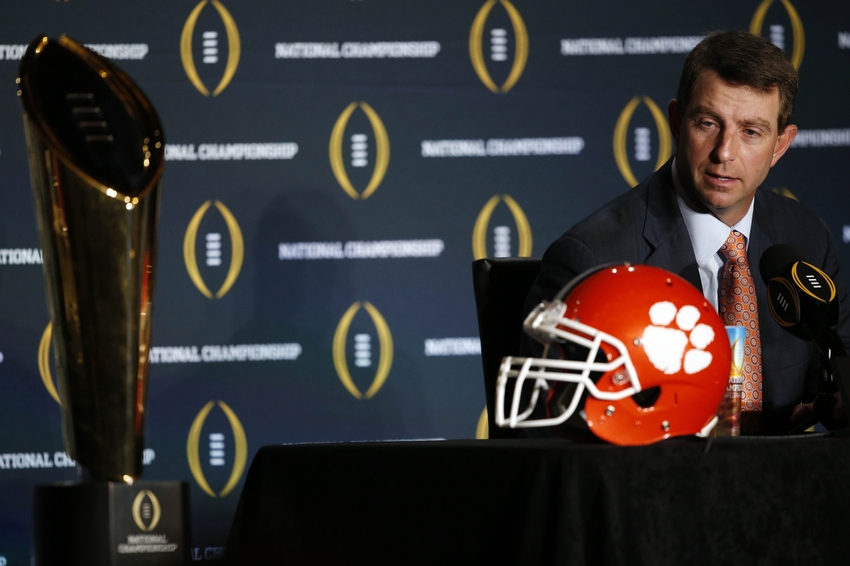 Clemson football coach Dabo Swinney has a winning program but his influence goes beyond the football field. His influence even goes beyond the borders of the United States. In fact, it can be seen as far as China.
One of his former players, Matthew Knowles has made a name for himself in China, and Knowles hasn't forgotten about his school or what his coach did for him.
He is currently filming in Beijing on the set of the movie, Asura.
1) I know that you are currently working on a film. Have you been able to keep up with Clemson football this season?
Yeah, as much as, I can from China. Its been exciting to follow it and everything.
2) Have you attended any games? 
I went to the National Championship game last year. I happened to be in LA, and I drove over to Arizona.  It was a great game. It didn't turn out like we wanted, but we should've won. We were the better team. It just wasn't our day.
3) What do you think of this year's team?
I think they are great. They are doing amazing and what makes this team great is that they have proven over and over again that they come through in the end. We had one loss and it was a nailbiter. I think this could very well be our year. I want another Alabama matchup and things will be different this time.
4) What changes have you seen with the Clemson program since your time there? You know nationally, social media wise, etcetera.
For sure, they have gotten a lot more coverage. Swinney has really changed the program and the perception of Clemson as a football team throughout the nation. Especially last year, it really really put us on the map as a top ten, top five team. For me, it's nice to be able to say Clemson because now everyone has heard of us, whereas before it was only football fans in general. But now everyone knows that Clemson is a big force to be reckon with.
5) Let's get into your newest movie. The film is called Asura. What would be a quick synopsis of the movie?
It's based loosely on Tibetan Buddhist mythology and there is a war between the different realms of heaven and earth and the Asura realm is one of the seven realms in Buddhist mythology. I kind of think of it as a mythological battle with Zeus, Aries, and Hercules all fighting together. But it's the eastern thinking of their own mythology, so Asura is kind of the God of war like Aries.
6) Are you and Damien Walters, a stuntman who worked on the film Captain America, The First Avenger, the only Americans in this film?
First of all, Damien is from England. But there are some other people in the film for sure. Several people from England including Bonetics Junior, the body contortionist who is mentioned in The Hollywood Reporter article. There is one girl from the states(LA). She is a famous stunt star and world champion martial artist, and she just doubled for Wonder Woman(2017). Most of the talents are amazing stunt and fighting people, because in our movie there are some of the most incredible stunts that I have ever seen. Some completely new things that have never been attempted. So there are a lot of real professionals like Damien, one of his students from England, the girl from LA, and a lot of people from Jackie Chan's stunt team.
7) I know that you can't reveal certain details about the film, because you are currently working on it. But describe your character and was there any extensive training of the physical nature or research for your part in the film?
My character's name is Rawa. He is basically the Buddhist equivalent of Hercules.
Before I started with the film, I had to go back to the gym and put on some weight, basically like I used to do for football. I tried to put on as much lean muscle as possible, because our director wanted me to be bigger. In three months, I put on about 20 pounds of muscle, and then I showed up to the film and for two months had weapons, Kung Fu, and ropes training along with choreographing fight scenes, because there are a lot of big battles in this movie. We were in there daily and it was like being in football camp again. I got to train with these incredible people who were teaching us how to fight on camera. This is a new experience for me. I haven't done much fighting or kung fu on film. In my background, I fought Muay Thai for awhile, kick boxed, and had a few professional fights. But it's very different when you're fighting on film versus in real life. So we had to put a lot of time and effort in learning how to look good and film well.
8) This film has incorporated the likes of Ngila Dickson(The Lord of the Rings) on costumes, Martin Hernandez(Birdman)on sound design, and Charlie Iturriaga(Furious 7)on visual effects. They have worked on some successful movies. I guess that speaks to the immense appeal of the film.
Absolutely, a couple of them have won Oscars and were Oscar nominees. It's a really strong crew.  Ngila won an Oscar for The Lord of the Rings. Our costumes are incredible as well. It's amazing to work with such a team, because they are experts and some of the best in the world. It's a new thing for China to get this many talented people to put together such a big film-it's one of the biggest things that China's ever done.
9) Asura is a $100 million movie and it's budget is by far the largest in Chinese movie industry history. This movie has created enough buzz that gaming, merchandising, and other business deals are probable in the future. That has to be exciting for you and the film. Maybe, we will see a Matthew Knowles action figure?
Yeah. If the film does well, it would be really cool to have an action figure come out. I loved playing with action figures as a kid, so seeing a Rawa action figure would be nice. Like I said before, our costumes are incredible. It would definitely be cool to see it at a costume party or see kids wearing that kind of costume during Halloween.
10) The lay person sees the life as an actor as glamorous and exciting. What excites you about acting and what drives you to continue pursuing it as a career?
Well mainly it is the artistic side of it. I'm very passionate about acting. I like being able to impact people through my emotions, portrayal of different characters, and different works of art. I would love to make as many beautiful works of art as possible.
11) Now give me a few things that make being an actor tough. Outside of the job itself.
For instance, being away on a film set, you can't just get away to go to your family whenever you want. I just missed Thanksgiving with my family, and I will likely miss Christmas, weddings, and anything else like that too. It can get lonely sometimes being out in the middle of nowhere on a film set for months and months at a time. You also deal with constant moving around and an inconsistent schedule. It has its freedoms though. When you are free you're truly free to do whatever you want. But when you're busy. You're locked down, and you can't really control your time or anything like that. Once you start a project, you have to finish it. You can't stop for anything. That's hard. A lot of people, who are not in the industry, don't understand why you can't schedule a vacation a year in advance or commit to things. It's because you never know your schedule, and sometimes you don't know what the next day is going to hold.
12) It all started with Clemson football. What is that one moment or person that inspired you to believe in yourself and pursue that dream.
A lot of people inspired me, but Jovon Bush  and coach Dabo Swinney stand out. I started out at Clemson playing Rugby and doing really really well, and I was working out at Fike and this big guy(Jovon) would come up to me while I was working out and he told me, "You should be playing in the NFL." I was like, "what, the NFL." I had never even played football in my life. He said, "No, you should play in the NFL." He told me that I had the right body and that I needed to walk onto the Clemson football team, tell them that I want to play, get my letter, and get signed in the NFL. What that did for me was taught me a lesson in setting goals and reaching for the stars and reaching higher than you think you can reach. Here I am, a guy who was cut from his high school team even though they really didn't cut anyone. But they cut me.
So that's what got it started. I went to talk to the coach, and I told him that I was doing well at rugby, and I was one of the best players on the team. I said, "I want to play football, my dad played football, and I think I can contribute to the team." Swinney was the receiver coach at that time. He was the one who was instrumental in getting me on the team, because he sent me over to head coach Tommy Bowden and Bowden let me on the team. That's what started me on this path. I had my sights set on the NFL, and I had this picture of what my life was going to be like. But sometimes you have to adjust to what's actually going to happen.
Looking back, I learned to aim high with my goals and to let all the things below come naturally. Thanks Coach Dabo Swinney. pic.twitter.com/KfGL7kB6nd

— Matthew Knowles (@actorMatthewK) November 30, 2016
All of a sudden, I found myself in China, and I saw another opportunity here and found something else that I was passionate about as well. When I first went to China, it was to do some volunteer work and Swinney supported me by donating $1000. He is a great coach and a great guy. Swinney, Jovon, and others taught me to set high goals and believe in myself and that has helped me with my life so far.
13) In your opinion, how will this Clemson football season end?
I think we will see Alabama in the National Championship again and it will turn out better for us this year. We have been through a lot of close games, and we know what it takes to win.
Matthew Knowles is a fighter in life and in Asura. He is also driven by his desires and Asura involves inner desires of individuals. So Asura is perfect for him.
As he continues to film, he hopes that Clemson and Coach Swinney have a little Asura in them, and they have the desire to fight their way to a championship.
More from Rubbing the Rock
This article originally appeared on