Projecting Where the Aggies Land in the Week 11 College Football Playoff Rankings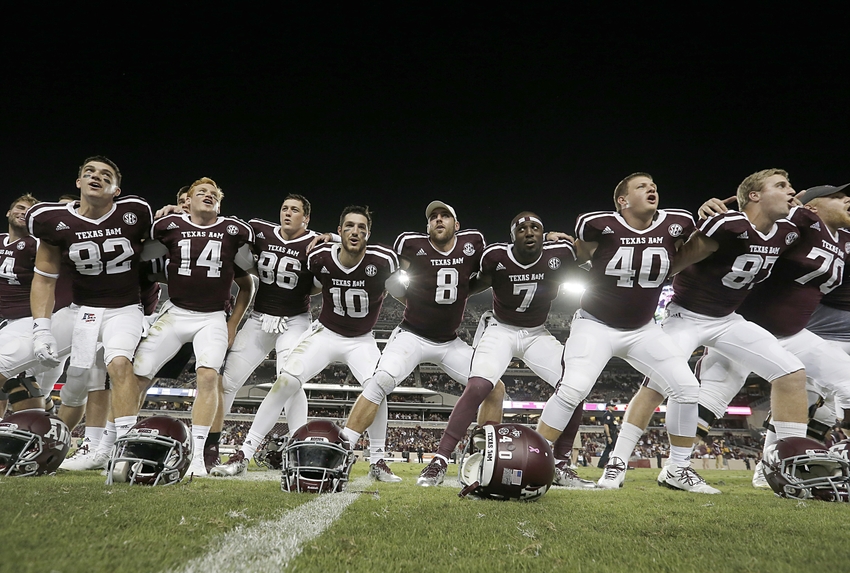 The Texas A&M football team shocked the college football world when they made the top four in the initial college football playoff rankings. They won't be in the top four, but don't expect the Aggies to fall that far this week.
Texas A&M and Nebraska were the only two members of the top 10 that fell this past weekend. The Aggies lost by 7 at Mississippi State and the Cornhuskers were obliterated 62-3 at Ohio State.
Without any more fuss, here are our projections for the Week 11 rankings scheduled to come out tonight. Last week's ranks are in parenthesis to the right.
Alabama (1)
Clemson (2)
Michigan (3)
Washington (5)
Ohio State (6)
Louisville (7)
Auburn (9)
Wisconsin (8)
Penn State (12)
Texas A&M (4)
Want your voice heard? Join the Gig Em Gazette team!
Breaking Down Our Reasoning
The media will be in a frenzy, demanding the Aggies fall 15 or 20 spots after their debacle in Starkville this weekend. That would be overreacting. The loss this weekend was a bad loss, but a loss to Alabama on the road isn't that unexpected. As the committee sees it, every team in the country would be projected to lose to Alabama in Tuscaloosa.
For rankings purposes, the Aggies should be looked at as a team with one bad loss, not with two disqualifying losses. For example, Baylor has losses against TCU (5-4) and Texas (5-4), two .500 teams. Those are both bad losses.
Instead, the Aggies should be compared in the same class as teams like these:
Oklahoma (losses to UH and Ohio State)
Penn Sate (losses to Pittsburgh and Michigan)
Utah (losses to California and Washington)
Florida (losses to Tennessee and Arkansas)
Texas A&M's "best loss" is better than all of those teams, while their "worst loss" is comparable, if not slightly worse. At the end of the day, it's an inexact science. Realistically, Texas A&M will probably get an edge over the majority of those two loss schools based on their strength of schedule and their loss to Alabama.
The first tier of teams have the best chances of a playoff birth: Alabama, Clemson, Michigan, Washington, Lousiville, and Ohio State. A&M now finds themselves in the next tier. It would be reactionary and silly to boot the Aggies from the top 10 given the quality of the teams in the second tier alongside of them. We'll find out on Tuesday evening.
This article originally appeared on