Projecting Ohio State's End-of-Season 2016 Stats After Week 3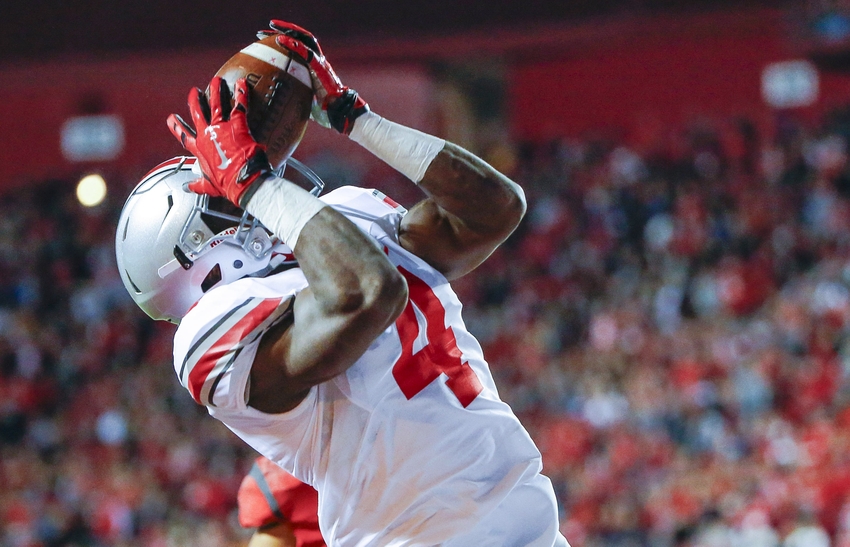 It could be a big year statistically for Ohio State.
Based on the difference in the caliber of Ohio State's competition in the first few games of the season and the caliber of its competition in its last few games, these numbers may not be accurate after Ohio State's twelve-game regular season schedule is played out. On the other hand, perhaps the numbers may be very similar, due to the experience that this young team will gain over the course of the season.
So I thought it would be fun to project the twelve-game regular season statistics of the Ohio State football team by using the averages from its first three games and multiplying them by four. First I will show you the overall team averages throughout the first three games. 
Team averages through first three games:
239.3 passing yards per game
306 rushing yards per game
545.3 total yards of offense per game
56.7 points per game
At this rate, Ohio State would will wind up with roughly 2,872 yards passing and 3,696 yards rushing on the year. Now I know that head coach Urban Meyer would like for the Buckeyes to have a balanced offense, and would prefer to average roughly 250 yards passing and 250 yards rushing per game, but he must know that this will most likely not be the case. Totaling up the numbers In Meyer's first four seasons at Ohio State, his offense has had a combined 3,196 more rushing yards than it has had passing yards.
On to the projected individual stats of the players.
Passing:
J.T. Barrett – 196/292 (67.1%), 2,600 yards, 40 TD's, 4 INT's
Joe Burrow – 24/32 (75%) 272 yards, 4 TD's, 0 INT's
Totals: 220/324 (67.9%) 2,872 yards, 44 TD's, 4 INT's
As far as passing goes, I think that Ohio State will have very similar numbers to this. Barrett should have somewhere between 2,500 and 3,000 yards passing after the first twelve games, and as far as touchdowns/interceptions go, look for the Bucks to have less than 44 passing touchdowns  and more interceptions.
 Rushing:
Mike Weber – 216 rushes, 1,404 yards (6.5 AVG), 4 TD's
Curtis Samuel – 128 rushes, 1,040 yards (8.1 AVG), 8 TD's
J.T. Barrett – 156 rushes, 626 yards (4.1 AVG), 12 TD's
Dontre Wilson – 32 rushes, 264 yards (8.3 AVG), 4 TD's
Demario McCall – 40 rushes, 236 yards (5.9 AVG), 4 TD's
Joe Burrow – 20 rushes, 116 yards (5.8 AVG), 4 TD's
Totals: 592 rushes, 3,696 yards, (6.2 AVG), 36 TD's
I think that 3,696 yards rushing is a reasonable guess. Although there were many question marks about this young Ohio State offensive line coming into the season, it looks legit thus far. When it comes to individual stats, much like when Braxton Miller and Carlos Hyde were running the show in 2013, I do think that they will have two 1,000+ yard rushers. Only this time, one of them will not be a quarterback.
Receiving:
Curtis Samuel – 64 receptions, 1,036 yards (16.2 AVG), 8 TD's
Noah Brown – 36 receptions, 536 yards (14.9 AVG), 20 TD's
Dontre Wilson – 32 receptions, 376 yards (11.8 AVG), 8 TD's
K.J. Hill – 8 receptions, 232 yards (29.0 AVG), 4 TD's
Terry McLaurin – 20 receptions, 200 yards (10 AVG)
Demario McCall – 4 receptions, 144 yards (36.0 AVG), 4 TD's
Marcus Baugh – 16 receptions, 120 yards (7.5 AVG)
Parris Campbell – 8 receptions, 84 yards (10.5 AVG)
Johnnie Dixon – 12 receptions, 72 yards (6.0 AVG)
James Clark – 8 receptions, 36 yards (4.5 AVG)
Mike Weber – 8 receptions, 24 yards (3 AVG)
A.J. Alexander – 4 receptions, 12 yards (3 AVG)
Any and all questions and concerns about this young receiving corp. coming into the season have been answered. After Noah Brown's coming out party versus Oklahoma, I think he will progressively make more of an impact, and he should have more yards than what's projected above. And Curtis Samuel will most likely be a 1,000+ yards rusher and receiver.
Kicking:
Tyler Durbin – 92/92 (100%) on extra points, 12/12 (100%) on field goals, 128 total points
I don't think that Tyler Durbin will have quite as many extra points. For that to happen Ohio State would have to score roughly 54 points per game on. However, they will have a lot more field goal attempts than twelve, and won't make 100% of them.
 Conclusion:
We will see how things hold up statistically with this team. To track the progression, I will be writing an update of the projecting stats after game six.
Anyway, God bless and go Bucks!
This article originally appeared on