Preview: Hawkeyes Look to Get Back on Track at Rutgers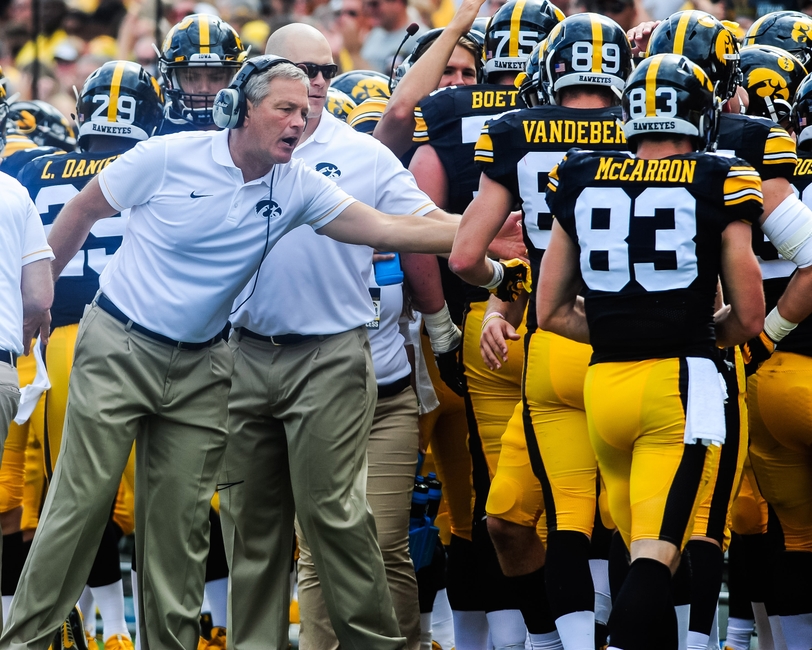 A preview of the Iowa Hawkeyes game against Rutgers
Trying to forget what happened last weekend, the Iowa Hawkeyes are back in action today at Rutgers. It's their first road game of the season and first action in Big Ten play, as well. On the other hand, Rutgers is 2-0 at home this season with wins over Howard and New Mexico, although are also kicking off their conference schedule.
The Hawkeyes enter the game as 13 point favorites. Iowa and Rutgers are set to kickoff at 11 AM CT on ESPN2. Many people might overlook this game considering the very busy slate of college football this weekend, although it has huge implications for how the Hawkeyes will fare the rest of the season.
The Hawkeyes have stayed fairly healthy so far this season. They've avoided any major injuries and only third string running back Derrick Mitchell Jr is not expected to suit up.
C.J. Beathard is expected to play despite exiting the game for a couple of plays in the second half against North Dakota State. Although, it wouldn't be surprising if Beathard isn't 100 percent. Kirk Ferentz made it known that Beathard wasn't 100 percent for most of the 2015 season, yet toughed through the pain.
The Hawkeyes need to protect him better against Rutgers after allowing the Bison to sack him twice, and letting Beathard to get hit hard multiple times. As much as they rely on their run game, Iowa will go as far as C.J. Beathard takes them this season.
That being said, it should be another ground and pound game between these two teams. Both teams rely on their running backs on offense and want to gain momentum early.
The Scarlet Knights have gotten off to an extremely slow start in all three of their games this season, yet were able to come back against Howard and New Mexico. They won't be as lucky against the Hawkeyes if they don't get off to at least a decent start.
For the Hawkeyes, establishing a run game and controlling the clock will be important. It will allow their defense to stay off the field, unlike last week. Plus, taking out the crowd early will be important.
Iowa is a veteran team, therefore their first road game won't be as intimidating. It's still the first time they're playing in front of another crowd, though. Crowd noise can help an underdog late in games if they stick around, therefore taking them out of the game with early scores or long drives will give the Hawkeyes a definitive edge.
After running into a brick wall for most of last week's game, I'd expect Kirk Ferentz to turn to LeShun Daniels Jr and Akrum Wadley early. The Hawkeyes don't want to rely on their passing game, again. At the same time, Rutgers doesn't want to rely on their veteran quarterback Chris Laviano.
They've had to this season because of their slow starts. Although, Robert Martin is extremely underrated and could be a difference maker if the Hawkeyes' defensive line struggles again.
The biggest difference maker on either side, though, is Janarion Grant. He's as explosive as they come, especially in the return game. Keeping him out of the end zone will be a huge plus for the Hawkeyes. He adds a weapon to the Rutgers offense and special teams that most teams don't have. Therefore, it makes it extremely hard to simulate his impact.
In the end, the Hawkeyes are the clear-cut favorite in the this matchup. They shouldn't have a problem taking care of Rutgers, although getting off to a fast start will be important. Teams' first road games can bring problems sometimes, although Kirk Ferentz is a veteran coach with a veteran team. Besides, a noon ET game at Rutgers isn't the most hostile environment.
Either way, the Hawkeyes should get their season back on track and start Big Ten play 1-0. With Wisconsin taking on Michigan State to kick off conference play, Iowa has a chance to get an important leg up on the Badgers.
This article originally appeared on