Predicting SEC Football 2016 – Week Five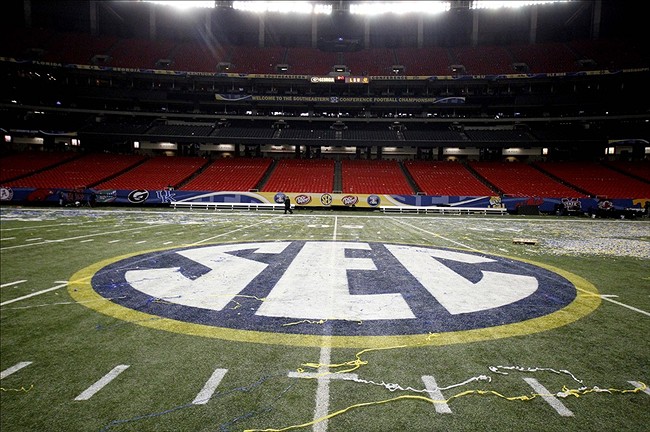 83%. No, I am not talking about the percentages that if you are reading this that you will utilize the phrase "This guy is an idiot".  That percentage would be much higher. I am boasting about my percentages on the still young season. That's right, 9 – 1 in the SEC last week combining with previous totals to bring me to a lofty 29 – 6. Which by the way may be the score in the Delaware State @ Missouri game. However…
Kent State @ (1) Alabama:
Uh,…. Alabama… by more than than their highest linebacker's jersey number.
(12) Georgia @ (23) Ole Miss:
Upset Alert – Georgia is not looking sharp right now, or perhaps I should state that they are not looking stable. Their ranking is back up after struggling to put away Nichols State but then beating Missouri by a single point. Ole Miss has lost two to (what was respectively at the time) to a #4 and a #1. Both contests had the Rebels making a good showing. The Bulldogs are ranked higher; and Ole Miss is better. You might not truly consider this an upset when comparing the match-up, however it is the closest thing that we have this week. Rebels at home by 12.
(19) Florida @ (14) Tennessee:
Remember when this was "THE GAME"? Remember the 1/16th of a second completion for the win? National Championships were always on the line when these two met for years. Finally, this game has meaning again. And, unfortunately for me, it may be cause my accuracy percentage to take a hit – because, honestly, aren't my stats what life is all about? Forget the analysis. The Vols get this one only because they are at home with over 100,000 strong interrupting Spurrier's… I mean McElwain's strategy. The losing streak ends – Rocky Top by 5.
Mississippi State @ UMass :
Take out their win over FIU and the Minutemen have lost consecutively 24 – 7 amd 26 – 7. The Bulldogs are down and need to prove themselves. The show that they are even two points better than the previous competition by scoring 28. However their defense gives up two scores to UMass. Mississippi State by 18.
Delaware State @ Missouri:
Word on the internet is that Missouri is looking to bounce back against Delaware State. Honestly, I think Southside High School could end their losing streak just as well. There's no need to break down the Hornets defense here; Mizzou will do that for themselves on Saturday. The SEC's third Tiger team by 24.
Vanderbilt @ Western Kentucky:
If Vanderbilt plays their best game they cannot lose. If Western Kentucky plays their best game they cannot lose. Really, the only people that can lose are the ones that have no media outlet other than the CBS Sports Network on Saturday. I am playing you know who's advocate and picking this one out of spite. The Commodores have let me down game after game this year on my predictions. They don't this time – Hilltoppers by 7.
(18) LSU @ Auburn :
"Uh, the Tigers are going to win this one. HUHUHUHUH!!!" Get lost, Junior, we heard that one last year. Signed: 1908. Gus Malzahn needs this one to prevent his exodus. LSU needs this one to keep hopes of an NC alive. ESPN needs this one because the Vanderbilt @ W Kentucky game was already taken. Wait…. Regardless, LSU and its backfield are too fast for even the sturdiest of Auburn's defense. Junior had something right, there will be a victory. Unfortunately for Auburn's staff it will be LSU defeating them in the Plains. Bengal Tigers by 17.
South Carolina @ Kentucky:
I'm looking into my crystal ball and I see Brent Musburger outliving Bobby Boucher. Hold onto that thought as this will come back into play. Gamecocks vs Wildcats… Gamecocks vs Wildcats……  Nope, it has nothing for me on this, so I will ask my 1951 Franklin Half Dollar its thoughts. "Tails". Hmmmmm…. That is the opposite of South Carolina's mascot. Kentucky by 7.
(17) Arkansas @ (10) Texas A&M:
Game of the Week – AT&T will be alive with two different shades of red. The atmosphere will be one of the greatest games held there between these two teams. Razorback fans will be Calling the Hogs as is their tradition. Aggie fans will be bragging about how great their band is and admiring the student section's inaudible rehearsed cheers. Jerry Jones will be in his suite.  Frank Broyles will likely be somewhere in attendance. And Johnny Manziel's parole officer will not have the night off. The HOGS offensive line against the Aggies defensive line. The advantage seems to go to A&M in the trenches. Two different styles at QB, and two different styles of coaching. If Arkansas can get its running game started then the tight ends and receivers should have only minor difficulty in creating space. There is a good chance that this scenario might not happen. Earlier I picked the Aggies by 10. "Something" has changed my mind. HOGS by 7.
More from Razorbackers
This article originally appeared on