Predicting How Ohio State Will Wrap Up Its 2017 Recruiting Class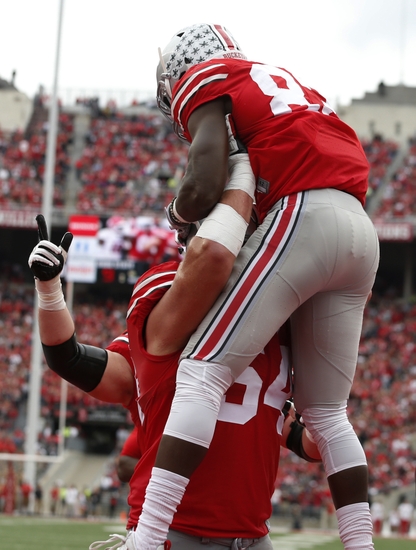 The 2017 Ohio State recruiting class could be one for the ages.
If you are a true Buckeye fan you'll be uber excited by the time you're done reading this. Although national signing day isn't until next February and current verbal commits could de-commit at any point from now until then, Ohio State has by far the No. 1 ranked 2017 recruiting class in the country.
Assuming everyone stays, the class should only get better in due time. Here's an educated guess on which players will all be included in what will go down in history as one of the best classes in college football history, per the 247sports.com composite rankings.
First let's take a brief preview of Ohio State's class as it stands now. The Buckeyes have five 5-star prospects in the class, eleven 4-star prospects, and the lone 3-star recruit that they have (Blake Haubeil) just happens to be the No. 1 kicker in the country.
Of all of the country's 5-star commits, Ohio State had landed five of them. This includes the No. 1 offensive tackle in Josh Myers from Miamisburg, OH, the No. 1 offensive guard in Wyatt Davis from Bellflower, CA, the No. 3 wide receiver in Trevon Grimes from Fort Lauderdale, FL, the No. 1 cornerback in Shaun Wade from Jacksonville, FL, and the No. 2 weak-side defensive end in Chase Young from Hyattsville, MD.
Two of the 4-star commits in the class were formerly 5-stars, and are teammates at Bishop Gorman High School. One of them is Tate Martell, the country's No. 2 dual-threat quarterback, and the other is Tyjon Linsey, the country's No. 6 wide receiver.
Other 4-star commits on the offensive side of the ball are J.K. Dobbins, the No. 1 all-purpose running back in the country, offensive tackle Jake Moretti, and athlete (plays multiple positions) Brendon White.
Ohio State picked up five 4-star commits on the defensive side of the ball, including cornerbacks Amir Riep and Marcus Williamson, defensive tackles Jerron Cage and Haskell Garrett, and linebacker Anjuan Simmons. If there's one void in this year's class, it's at the linebacker position. Simmons is the lone linebacker in what is an impressive group of young talent.
As far as who else the Buckeyes will land, that remains to be seen. However, it's not so much of a mystery who they have the upper hand on. So here's my educated guess on exactly who else will become a part of what could be a historic 2017 class.
Jaylen Harris, 4-Star Wide Receiver, Cleveland, Ohio:
At 6'5″ 210 lbs. Harris is one of a hand full of receivers the Bucks are pursuing. One guy I was excited to see this year back in the spring was Torrance Gibson. He shined in Ohio State's spring game, providing the team with much-needed size at the perimeter of the offense.
I was bummed out, however, when he ended up getting suspended for the season. I will feel the same if Jaylen Harris doesn't join this class.
Ohio State already has two wide receivers in this class and Trevon Grimes is quite lengthy himself. However, one reason why Ohio State has depth at wide receiver in such a multi-receiver demanding spread offense is because of how they have recruited.
Even with Michael Thomas and Jalin Marshall leaving early last year, and Torrance Gibson being out for the season, there's not much of a drop off at receiver this year. But that's because Meyer was able to land the Noah Brown's, Dontre Wilson's and Curtis Samuels'.
Jaylen Harris would be an excellent pick up and Ohio State has been his leader for quite some time now.
Cam Akers, 5-Star Running Back, Clinton, Mississippi
Former Alabama commitment and 5-star running back Cam Akers is the No. 2 back in the nation. He was expected to come to Columbus for Friday Night Lights back in July, but has yet to make a visit. However, the Buckeyes have been high on his radar since his decommitment from the Crimson Tide, and are the crystal ball favorites to land him by a large margin, despite Ohio State having J.K. Dobbins in the fold.
Many speculate that perhaps if Akers commits to the Buckeyes, Dobbins will back out. Dobbins has said that Akers' commitment has nothing to do with his own.
Perhaps just one visit to Columbus sometime this fall will get a commitment out of the highly touted Mississippi standout.
Jay Tufele, 4-Star Defensive Tackle, South Jordan Utah
When a defensive tackle of Tufele's caliber names you his leader and you already have guys like Jerron Cage and Haskell Garrett aboard, you have to be excited. Tufele named Ohio State his favorite this May, and it seems that if any other school has a shot at landing him, it's Oregon.
Defensive line coach Larry Johnson would love to have the luxury of having all of these guys at his disposal, and the addition of him to this class would give coach Meyer arguably the biggest d-line haul of his career.
Jeffrey Okudah, 5-Star Safety, Grand Prairie, Texas 
Ohio State is seemingly in the driver's seat to land Jeffrey Okudah. Out of their remaining targets, the five-star safety is arguably priority number one for the Buckeyes.
He has over thirty scholarship offers, but twenty-one of the twenty-six 247sports recruiting experts that have made their predictions on where Okudah will take his talents to have crystal balled him to come to Columbus.
For Okudah, some assume that it's not a matter of if he will chose to be a Buckeye, it's a matter of when. He is the top-ranked safety in the country.
More from Scarlet and Game
Conclusion:
Is it a stretch to think that all of these guys will take their talents to Columbus? Not by a long shot, and that's what's so crazy about their 2017 recruiting class. With the addition of the guys mentioned above it would consist of seven 5-star recruits, thirteen 4-star recruits, and one 3-star recruit.
Alabama's 2015 class is the best class in the history of the 247sports composite rankings, with the average rating per commitment being 93.64.
This Buckeyes class could completely decimate 'Bama's 2015 class, and if they do land these guys – which is completely plausible – their average rating per recruit in the 2017 class would be 95.86!
This article originally appeared on