Powerful Perine disappointed coaches wouldn't let him hit anybody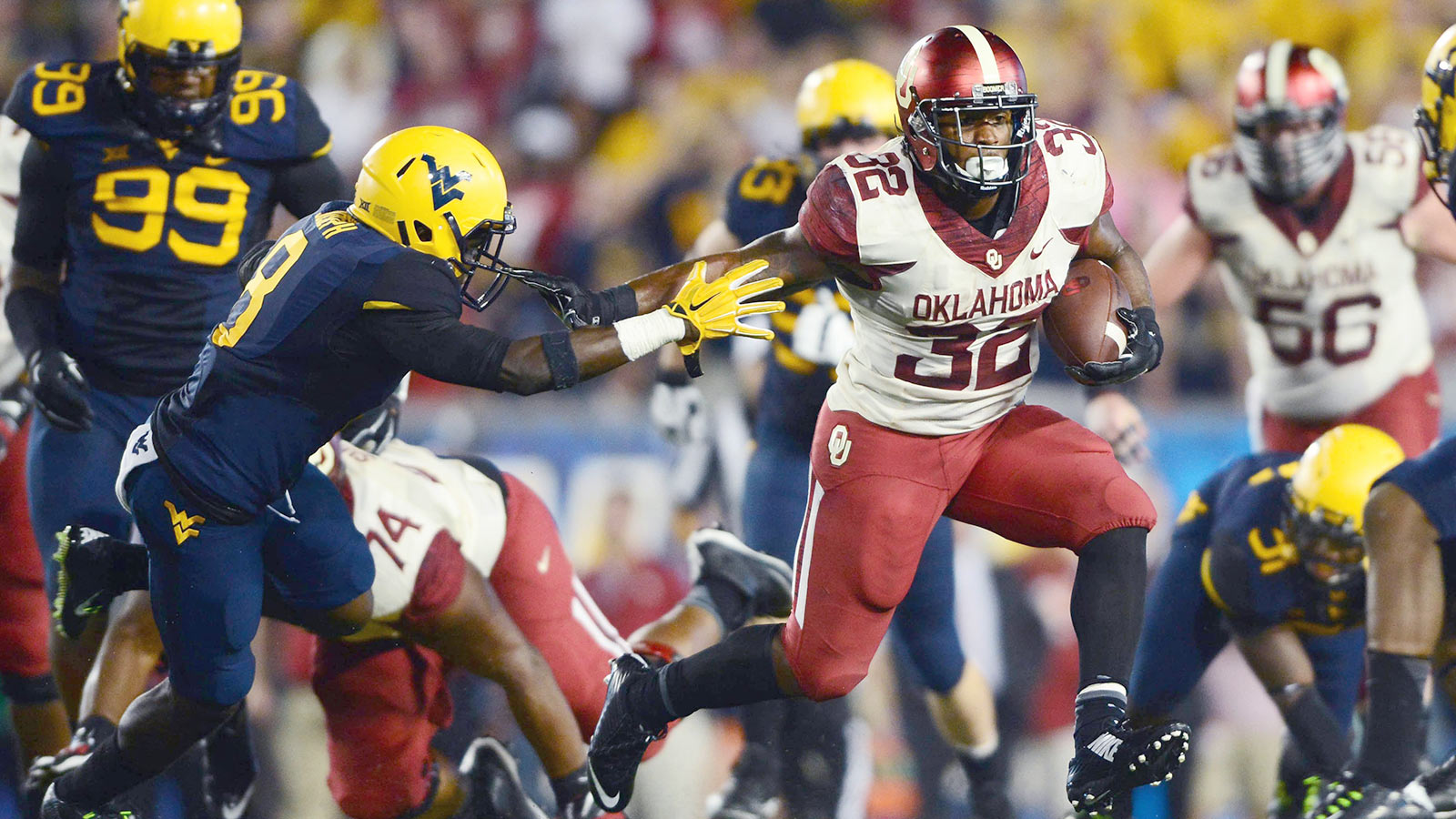 This is the kind of stuff fans love to hear from their starting tailback: Samaje Perine was peeved because coaches forbade him from hitting, or getting hit, during Oklahoma's spring game.
"I go in and I had the blue numbers, and I said, 'What is this?'" Perine told The Oklahoman in a recent telephone interview. "They said, 'No contact.' I was pretty bummed out about it, but I couldn't do anything about it so I just accepted it."
The Sooners' wrecking ball of a running back set the NCAA single-game rushing record last season as a true freshman. In 2015 he's going to be the focal point of the newly installed Air Raid offense. Perine told The Oklahoman that wearing the blue numbers made him "kind of mad" because, obviously, he loves to dole out his own brand of punishment, but also because of the implication it presumes, that the Sooners need him to stay healthy for the team to be successful.
While most OU fans might nod in unison that indeed the first running back since DeMarco Murray to eclipse 1,000 yards needs to stay healthy, Perine says the Sooners are loaded behind him.
While Keith Ford has transferred to Texas A&M, kick return specialist Alex Ross and Joe Mixon, a highly touted 2014 recruit who is coming off a full season suspension, are quality backups and are likely to see plenty of action. Also junior Daniel Brooks rushed for 154 yards on 21 carries as Perine's replacement in the spring game.
"We have so many talented running backs that if one of us gets hurt, we have plenty that are right there ready to step up to the plate and take on the challenge," Perine told The Oklahoman. "I don't think of myself as being better than any of the other guys, so to say that I can't get hit because they don't want me getting injured is kinda like saying I'm better than the rest of those guys. I really don't like that."
(h/t The Oklahoman)
Photo Credit: Andrew Weber-USA TODAY Sports