Phillip Fulmer, Steve Spurrier Make Picks on College GameDay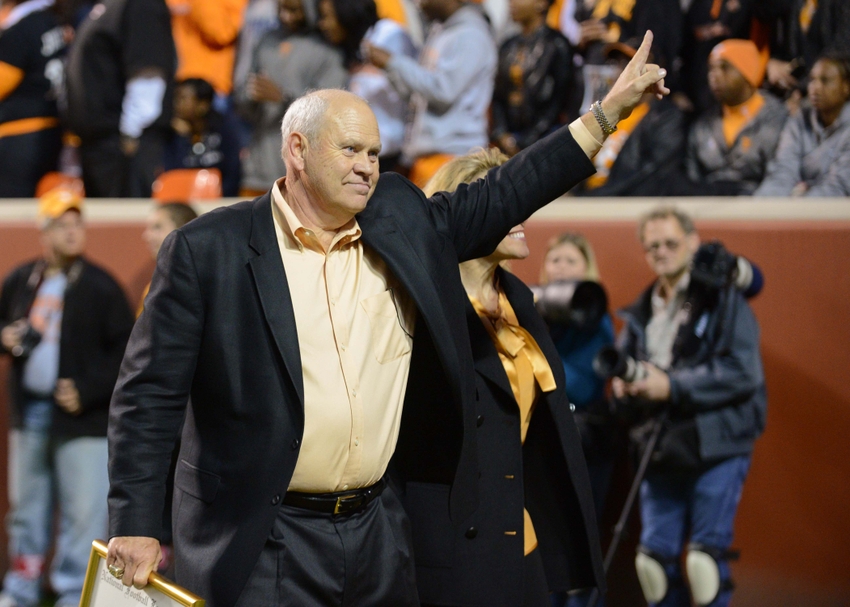 Former Tennessee Vols coach Phil Fulmer and former Florida Gators coach Steve Spurrier came together on the ESPN College GameDay set for Tennessee-Florida.
They were the two head coaches at the peak of the Tennessee-Florida rivalry. Phillip Fulmer and Steve Spurrier, who oversaw its explosion in the 1990s, joined the ESPN College GameDay set to pick games on Saturday in Knoxville.
As much as they would go at each other back in the day, fans of both schools have a tremendous amount of respect for both coaches.
It was a great bit of nostalgia for fans everywhere.
Both coaches are legends in their own right at their schools. With Florida as Spurrier's Alma Mater and Tennessee as Fulmer's Alma Mater, and with both coaches winning one national championship there, the careers were very similar.
During their careers, Spurrier enjoyed a 9-5 record against Fulmer, but Fulmer had some of the most memorable victories. Two of his greatest coaching games were the 1998 and 2001 victories over Florida.
But what is clear is that both coaches clearly have a lot of respect for each other.
Of course, Spurrier picked his Gators to win, and Fulmer showed love for his Volunteers on the GameDay set.
Fulmer noted that the Vols haven't played their best football year and that it will all come together for his school, but Spurrier said Florida's defense will be the reason for the Gators win.
As far as the rest of the GameDay crew, David Pollack picked Florida, Desmond Howard and Kirk Herbstreit picked Tennessee, and Lee Corso picked the Gators. Corso teased everybody by bringing Smokey onto the desk, but he then put on the Gator mask.
Maybe that's a good omen since Tennessee is awful when College GameDay is in Knoxville and Corso picks them.
More from All for Tennessee
This article originally appeared on