Phil Steele releases his 2015 Preseason All-SEC Teams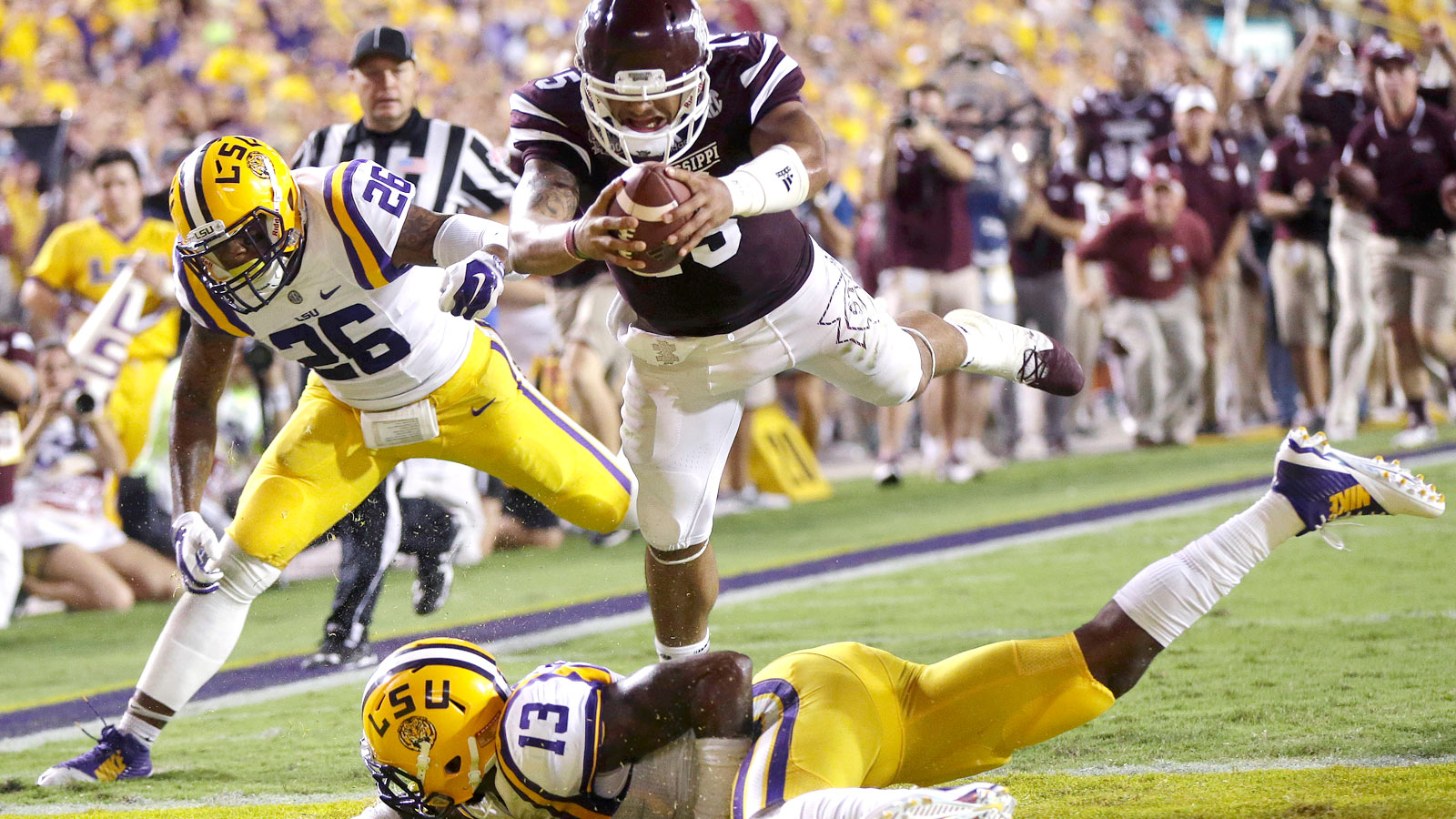 The college football season inches closer every day during the long summer as fans patiently await for the season to begin. The first sign of the season annually comes in the form of preseason magazines, some of which have begun to hit the newsstands.
A small sample of Phil Steele's annual magazine has hit the web, as Steele released his 2015 Preseason All-SEC Teams today, via his website PhilSteele.com.
Steele's First Team All-SEC
Steele's First Team All-SEC
QB – Dak Prescott – Mississippi State HB's – Nick Chubb – Georgia, Derrick Henry – Alabama WR's- Laquon Treadwell – Ole Miss, Pharoh Cooper – South Carolina, Shaq Williams -Auburn TE – Evan Engram – Ole Miss, C – Ryan Kelly, Alabama , OL – Greg Pyke, Georgia, VadalAlexander, LSU, Laremy Tunsil, Ole Miss, Avery Young, Auburn
DE's – Jordan Jenkins, Georgia, Myles Garrett, Texas A&M DT's – Robert Nkemdiche, Ole Miss, A'Shawn Robinson – Alabama LB's – Leonard Floyd, Georgia, Cassanova McKinzey, Auburn, Reggie Ragland, Alabama, Antonio Morrison, Florida DB's – Vernon Hargreaves, Florida, Will Redmond, Mississippi State, Eddie Jackson, Alabama, Jalen Mills, LSU K – Austin MacGinnis, Kentucky P – JK Scott – Alabama, KR – Darrius Sims, Vanderbilt PR – Isaiah McKenzie, Georgia
Most of Steele's picks here are fairly obvious selections, although a few do stand out. Laremy Tunsil and Antonio Morrison have displayed the talent to rank among these excellent players but both are coming off significant injuries suffered in the bowl game. Can they both rebound to play at such a high level right away? Myles Garrett will need to step up his game in conference this season, as he only had 2.5 sacks in SEC play last season. Will Redmond is also an odd choice considering State's issues on pass defense. Five Auburn defenders make the first two defensive teams despite fielding an atrocious unit last season, call that the Muschamp effect.
Steele's Second Team All-SEC
Steele's Second Team All-SEC
QB – Jeremy Johnson, Auburn HB's – Leonard Fournette, LSU, Alex Collins, Arkansas WR's – Josh Reynolds, Texas A&M, Demarcus Robinson, Florida, Travin Dural, LSU TE – OJ Howard, Alabama C – Evan Boehm, Missouri OL – Alex Kozan, Auburn, Dan SKipper, Arkansas, John Theus, Georgia, Denver Kirkland, Arkansas
DE's – Jonathan Bullard, Florida, Jonathan Allen, Alabama DT's – Montravius Adams, Auburn, Chris Jones, Mississippi State LB's – Kentrell Brothers, Missouri, Curt Maggit, Tennessee, Kris Frost, Auburn, Kendell Beckwith, LSU DB's – Cyrus Jones, Alabama, Jonathan Jones, Auburn, Johnathan Ford, Auburn, Tony Conner, Ole Miss K – Taylor Bertolet, Texas A&M P – Jamie Keehn, LSU KR – Isaiah McKenzie, Georgia PR – Speedy Noil, Texas A&M
Here's where things get interesting. Give credit to Steele for making some bold projected picks here as he has a quarterback with two starts as his second team QB. Many people have Fournette as a Heisman favorite, but he only cracks Steele's second team. An LSU receiver making the second team seems like an odd choice considering the team finished ranked 116th in passing offense only a season ago. Where is Freshman All-American Derek Barnett, not to mention arguably Tennessee's best player Cam Sutton who fails to make the top eight DB's in the league?
Steele's Third Team All-SEC
Steele's Third Team All-SEC
QB – Kyle Allen, Texas A&M HB's – Jonathan Williams, Arkansas, Jalen Hurd, Tennessee WR's – Ricky Seals-Jones, Texas A&M, DeRunnya Willson, Mississippi State, Marquez North, Tennessee TE – Hunter Henry, Arkansas C – Mike Matthews, Texas A&M OL – Aaron Morris, Ole Miss, Sebastian Tretola, Arkansas, Brandon Shell, South Carolina, Germain Ifedi, Texas A&M
DE's – Derek Barnett, Tennessee, Carl Lawson, Auburn DT's – Josh Augusta, Missouri, Harold Brantley, Missouri LB's – Denzel Nkemdiche, Ole Miss, Lorenzo Carter, Georgia, Reuben Foster, Alabama, CJ Johnson, Ole Miss DB's – LaDarell McNeil, Tennessee, Cam Sutton, Tennessee, Tre'Davious White, LSU, Quincy Mauger, Georgia K – Austin Hardin, Florida P – Will Gleason, Ole Miss KR – Stanley Williams, Kentucky PR – Tre'Davious White, LSU
The league's lack of depth at quarterback shows with another player making the list with only five starts and expected to be in a competition come fall. Not surprisingly, two Razorback backs back the top two teams. Five-star recruit and special teams demon Reuben Foster makes the list despite this being his first year as a starter.
Steele's Fourth Team All-SEC
QB – Maty Mauk, Missouri HB's – Jovon Robinson, Auburn, Russell Hansbrough, Missouri WR's – Malachi Dupree, LSU, Malcolm Mitchell, Georgia, Speedy Noil, Texas A&M TE – Steven Scheau, Vanderbilt C – Jon Toth, Kentucky OL – Ethan Pocic, LSU, Cam Robinson, Alabama, Jerald Hawkins, LSU, Joseph Creek, Texas A&M
DE's – Marquis Haynes, Ole Miss, Jarran Reed, Alabama DT's – Christian LaCouture, LSU, Melvin Lewis, Kentucky LB's – Jalen Reeves-Maybin, Tennessee, Skai Moore, South Carolina, Michael Scherer, Missouri, Josh Forrest, Kentucky DB's – Kenya Dennis, Missouri, Dominick Sanders, Georgia, Tony Brown, Alabama K – Marshall Morgan, Georgia P – Devon Bell Mississippi State KR – Speedy Noil, Texas A&M PR – Markell Pack, Ole Miss
Many of the players listed on Steele's fourth team are likely to become household names by season's end, most notably Jovon Robinson, Speedy Noil, Marquis Haynes and Kenya Dennis. The SEC's fourth team players could make first team ranks in other conferences, but with the league as stacked with talent as it presently is, there's only so many slots for so many talented players to fill.
(h/t Phil Steele)