Penn State vs. Temple Prediction Roundtable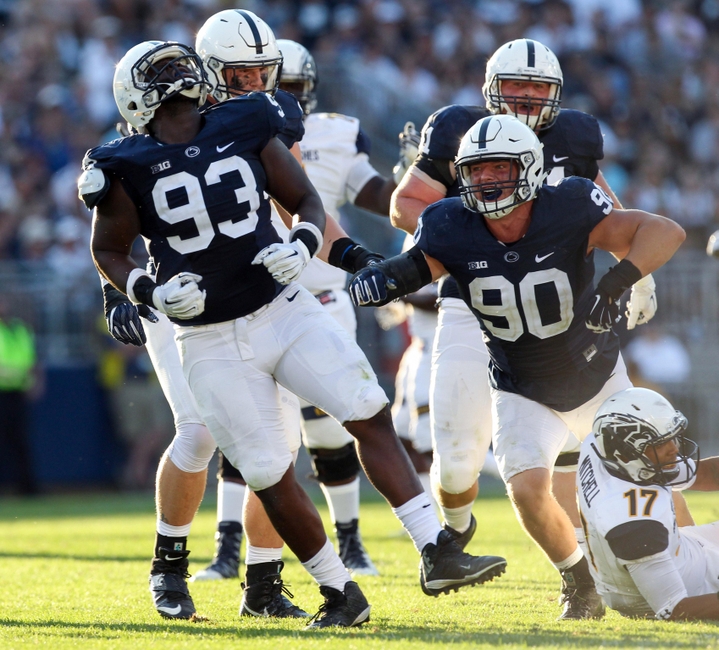 Penn State is back home this week to take on the Temple Owls in a revenge game. 
Well, the Pitt game has come and gone for Penn State, and now it's time to pick up from that loss and get ready for this week. Up next is a home game with the Temple Owls. Of course, the upset loss in Philadelphia last year is still fresh in the minds of Penn State fans.
Last week's failed comeback was a heartbreaker, but the fight and the heart shown by the Nittany Lions has to bode well for the future.
So, without further ado, it's time to look at the fearless VBR predictions for Penn State's game with Temple.
Site Expert Barry Leonard Jr.
I think that Penn State will have a lot of built up frustration heading into this week's game. The loss to Pitt last week still stings, but the fact that the offense made a furious comeback in the second half bodes well for the future.
Joe Moorhead's new offense has certainly started to roll. Aside from some unfortunate fumbles and a bad pass at the end of the game, the unit looked very good. Quarterback Trace McSorley has been very strong in two games and I'd expect him to continue to roll this week.
Running back Saquon Barkley hasn't racked up a ton of yards yet, but with six touchdowns already, he's one of the best backs in the nation. The receivers have been good, especially with the emergence of DeAndre Thompkins as a downfield threat.
Penn State's problem has been on defense this year, so I do expect a veteran Temple offense to be able to move the ball and put up some points on the Nittany Lions.
In the end, McSorley and the offense is too much for the Owls to handle.
Penn State 45
Temple 24
Contributor Marty Leap
As you all know, last year Penn State lost to Temple for the first time since 1941. While Temple will enter Beaver Stadium extremely confident on Saturday, I expect this season to be much different than last.
First off, the Nittany Lion offense is leaps and bounds better than last year. Penn State is currently averaging 36 points and 385 yards per game, both of which are way ahead of what they did last season. Furthermore, Temple lost nine starters off of their defense from a year ago.
Also working against Temple is that star running back Jahad Thomas will, most likely, be out on Saturday. And if he does play, he will be nowhere near 100 percent. This should help a Penn State defense that is still trying to get their feet underneath them.
I look for Saquon Barkely to have a big game on Saturday. I am also excited to see what wide receiver De'Andre Thompkins can do with an expanded role in the offense after a big breakout game against Pitt last weekend. Another player I will be watching is defensive end Ryan Buchholz who has been extremely impressive through his first two career games.
I also believe that Penn State will be a very angry team due to A) What happened against Temple last year, and B) Their heartbreaking loss to Pitt last week in a game they should have won.
Temple has both the worst offense and the worst defense Penn State has faced so far this season. While I expect Temple to come out fired up early on, in the end Penn State is far too talented for Temple to hang around in this game. The Nittany Lions win this one going away.
Penn State 35
Temple 14
Contributor Shane Lunnen
The Nittany Lions need this game.  I don't like using the term "must win", but it pretty much is.  Imagine the outcry from Nittany Nation if Penn State loses to Pitt and Temple in back-to-back weeks.  James Franklin's seat would go from moderately warm to scorching fire.  Not to mention, Michigan is on deck next Saturday.
This is not the same Temple team that surprised the Nittany Lions last year in Philadelphia.  Quarterback Philip Walker is off to a slow start with three TDs and four interceptions on the season thus far.  Running back Jahad Thomas, who ran for 135 yards and two TDs last year against Penn State, has been injured with a dislocated thumb and his status is uncertain.  The Penn State weakness is their rush defense, but without Thomas it's unlikely the Owls can take advantage.
I really like what the Penn State offense showed last week in the second half against Pitt.  We already knew what Saquon Barkley brings to the table, but Trace McSorley played pretty well and I highly doubt there is going to be a repeat of 10 sacks again like last year.
At least for the first half, the game will be too close for comfort, causing heartburn among fans.  However in the fourth quarter the Lions will pull away.
Penn State 38
Temple 20
Contributor Corey Hunter
Penn State squares off this week with another in-state foe. This time it's the Temple Owls that come calling. Penn State is trying to shake off a tough defeat last week at the hands of rival Pitt. Also, they are trying to rid themselves of the embarrassing stench of losing last season to a Temple squad last year that hadn't beaten the Nittany Lions since 1941.
The Nittany Lions have been riddled with injuries on both the offensive and defensive sides of the ball. The defense, however, seems to be feeling it the most. Players like Jason Cabinda, Kevin Givens, Evan Schwan and Grant Haley have all missed time due to injuries. That, along with putrid tackling, has this PSU defense unrecognizable from years past.
On the flip side, the offense is also unlike years past – but in a good way! Penn State has scored 33 and 39 points respectively in their first two games. New quarterback Trace McSorley looks and plays the part of someone who has moxie (yes I used that term in deference to Matt McGloin).
Even the special teams looks solid with Tyler Davis perfect on field goals and Blake Gillikin adding spectacular punts.
If the Nittany Lions can put all the pieces together in one game, look out! While I don't think they get all their ills cured this week, I think they have enough to exact a little revenge on Temple, who lost some key players from last year's team. I say…
Penn State – 34
Temple – 16
More from Victory Bell Rings
This article originally appeared on