Penn State vs. Michigan State: Prediction Roundtable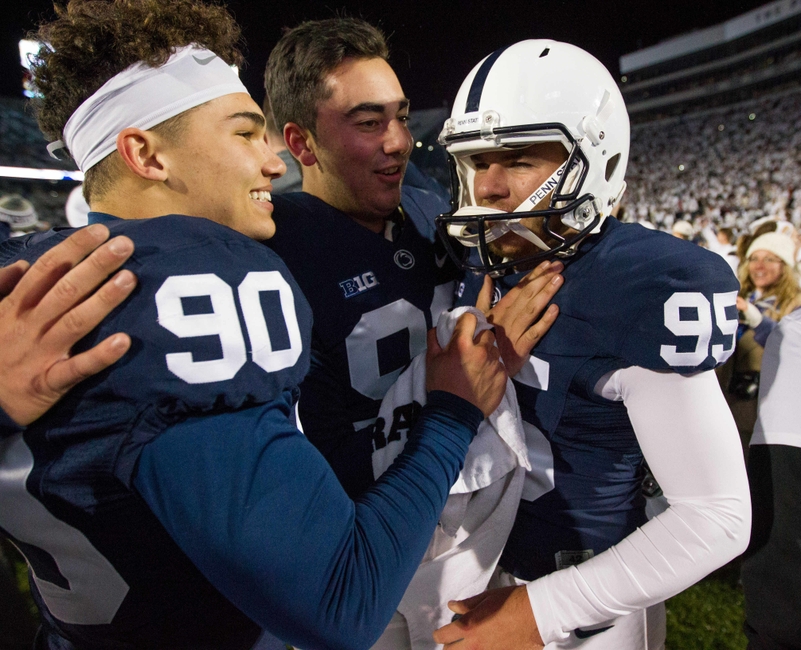 What will happen when Penn State hosts Michigan State this Saturday?
Penn State wraps up its regular season schedule Saturday with a home matchup against the Michigan State Spartans. The Nittany Lions will be looking to make up for a 55-16 defeat in East Lansing last year.
Michigan State had high expectations this season but has managed just three total wins and just one in the Big Ten. However, the Spartans can't be overlooked, as they've looked better recently and lost to No. 2 Ohio State by just a point last week.
This game has huge meaning for the Nittany Lions. Aside from earning their first 10-win season since 2009, they can earn a birth in the Big Ten Championship if things fall right.
Fortunately for Penn State, this one is at home. The Nittany Lions are 6-0 at Beaver Stadium this season and will look to avoid the major upset.
Read below to see the VBR staff predictions for the game with Michigan State.
Site Expert Barry Leonard Jr. 
It's been a few years since Penn State has had so much on the line for a season finale. Regardless of how things go in Columbus earlier in the day, the Nittany Lions still have a shot at a great season and a  New Year's Six bowl.
I expect James Franklin to have his team fired up and focused for this one. He's proven over the last couple of weeks that he's capable of doing that. Unfortunately, slow starts have plagued this team. I'd expect Penn State to score first, but I wouldn't be surprised if this one is both low-scoring and close at halftime.
Michigan State will likely find some success on the ground with LJ Scott, but it won't be enough in the end.
Penn State has too much to lose in this one. Even with a slow start, I look for the Nittany Lions to turn it on in the second half. Big days from Trace McSorley, Mike Gesicki and Saquon Barkley on offense, paired with solid performances from linebackers Jason Cabinda and Brandon Bell, will assure that the Lions take care of business.
Penn State 31
Michigan State 17
Contributor Corey Hunter
Penn State enters Senior Day on Saturday with a chance to do what many believed would not be possible for at least a few more years – win the Big Ten East title.
That's the thing about this team, they have surprised all year. What's the the phrase…fool me once shame on you, fool me twice shame on me? Well, I have been fooled enough this year by this TEAM. Enough at least to say the shame is definitely on me.
On Saturday Penn State has the chance to avenge a humbling defeat at Michigan State last year and have them be, at worst, co-champions of perhaps the best division in college football.
As for the game, I expect Michigan State to run stud running back LJ Scott between 25-30 times (depending on game situation) while trying to limit putting their quarterbacks in obvious passing situations – a place they have not excelled.
I will not be surprised to see the Spartans use misdirection plays like they did last week against Ohio State. The Spartans have nothing to lose and will play like it. With that in mind, I expect a close game. Mark D'Antonio's teams seem to rise up against stronger competition. Their undoing has been their play on the road.
Penn State has been a second half team all year, and hopefully that mojo doesn't run out this week. I don't think it will. The Lions get a late defensive touchdown to make the score look worse than the game really was.
The stars have aligned for a Nittany Lions division title. Ohio State takes care of business in the early game, and Penn State caps a remarkable season by defeating Michigan State.
Penn State – 31
Michigan State – 17
Contributor Marty Leap
Saturday is a day Penn State fans have been waiting quite a while for, because on Saturday the Nittany Lions can win the Big Ten East. While they need some help from Ohio State for this to happen, they must also take care of business against Michigan State.
Don't let their 3-8 record fool you, the Spartans are still a talented team. They have also been playing better of late. Two weeks ago they crushed Rutgers 49-0, and last week lost to Ohio State by just one.
A big reason for their recent surge is that the Spartan rushing attack, led by LJ Scott, has gotten back on track. The key to stopping Michigan State's offense is stopping Scott and the rushing attack. Due to injuries, Tyler O'Connor is the Spartans' quarterback and O'Connor is not very good. If Sparty has to throw the ball, they're in deep trouble.
While Michigan State has a good defensive line and a good group of linebackers, they have struggled rushing the passer this season. Entering last weekend, they were last in the Big Ten in sacks recorded. Also, their best defensive player, defensive tackle Malik McDowell will not be playing. That is a big boost for a still bruised and battered Penn State offensive line. That said, Trace McSorley better be ready to use his legs on Saturday.
In my opinion, the biggest factor is this game is that it is being played at Beaver Stadium. The Nittany Lions are 6-0 at Beaver Stadium this season and are outscoring opponents 199-114, while Sparty is just 1-3 on the road. Penn State also has a lot to lay for and will be looking for some revenge from last year's embarrassment in East Lansing. The Spartans will give Penn State all they can handle, but in the end the Nittany Lions pull out a close one.
Penn State 31
Michigan State 27
Contributor Shane Lunnen
Whoever had predicted Penn State would be in the Big Ten title discussion at the end of the season, raise your hand.  Nobody?  Ok then.  The tale of the exciting 2016 Nittany Lions regular season comes to an end Saturday afternoon against Michigan State with a lot at stake.
The Spartans have performed well under expectations this year, but do not count them out.  This is a prideful team with a great coach in Mark Dantonio. They nearly pulled an upset against Ohio State last week and will look to do so this week against Penn State.  Michigan State's best player on offense is sophomore running back LJ Scott and the key for the Lion defense will be to stop him.  Penn State also must get pressure on quarterback Tyler O'Connor who has been prone to mistakes all season.
On offense for Penn State, expect Joe Moorhead to continue what has worked during the Lions' winning streak.  Lots of read option, getting Saquon Barkley the ball, and allowing McSorley enough time to throw some deep shots down the field.  Penn State's offensive line has been banged up the last few weeks, but Connor McGovern is expected to return which should help against an improving Spartan front four.
As I said, there is a ton at stake in this game for the Lions.  The prestigious Land Grant Trophy is on the line and what a beauty it is.
Not only that, but Penn State could be playing for a chance to go to Indianapolis and the Big Ten championship game, depending on the Michigan at Ohio State result, which should conclude right before the Lions and Spartans kick off. I expect a closer than expected game, but ultimately Penn State wins, secures a 10-win season and perhaps punch their ticket to Indy.
Penn State 31
Michigan State 20
More from Victory Bell Rings
This article originally appeared on