Penn State vs Michigan State Position Grades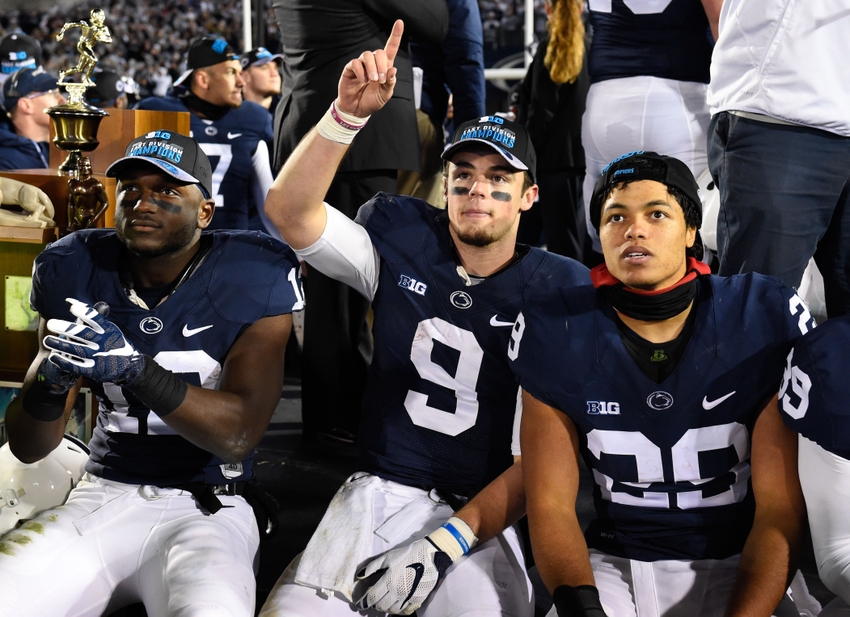 Your Penn State Nittany Lions are the 2016 Big Ten East Division Champions.
Back at the end of September, who would have thought that would be a headline at the end of the regular season?  Penn State finished its improbable run to the top of the Big Ten East with a 45-12 victory over Michigan State on Saturday afternoon.
During Penn State's eight-game winning streak, they have been a second-half team and Saturday was no different.  Down 12-10 to the Spartans at the break, the Lions proceeded to score 35 unanswered points on their way to the win.
More from Victory Bell Rings
With Ohio State outlasting Michigan in double overtime, Penn State won the head to head tiebreaker over the Buckeyes, sending the Lions to Indianapolis to face Wisconsin in the Big Ten Championship game.
What a ride it has been.  At the end of September, the Lions stood at 2-2 after a 39 point beating at the hands of Michigan.  During halftime of the following week's game against Minnesota, some students chanted to fire Franklin.  Now two months later, Happy Valley is happy again and James Franklin's coaching seat couldn't be more ice cold.
Enjoy this Nittany Nation.  It's been a long five years, but oh is it so sweet.
Let's take one last look at the regular season finale and grade out the positions.
Quarterbacks
Trace McSorley had one of the best games of his season, torching the Spartan defense all night.
McSorley totaled 376 yards and four touchdown passes.  He completed nealy 74 percent of his throws.  Although his rushing stats were only 10 carries for 21 yards, McSorley kept plays and drives alive with his feet and moving around the pocket.
McSorley is one of the big reasons why the Lions are heading to the conference championship game.  His play this year, especially during the win streak has been phenomenal.  He is absolutely thriving in Joe Moorhead's offense and the kid is just a winner.
Grade: A
Running Backs
From Trace McSorley's great game to Saquon Barkley's pedestrian one.  Luckily, Barkley did not have to be super human for the Lions to get the victory.
The Spartans neutralized Barkley all night, and he finished the game with 12 carries for 14 yards. However, his leap into the end zone for a touchdown was beautiful to watch.
Barkley was hurt late in the third quarter and did not return.  Franklin did not discuss his status much after the game, so all eyes will now be on him this week if he can play against Wisconsin.
Andre Robinson benefited the most in Barkley's absence.  He only had three carries for 32 yards, but one was a 14-yard touchdown.  He also added a 40 yard touchdown reception.
Michigan State sold out to stop the run in this one so the grade reflects that.
Grade: C+
Wide Receivers / Tight Ends
With McSorley throwing for over 370 yards, the receivers were naturally the beneficiaries.
Chris Godwin saved his best for last, hauling in five passes for 135 yards and two scores.  Saeed Blacknall, DeAndre Thompkins, DaeSean Hamilton and even Juwan Johnson all chipped in catches and a lot of yards.
Tight end Mike Gesicki had two catches for 64 yards, but his 45-yard catch between two defenders was a thing of beauty.  The ball was slightly under thrown and a jump ball.  With Gesicki's height he went up, caught the ball and while being draped by two Spartan defenders, his momentum carried him across the goal line.  Gesicki has had a solid season and really is an underrated player for this team.
It was a solid day overall from the receivers and tight ends.
Grade: A
Offensive Line
From a run blocking perspective, the offensive line had one of their worst games of the year.
The Lions only netted 77 yards on the ground and that had much to do with how few running lanes the line could open up.  Some credit has to be given to the Spartans as their defensive line has been improving lately.
On the other hand, the line gave Trace McSorley plenty of time to find open receivers and only allowed one sack.
It was a mixed bag for this banged up group. Hence, an average grade was earned.
Grade: C
Defensive Line
During the first half, the Spartans had their way and pushed back Penn State's front four but they did not break.
After halftime adjustments, they came out and started pushing back.  Garrett Sickels led the linemen with 8 tackles including one tackle for loss and one QB hit.  The rest of the line combined for 3 sacks and 5 tackles for loss.
The Spartans only gained 109 yards on the ground and an average of 2.6 yards per rush.  Solid play again for the front four rotation, especially in the second half.
Grade: B
Linebackers
For his last home game as a Nittany Lion, Brandon Bell was a man possessed.  He ended the day with 18 tackles, a half tackle for loss and a pass breakup.  He was a monster all over the field.
Not to be outdone, Manny Bowen had a nice nine-tackle afternoon plus he tallied a sack.  Jason Cabinda and Brandon Smith combined for 13 tackles and a tackle for loss.  Cabinda did leave the game for a short time due to injury, but seemed ok once he returned to the game.
Like the defensive line, this unit had trouble early stopping the Spartans.  However they settled in during the second half and turned in a solid performance.
Grade: B+
Secondary
Similar to the rest of the defense, this unit allowed a lot of yards early on but tightened up when it counted the most.
The secondary allowed the Spartans 234 yards through the air, but locked it down inside the red zone and they were a big reason why the Spartans only came away with field goals instead of touchdowns.
The most notable play was from the picture above.  With Michigan State attempting to get back into the game, Marcus Allen delivered a punishing hit on a Michigan State receiver to jar the ball loose and fall incomplete near mid field.
Special Teams
Blake Gillikin has been a big reason for the Penn State special teams turnaround this year.  He averaged nearly 47 yards on his four punts, putting two of them inside the 20 including one inside the five.  Football is a game of inches and winning the field position game has definitely improved for the Lions this year.
Joey Julius was pretty good and the coverage team did not allow the Spartans to get a big return.  Tyler Davis nailed all his extra points and a 35-yard field goal.
No return game really to speak of but no turnovers like last week so that's a positive.
Grade: B
Coaching
I would be curious to know exactly what Joe Moorhead does at halftime.  The adjustments that he makes at the break turn sluggish starts into high powered second halves.  It's been quite the run this year for this offense.
When's the last time a vote of confidence from an athletic director lead to a huge winning streak and a division title?  That's exactly what James Franklin and his staff did.
There's still a lot to be accomplished, but let's tip our hats to this staff for a job well done so far.
Grade: A
This article originally appeared on