Penn State vs. Michigan Position Grades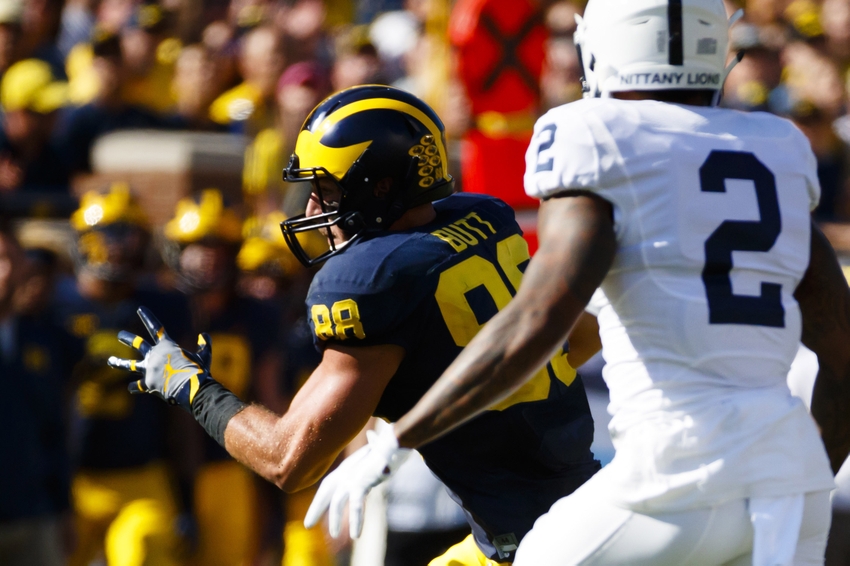 Saturday afternoon in Ann Arbor was a house of horrors for the Nittany Lions.
Penn State was absolutely dominated by Michigan, 49-10 Saturday.  Before the game, most thought the Nittany Lions would have to play near perfect to have even a chance at the upset.  However, the game turned out worse than some expected.
From the opening kickoff, little went right for Penn State.  There was a holding call on the kickoff and Trace McSorley was sacked twice on the first drive.  The ensuing punt was returned to the Penn State nine, and not even an unsportsmanlike penalty on the Michigan sideline would hold the Wolverines at bay for long.
It was pretty much all downhill from there.
This was the result most expected.  I had thought Penn State would show more on offense, but they were stuck in reverse most of the afternoon and could do little against a very good Michigan defense.
The Nittany Lion defense is decimated by injuries and the news got worse Saturday afternoon.  As expected, they were completely overwhelmed and outmatched by Michigan's offense.
We will see how the team regroups next week against Minnesota.   I always had Michigan as a loss from the beginning of the season.  It was just a little surprising how the team completely lacked basic fundamentals at times during this game.
Let's hand out some positional grades for this week.  Spoiler alert…it's brutal.
Quarterbacks
To say the least, it was a rough day for Trace McSorley.  He could have played better, but he certainly was given no favors from the rest of the team.
This game reminded fans of the last two years where Christian Hackenberg was running for his life.  McSorley was sacked six times, and even when he wasn't sacked, he had Michigan defenders in his face for most of the game.
McSorley finished the day 16 for 27 with 121 yards and a late touchdown that didn't matter.  He also threw a late interception which Michigan turned into a touchdown.
He only threw the ball deep a handful of times when he had a chance, but those balls weren't caught, as they were under thrown and the coverage was good.  His longest pass of the day was a wheel route that Saquon Barkley took for 30 yards.
I haven't called it out yet, but after watching the read option for four games, McSorley really needs to work on it.  He's telegraphing way too much and good defenses like Michigan's are going to read that all the way.  He is also not making the best reads from it.
Grade: D
Running Backs
Without Saquon Barkley, the offense would have been even worse than it was on Saturday.
Barkley had 15 carries for 59 yards for a 3.9 yards per run average.  Not good, but there is only so much a kid can do without any run blocking.  Barkley also added five catches for 77 yards.  He needs to be involved in the passing game more as the read option runs are not getting him the ball fast enough.
During one play in the second half, he took a run to the left, got bottled up, and ran all the way back to the right to gain 1 yard.  He tries to make something out of nothing every down and the effort is there.
Miles Sanders, Mark Allen, and Andre Robinson combined for 4 carries and 17 yards.  Sanders also coughed up the football late in the game, but it didn't matter at that point.
The grade is basically Saquon's, as the other three had incomplete performances.
Grade: B
Wide Receivers / Tight Ends
When your running back is your leading receiver on the day, it's usually not a good thing.
To the receivers' credit, McSorley was running for his life for most of the game and didn't have a lot of time to get them the ball.  However the receivers could not create much space against Michigan's superb secondary.  They were blanketed for most of the game.
The guy who caught the most and had the most yards was actually Mike Gesicki.  He had 5 catches for 23 yards.  His hands are most improved this year, but he still needs work on his blocking.
DaeSean Hamilton and Chris Godwin had one catch each.  That's not good enough to beat a team like Michigan.  Godwin's catch happened to be a touchdown, but the game had long been decided by that point.
Grade: D
Offensive Line
The Nittany Lions, in the trenches, turned back the clock Saturday to the last couple seasons.  It was horrendous.
Little pass blocking and no run blocking lead to the result on the field.  As stated before, McSorley was sacked six times and had little time to do much of anything.  All the yards Barkley tallied were on him, but many times the pocket would collapse as soon as he touched the ball.
Michigan's front four is really good and spent most of the game making the Nittany Lions' offensive line look like swiss cheese.
Nothing more really needs to be said here.
Grade: F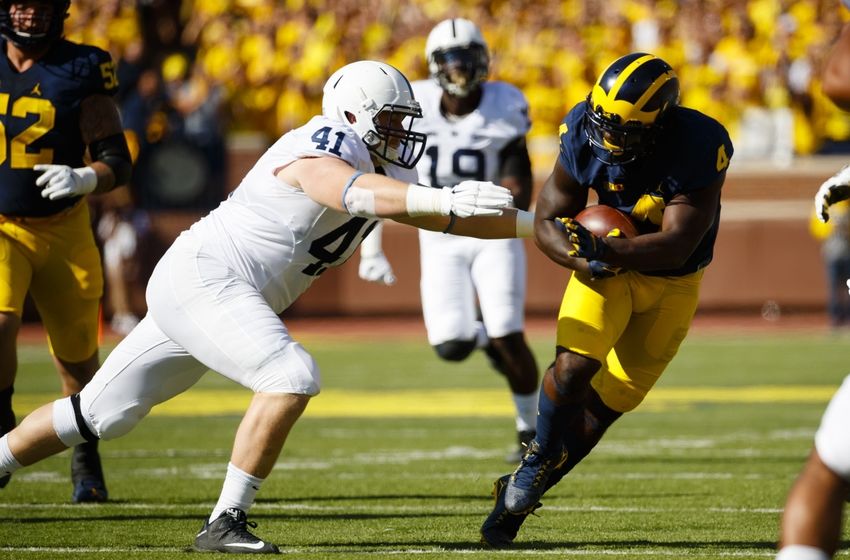 Defensive Line
Like the Pitt game, Michigan was allowed to run all over the Penn State defense, and it started with the front four.
The Wolverines ran for 326 yards on the afternoon.  That's miserable and there was rarely a stop up front.
One of the keys to this game was for the Nittany Lions to get pressure on Michigan's quarterback Wilton Speight.  On the few occasions that Speight was pressured, he was able to escape and either make a play or throw the ball away.  He was not sacked a single time.
We'll get to the linebacker woes, but the defensive line is a big trouble spot for the Nittany Lions as they move forward in conference play.
Grade: F
Linebackers
A bad situation just got worse on Saturday for the Nittany Lions at linebacker.
Brandon Smith was ejected in the first half for a very questionable targeting foul.  It wasn't targeting in my opinion as Smith had his hands out to the defend the pass and possibly intercept it.  The Wolverine receiver was already down low and the helmet to helmet was just an unfortunate consequence.  To have it confirmed in replay was even more egregious by the referee.
Then to add insult to injury, Smith's replacement at middle linebacker, walkon redshirt freshman Jan Johnson, left the game with a knee injury.  It was announced after the game that it was an ACL and he will be out for the rest of the season.
So, Penn State is left with no middle linebackers.  Should the team have open tryouts this week?
One positive, true freshman Cameron Brown did have 10 tackles, and one was for a loss.
Grade: D
Secondary
Let's start with a positive here.  The Nittany Lions secondary did hold Michigan under 200 yards passing.  However, when you can gash the defense with the run, there is no reason to throw.
Cornerback Grant Haley missed another game this week.  Hopefully he can make it back soon.
The safeties were the busiest players all afternoon.  Malik Golden led the team with 11 tackles, eight of them solo.  He also had a pass breakup and a tackle for loss.  Marcus Allen had 7 tackles, all of them solo, and added two pass breakups.
I did notice the tackling in the secondary was better.  But Michigan was slicing through the Penn State front seven.  I'd  like to see this group be more opportunistic and create some turnovers, but that could apply to the whole defense.  It's going to be hard to do when they are so banged up.
Grade: C
Special Teams
Freshman Blake Gillikin was pretty good once again.  He had six punts that averaged 45 yards and put one inside the 20.  His longest punt of the day (61 yards) was his first, but it got Penn State in trouble, as he out-kicked the coverage and Michigan's Jabrill Peppers returned it inside the Penn State 10.
Tyler Davis remained perfect on field goals and extra points, nailing both his attempts.  Joey Julius made another huge hit on a kickoff.  I'm thinking he needs to get a shot at linebacker.
Other than that, not a bad day for the special teams.  For once, this unit is one of the Lions least concerns.
Grade: B
Coaching
Down 28 in the third quarter, James Franklin took a timeout to avoid backing up a field goal from 21 yards to 26 yards.  Also, when you talk aggressive offense and you go for three when you are down four scores, that's basically giving up.
It seemed like the coaches did not have the team prepared from the opening kickoff.  Everything was an utter disaster from the start.
The team lacks fundamentals at times and that is on the coaches.  There should not be that many missed tackles and this team can't afford to miss the simple opportunities when there are so many injuries.
On the other side of that coaching coin, I will add this one side note for the team's overall performance.  I like to peruse social media after games, just to get the pulse of the fans.  It usually isn't pretty after losses, but after Saturday's game, it seemed like many thought we were going to beat Michigan, or at the very least, keep it close.
Sure, I thought the offense would move the ball and score more points, but we all should have known the Penn State defense was completely over-matched before kickoff.  Another injury and the ejection just amplified the problems.
The next two weeks will define where this season will go.  If we see repeat performances against Minnesota and Maryland, then sure, we can revisit some of this "Fire Franklin" talk.  I'm just not ready to jump on that bandwagon quite yet.
Grade: D
This article originally appeared on