Penn State vs. Iowa: Players of the Game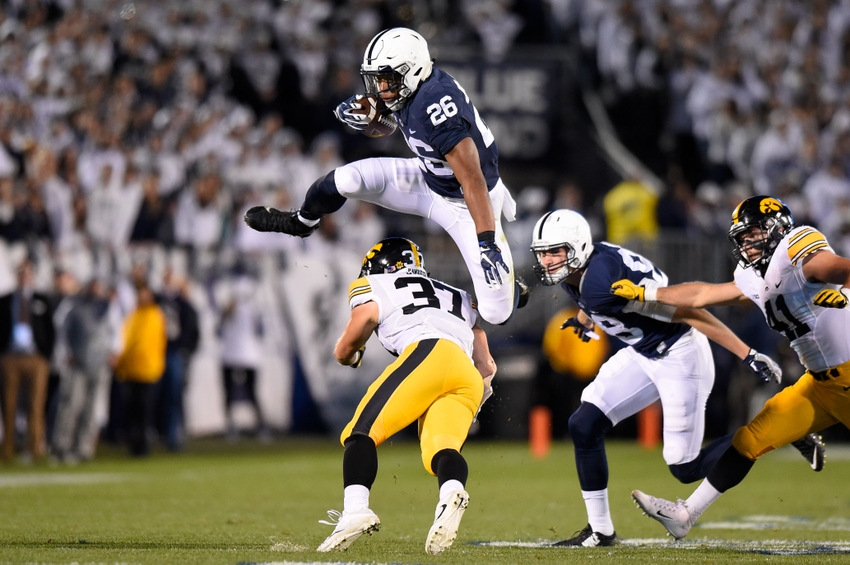 In front of a rocking crowd at Beaver Stadium the Penn State Nittany Lions dominated the Iowa Hawkeyes by a score of 41-14 on Saturday night.
The Penn State Nittany Lions are now 7-2 overall on the season. That 7-2 record includes them being 5-1 in Big Ten Conference play. Ladies and gentlemen, Penn State football is back.
Entering the day Penn State was ranked 12th in the country. Due to three teams ranked ahead of them losing, there is a very good chance that the Nittany Lions will be a top-10 team when the new College Football Playoff rankings come out on Tuesday night.
How great does it feel to be a top-10 team once again?
As for Saturday night, it was one of the Nittany Lions' most impressive wins of the season. Do not let the 5-4 record foul you, Iowa is a good football team. Coming into the game they were allowing just 18.8 points per game, and Penn State blew that out of the water.
Here are Penn State's players of the game from their dominating 41-14 victory.
Offense – Running Back Saquon Barkley
Saquon Barkley is a very special running back. In my opinion, he is the best running back in the country. Additionally, it is time he starts to garner Heisman Trophy talk.
More from Victory Bell Rings
On Saturday night Barkley rushed for 167 yards and a touchdown. He also had one catch for 44 yards and a touchdown. This was the third time in the last four games that Barkley has gone over 200 yards of total offense.
On the season Barkley has now rushed for 1,055 yards. Furthermore, he is over 2,000 yards rushing for his career. His 11 rushing touchdowns and 13 total touchdowns both lead the Big Ten as well.
What Saquon Barkley does on a football field is incredible. He is the best running back in college football and one of the best players in the country. It is time for him to enter the Heisman Trophy discussion.
Honorable Mention: QB Trace McSorley, LT Paris Palmer
Defense – Linebacker Jason Cabinda
On Saturday night Jason Cabinda was in full-fledged beast mode. The junior linebacker recorded eight tackles and made arguably the two biggest plays of the game for the Nittany Lion defense. And these two plays came on Iowa's first two possessions of the game.
On Iowa's opening drive Cabinda stuffed the Hawkeyes on a fourth and one attempt. Then on their next drive he blew up a third and one running attempt to force a punt. He also helped to stuff and third and one in the third quarter.
Iowa finished the game with 30 yards rushing on 26 carries. And a big reason for Penn State's defense being so stifling was Jason Cabinda. Cabinda is one of the leaders of the Penn State defense and it has been great to have him back.
Honorable Mention: DE Evan Schwan, LB Brandon Bell
Special teams – Running Back Miles Sanders
True freshman running back Miles Sanders is a very explosive runner. He is also very patient and has great vision. There is a reason he was the top running back in the country in 2016 recruiting class.
One day soon he will be a great running back for Penn State. However, he is already a great kick returner for the Nittany Lions. Sanders averaged 36 yards per return on Saturday night. This included him returning the game's opening kickoff 48 yards to help setup the Nittany Lions' first touchdown.
Miles Sanders is a player that has the ability to score every time he touches the ball. I predict he will return a kickoff for a touchdown before the end of the season.
Honorable Mention: LB Von Walker, PK Joey Julius
James Franklin has made Penn State Football great again. The Nittany Lions are now 7-2 overall, 5-1 in the Big Ten, and on their way to being ranked in the top-10. Furthermore, Penn State should win out and finish the season at 10-2.
It is long overdue, but Penn State Football is great again. It is also fun again. Is it next Saturday yet?
This article originally appeared on