Penn State Players of the Game Against Michigan State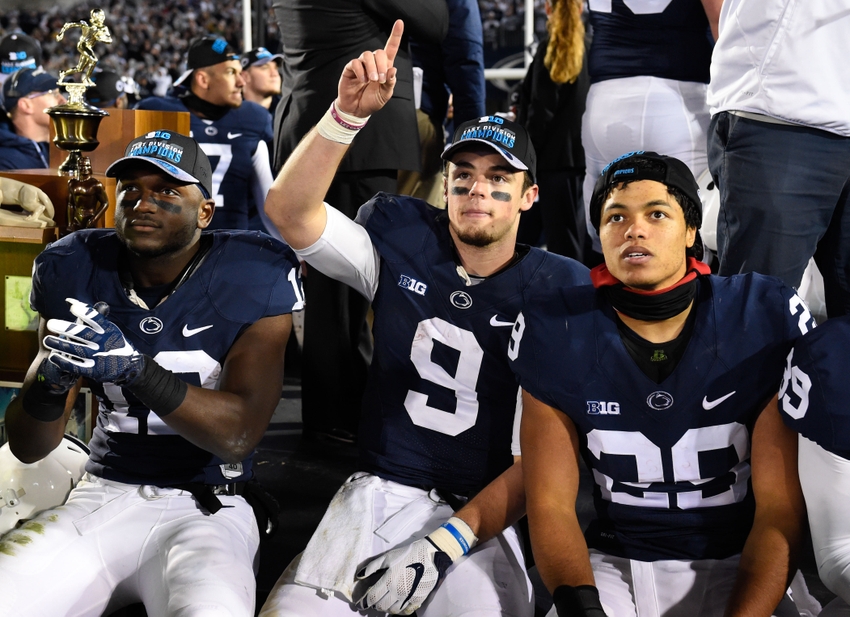 The magical ride of the 2016 Penn State football team continued on Saturday when they punched their ticket to the Big Ten Championship Game.
The Penn State Nittany Lions are going to the Big Ten Championship Game. Who would have thought that was possible two months ago? James Franklin, his assistant coaches, and the players all deserve an endless amount of credit for what the Penn State Football team has done this season.
On Saturday, the Nittany Lions dominated Michigan State by a score of 45-12 to win the Big Ten East Division. For the first time since the game's inception, the Nittany Lions will be playing in the Big Ten Championship Game next Saturday. To take a page out of Coach Franklin's book: Wisconsin, Wisconsin, Wisconsin, Wisconsin, Wisconsin.
But first, here are the Penn State Football players of the game from Saturday's blowout victory.
Offense – Quarterback Trace McSorley
The redshirt sophomore quarterback was fantastic on Saturday. Trace McSorley finished the game 17/23 for 376 yards and four touchdowns. Despite finishing the game with just 13 yards rushing, his legs still played a big role in his success as it allowed him to keep plays alive.
More from Victory Bell Rings
Penn State's offense struggled for much of the first half. However, McSorley got hot late in the first half and the Nittany Lions rode that the rest of the way.
After his performance on Saturday, McSorley set a new Penn State single season record for total yards. Despite there being times when he struggles with his accuracy, McSorley has had a fantastic season for Penn State. His play is a big reason that Penn State's offense has improved so much this season.
Honorable Mention: WR Chris Godwin, RB Andre Robinson
Defense – Linebacker Brandon Bell
Saturday was senior linebacker Brandon Bell's final game at Beaver Stadium. And with the performance he had, Bell went out with a bang.
Brandon Bell recorded a career-high 18 tackles in Saturday's victory. Bell also broke up a pass, and added two tackles for a loss. He played a big role in the Nittany Lion defense shutting out Michigan State in the second half.
Next fall, Bell will be playing on Sundays. But on his final Saturday playing at Beaver Stadium, Bell represented Linebacker U one last time at home. Thank you to Brandon for all he has done for this program the past four years.
Honorable Mention: LB Manny Bowen, DE Garrett Sickels
Special Teams – Punter Blake Gillikin
Penn State did not have to punt very often on Saturday afternoon. Blake Gillikin was called upon just four times. And those four punts of Gillikin's were excellent.
The true freshman punter averaged 46.8 yards per punt on Saturday. This included a long of 54 yards. Due to Gillikin's punting efforts, the Nittany Lions were able to flip field position back in their favor in a first half that saw the offense struggle.
The addition of Blake Gillikin this season has been a great one for Penn State. The Nittany Lions struggled immensely in the punting game the past few seasons. However, Blake Gillikin has turned that into a strength this season.
Honorable Mention: K Tyler Davis, CB Nick Scott
That is a wrap for this game and the regular season. What an incredible ride the 2016 season has been for the Penn State Football program. And best of all, this ride is far from over.
Wisconsin, Wisconsin, Wisconsin, Wisconsin, Wisconsin, Wisconsin, Wisconsin, Wisconsin, Wisconsin, Wisconsin, Wisconsin, Wisconsin, Wisconsin, Wisconsin, Wisconsin, Wisconsin, Wisconsin, Wisconsin.
This article originally appeared on