CFB AM: Franklin's daughter hits sleds, yells 'We are … Penn State!'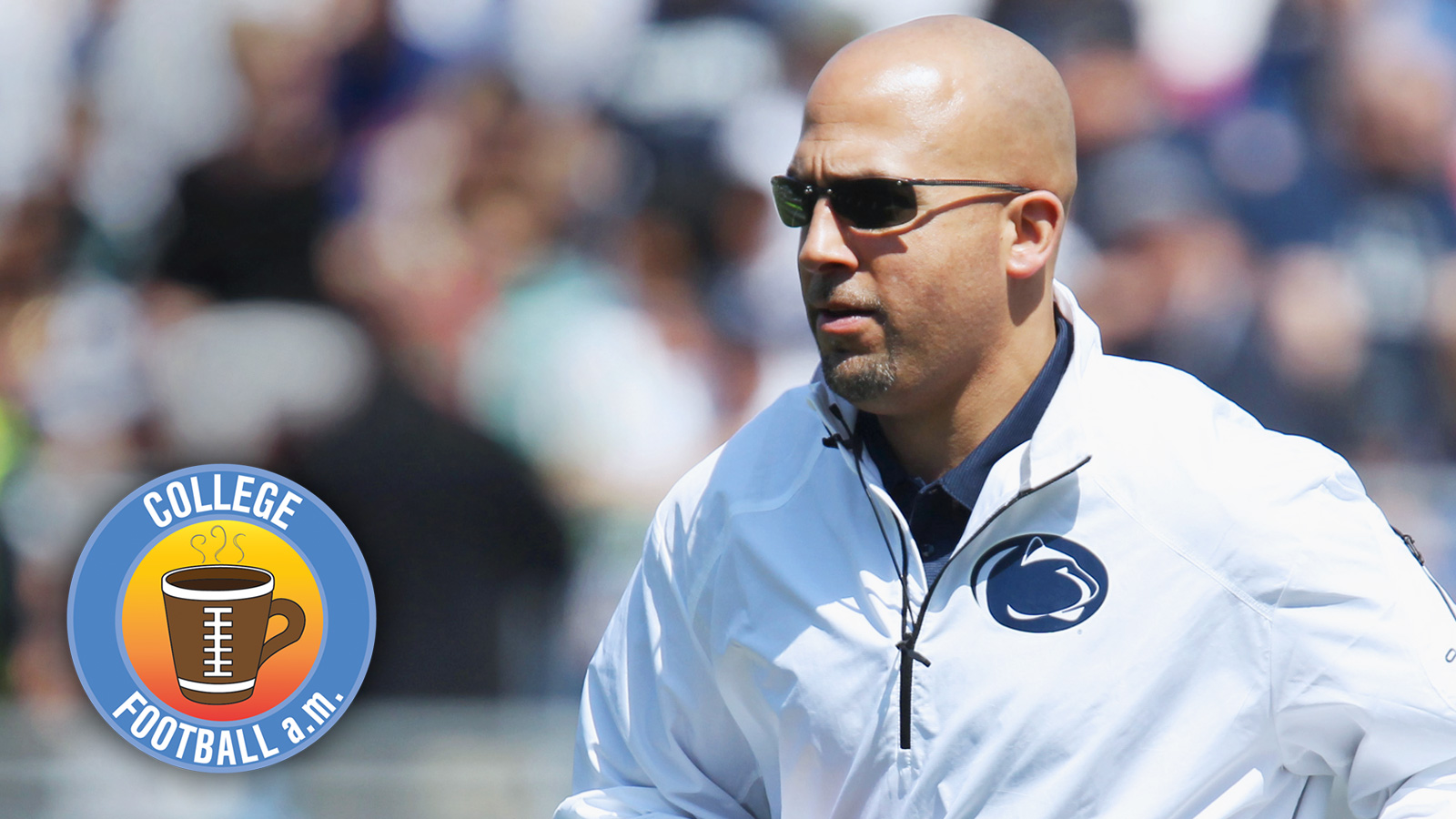 New Penn State coach James Franklin is probably known best for his ferocious and relentless energy.
You don't have to know Franklin to know he values positive energy, competitiveness and the sheer force of will.
So what do you think Franklin would want to pass onto his own children?
All of that boundless energy, of course. On Sunday, Franklin posted a video on Twitter that shows part of his parenting genius.
The coach lined up his young daughter in front of blocking sleds and told her to attack. There are so many things to love about the video, beginning with Franklin giggling like an adolescent and yelling "Yes!" each time his daughter hits the pads like one of his players.
After finishing the drill, she faces the camera and screams, "We are … Penn State! We are … Penn State. Thank you! You're welcome!" What an awesome home video. Here it is in Franklin's tweet (click link). Enjoy.
Proud Dad moment – seeing your daughter take on the sleds with #PSUnrivaled aggression! https://t.co/iaNM29c8Rf

— James Franklin (@coachjfranklin) August 24, 2014
Oh, and I have no idea who "Uncle Chaos" is in the Franklin family, but we should all have one of those.
THREE THINGS YOU NEED TO KNOW
1. When Miami opens the season against Louisville a week from today, true freshman Brad Kaaya will be the team's starting quarterback. Kaaya beat out Kansas transfer Jake Heaps, while projected starter Ryan Williams – who tore his ACL in spring practice – continues to rehab. "Separation came about a few days ago, about eight days ago," said offensive coordinator James Coley. "I thought Jake did a great job this camp and I just thought that Kaaya, towards the end here, really pulled away and started getting really comfortable. Like I've been saying, he's not your regular freshman. He's not a freshman anymore. He's the starting quarterback for the University of Miami."
In other starting QB news, Virginia Tech gave the nod to Texas Tech transfer Michael Brewer over the weekend.
2. One way or another, the UCF-Penn State game will be played this weekend. It's just not confirmed yet that the game will be in Dublin, Ireland, as a volcano is still causing issues. But as of Sunday evening, both programs still planned to board a flight for Ireland on Tuesday.
3. A couple significant notes from last Friday afternoon that you might have missed before the weekend: The NCAA denied Dorial Green-Beckham's waiver for immediate eligibility after transferring to Oklahoma. He was dismissed from Missouri in April after a series of off-field legal issues. Green-Beckham will now have to decide whether he wants to play for the Sooners in 2015 or enter the 2015 NFL Draft, which he'll be eligible to do.
Stud Louisville receiver DeVante Parker injured his foot in practice and was expected to be in Charlotte on Sunday seeing the Panthers' team doctor, who specializes in foot and ankle injuries. If Parker's injury is serious and he has to miss extended time, let alone the full season, it's a huge blow for the Cardinals. Parker is a vital part of helping Louisville transition from QB Teddy Bridgewater to Will Gardner.
THREE THINGS YOU SHOULD KNOW
1. There's some really sad news out of Morgan State: 18-year-old Marquese Meadow died Sunday after being hospitalized two weeks ago following a workout. Few details regarding Meadow's death have been released as of now. Condolences to his family and the Morgan State program.
2. According to a report that came out Sunday, USC athletic director Pat Haden, who's also a member of the College Football Playoff committee, has been hospitalized twice in recent days because he wasn't feeling well. It's a vague description of whatever ills Haden, but the good news is USC tweeted on Sunday that Haden says he feels fine and was expecting to be released from the hospital yesterday. Get well, Pat.
3. This is pretty cool: Houston has created an 11-yard line to honor Andre Ware (he wore No. 11), the former Cougars QB who won the Heisman Trophy 25 years ago. Ware, the first African-American QB to win college football's highest individual honor, threw for 4,999 yards and 44 TDs in UH's Run-N-Shoot offense in 1989.
THREE THINGS YOU MAY WANT TO KNOW
1. The New York Times profiled Phil Steele, the man behind the wildly popular preseason preview magazine that all of us college football fans enjoy each year, and it's worth your time. Steele is one of those people who has devoted his life to the kind of work he loves, and he does it so everybody else can enjoy the byproduct of his effort. How many of us can say we approach our jobs that way?
The Steele story is part of a robust NYT college football preview section. You can read all of their pieces here.
2. I don't know about you, but I've always wanted to watch Ricky Williams read a poem about scoring a touchdown to a circle of shocked Texas fans and cheerleaders out in the wilderness. Now we have our chance:
3. Steve Spurrier was asked about the 85-foot photo of him that's now hanging outside Williams-Brice Stadium in Columbia, South Carolina. "I hope we keep winning at Williams-Brice, because I don't want people to come throw eggs at it," Spurrier said. "That could happen if we go bad."
LASTLY
* Nice profile here of Washington coach Chris Petersen by the Seattle Times' Adam Jude.
* Enjoyed this Tim Rohan profile of Marcus Mariota and how his upbringing in Hawaii shaped him.
* Buddy and fellow Tar Heel Jonathan Jones writes about Dabo Swinney's spirituality and the criticism he's getting from one group for expressing his Christian beliefs around Clemson.
* Hilarious but probably not safe for young children: Ryan Nanni has photos of 21 terrifying old college mascots.
* Somehow, Clemson defensive coordinator Brent Venables even makes yoga look intense.
* And the Oregon Duck has gotten into the ALS Ice Bucket Challenge. Well done.
Have a great Monday, all.
Teddy Mitrosilis is an editor and writer for FOXSports.com. Follow him on Twitter @TMitrosilis and email him at tmitrosilis@gmail.com.