Penn State Football Recruiting Roundup: October 19, 2016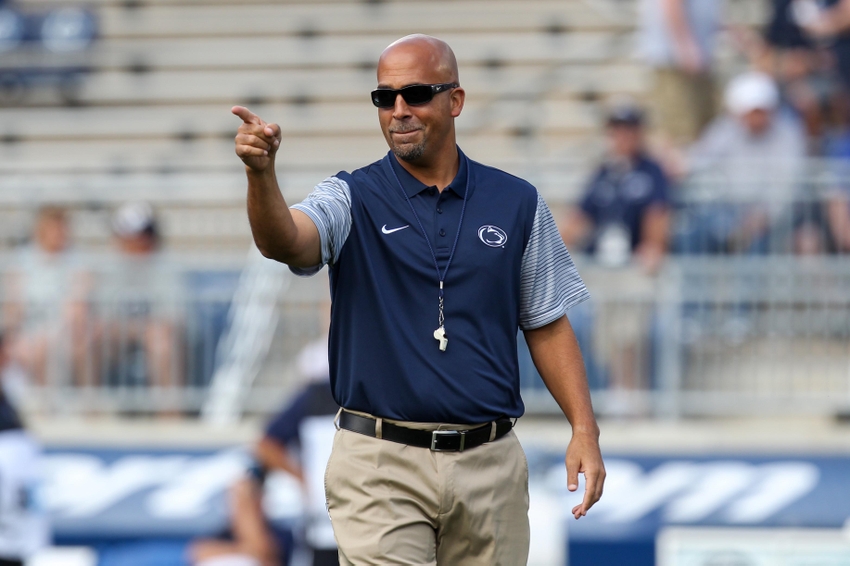 This weekend will be the biggest recruiting weekend of the season for the Penn State Football team. This is due to Saturday night being the 2016 White Out game.
Welcome back to Victory Bell Rings' weekly look at all things Penn State Football recruiting. This is my weekly recruiting roundup, and this week's is one filled with a lot of news.
As you all know Saturday night the second-ranked Ohio State Buckeyes will come to Beaver Stadium. This game will be the 2016 White Out game. Due to this, Beaver Stadium should have an absolutely electric atmosphere on Saturday night.
In past years night games in Happy Valley have been a great recruiting tool for the Penn State Football program. Hopefully Saturday night's game will be the next to join that list. With all of that said, let's get this week's recruiting roundup started.
More from Victory Bell Rings
Penn State Makes The Cut
We will start with some positive news that Penn State got this week. Three-star defensive tackle Ben Hutch announced his top three schools on Sunday afternoon. Penn State was one of the three schools that made the cut.
The other two schools in Hutch's top three are Louisville and Texas A&M. This news also came on the heels of Hutch taking an official visit to Happy Valley. You can read more about Penn State making the cut for Hutch here.
The Nittany Lions Extend A New Offer
On Monday, the Penn State football coaching staff extended an offer to defensive tackle Tommy Christ. The three-star recruit is a native of Sterling, Virginia, and is currently committed to the Virginia Cavaliers. The Nittany Lions were Christ's second major offer of the month after Ole Miss offered earlier in October.
Blessed to have received an offer from Penn State University pic.twitter.com/qbfLVeIdva

— Tommy Christ (@tschrist50) October 18, 2016
If there is mutual interest here I would look for Christ to visit Penn State for a game before the end of the season. Honestly, I would not completely rule out this weekend. I am not one hundred percent sold that Christ is currently a take for Penn State. At this stage in the game I believe Christ is a back up if the Nittany Lions miss out on other top targets at defensive tackle.
Weekend Visitors
It is time for what everyone is most interested in: this weekend's visitor list. As always, this is not the complete visitor list. That is due to this list being comprised of what I have been able to gather from social media, talking with others, and free online content.
Due to this weekend being the biggest recruiting weekend of the season the list is a substantial one. It consists of class of 2017, 2018, and 2019 recruits. Additionally, this list could still grow before kick off on Saturday.
*- Denotes Penn State commit
Class of 2017
OL Michael Miranda*
LB Dylan Rivers*
DE Damion Barber*
WR Mac Hippenhammer*
OL CJ Thorpe
LB Brelin Faison-Walden* (official visit)
LB Brailyn Franklin* (official visit)
DE Yetur Matos* (official visit)
DB DJ Brown* (official visit)
CB Tariq Castro-Fields
CB Lamont Wade
RB Anthony McFarland (official visit)
Class of 2018
DE Micah Parsons*
WR Justin Shorter*
OL Chris Bleich*
RB Ricky Slade
Class of 2019
DB Nyquee Harris
Penn State will host both official and un-official visitors for Saturday night's game. As a result the coaching staff will be busy recruiting all weekend long. This weekend is a big opportunity for Penn State.
Getting Lamont Wade back on campus this weekend is huge for the Nittany Lions. He has not visited since Penn State's victory over Temple in September, and has been to Tennessee twice. Penn State will host the nation's top cornerback for their next home game as well, against Iowa on November 5th, and this visit will be Wade's official visit to Penn State.
Wade was a very common face in Happy Valley during the spring and summer months. This led to the Nittany Lions pole vaulting to being Wade's leaders when the summer ended.  However, since then he has visited Tennessee three times and Penn State just once.
The Nittany Lions are currently in a dog fight with Tennessee for Wade's services. Pitt is still lingering, too. These next two home games will be Penn State's chance to, once again, become Wade's leaders.
Another player Penn State has the chance to make big a move for this weekend is four-star cornerback Tariq Castro-Fields. The Maryland native attends Riverdale Baptist School, the same school as class of 2016 signee Zech McPhearson. It's worth noting that Castro-Fields and McPhearson are close friends.
Castro-Fields' recruitment appears to be a three horse race between Alabama, Maryland, and Penn State. Potentially, Virginia Tech could be a factor here as well. Castro-Fields was last on campus for the Lasch Bash in July, and will take an official visit to Penn State later this fall. The Nittany Lions have a great chance to make a move with Castro-Fields this weekend.
Breaking Down The Official Visitors
Most of the official visitors that Penn State will host this weekend are class of 2017 commits. Of these players, minus Brelin Faison-Walden, they all appear to be one hundred and ten percent committed to Penn State.
Faison-Walden visited Michigan a few weekends ago, but remains committed to the Nittany Lions. BFW is slated to enroll early, and could play as a true freshman at Penn State. This is due to a combination of his skill set and the team's need at linebacker. This weekend, the staff will get their chance to reassure things with Faison-Walden.
The non-committed official visitor is running back Anthony McFarland. The Hyattsville, Maryland, native attends powerhouse DeMatha Catholic High School. And this will be his first visit to Penn State since last year.
Right now Miami and Alabama appear to be the schools to beat for McFarland. However, with a good visit this weekend the Nittany Lions could make a big move for the four-star running back. Getting into the thick of things for McFarland would be fantastic, as 247 Sports rates him as the 63rd best player in the country in the 2017 recruiting cycle.
That will do it for this week. This weekend is a massive recruiting one for the Penn State Football team. Hopefully, Beaver Stadium's atmosphere is electric all night long and it ends up being a successfully weekend on the recruiting trail for James Franklin and company.
This article originally appeared on