Penn State Football Recruiting Roundup: November 3, 2016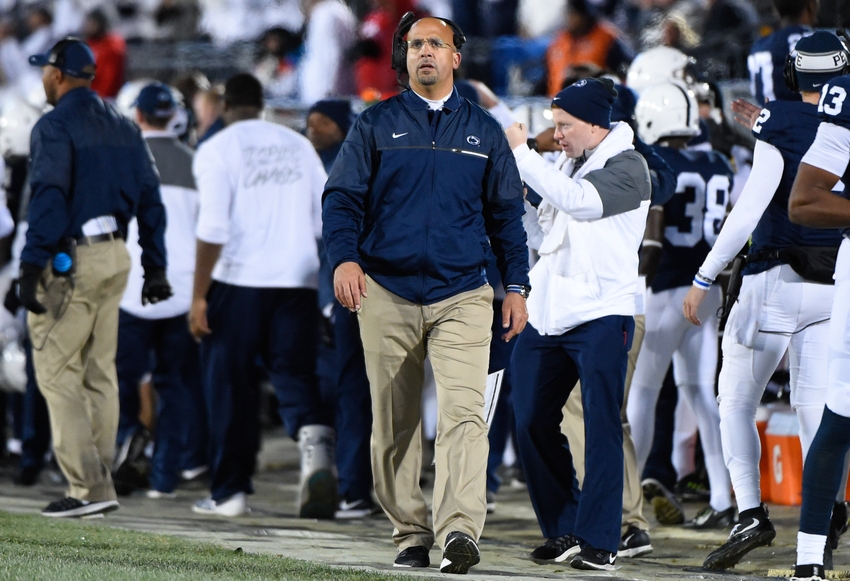 As the Penn State football team prepare to host the Iowa Hawkeyes on Saturday night, the coaches are preparing for a big recruiting weekend in Happy Valley.
Penn State is preparing for its second White Out of the season. On Saturday night, the No. 12 Nittany Lions will host the Iowa Hawkeyes (5-3) under the lights at Beaver Stadium. And Head Coach James Franklin is calling for the second White Out in as many home games.
On top of preparing for a very important Big Ten Conference game, the Penn State coaches are also preparing for a big recruiting weekend. While the Nittany Lions will not host 150+ recruits as they did for their victory over Ohio State, there will still be a boat load of recruits on campus this weekend. And that includes some of the Nittany Lions' top targets.
This weekend is a huge one for the Nittany Lions on the recruiting front. It is a chance to continue to improve their standing with some of their top 2018 targets. Additionally, they might be able to lock up some of their remaining 2017 targets.
With all of that said, let's dive into this week's recruiting roundup.
New Offer
Before we look ahead to this weekend, we will look at a new offer the Nittany Lions extended this past week. Class of 2018 linebacker Brian AsaMoah received an offer from Penn State on Monday night.
I am extremely honored to say I have received my sixth Scholarship offer & second B1G 10, from Penn State University. #WeAre pic.twitter.com/CYuonUDSqd

— Brian Asamoah (@b_moah211) October 31, 2016
Brian AsaMoah is a native of Columbus, Ohio. This offer came on the heels of him visiting Beaver Stadium for the Nittany Lions' victory over Ohio State two weekends ago. Penn State joins Indiana and Michigan as other Big Ten schools that have offered AsaMoah thus far.
Early on, Penn State is in a good spot for AsaMoah. It is very possible that they are his early leaders. However, there is a long way to go in this recruitment.
Weekend Visitors
As I said above, this weekend is a big recruiting one in Happy Valley. Penn State only has two home games left. Additionally, Saturday's atmosphere should be electric since it is a night game. Furthermore, the home final against Michigan State is on Thanksgiving Day weekend. And Thanksgiving weekend is usually a recipe for a lackluster crowd.
Below is a list of visitors I have put together based on what I have gathered from social media, free outlets, and speaking with sources. As always, the final visitor list will be larger than this.
*- Indicates a Penn State commit
Class of 2017
OL Michael Miranda* (OV)
QB Sean Clifford*
DE Damion Barber*
CB Lamont Wade (OV)
Class of 2018
DE Micah Parsons*
OL Chris Bleich*
WR Shaquon Anderson-Butts
TE Kyle Pitts
QB Justin Fields
The biggest name on this list is Lamont Wade. The Clairton, Pennsylvania native has been a regular at Penn State since the spring. Saturday will be the second game he has visited this season, as he was also at the Nittany Lions' win over Temple in September.
Wade is arguably the best cornerback in the nation. Due to this, he is the top player still on Penn State's board in the 2017 recruiting cycle. Wade was supposed to visit for the Ohio State game as well. However, due to having a game that day he was unable to.
Saturday will be Wade's official visit to Penn State. This is a visit he has had planned for quite awhile. And this is a big visit for both Wade and the Nittany Lions.
While Wade will not announce his college decision until December 17th, I believe the Nittany Lions can effectively end his recruitment this weekend. This is due to the fact I believe Penn State is the team to beat for Lamont Wade. I expect him to commit to the Nittany Lions on December 17th.
Another name of note on the list is Justin Fields. The top-100 signal caller, a Georgia native, will be visiting Penn State for the second time this season. This also comes after he said a few weeks ago he would not take anymore visits until the winter.
Right now the Nittany Lions appear to be one of the top three or four schools for Fields. Georgia, Louisville, and Teneessee are top contenders here as well. This weekend is a great opportunity for the Nittany Lions to impress their top quarterback target for the 2018 recruiting cycle.
That will do it for this week. Saturday night is a big night of recruiting for Penn State. Furthermore, it is a big night for the Nittany Lions as they try to win out and earn a New Year's Six bowl bid.
Due to these reasons, hopefully the Penn State Football team continues to play as well as anyone in the Big Ten other than Michigan.
More from Victory Bell Rings
This article originally appeared on