Penn State Football Recruiting Roundup: November 23, 2016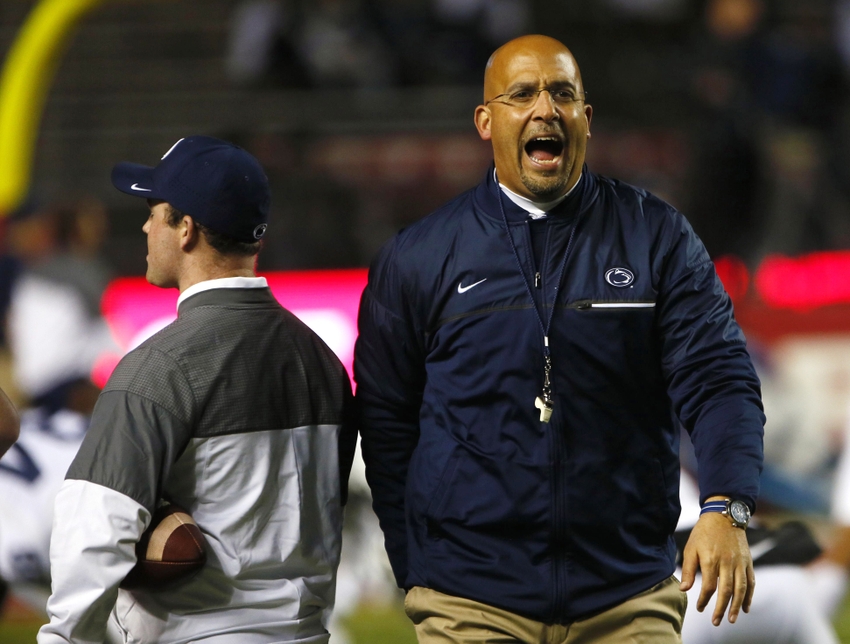 As the 2016 Penn State Football season starts to wind down, recruiting is starting to pick up in a big way.
After a dominating 39-0 victory over Rutgers last Saturday, the Nittany Lions will look for win number 10 against Michigan State this weekend. This would be the first 10-win season for the Penn State Football program since 2009. And the Nittany Lions will try to earn this victory at home.
Since this game will be played at Beaver Stadium, that means it is another big recruiting weekend in Happy Valley. It is also an important one for two reasons.
First off, this is, obviously, the final home game of 2016. Therefore, it is the final chance for recruits to experience the Beaver Stadium game day experience. Secondly, a recruiting dead period begins on December 11 and goes until January 9. So, recruiting will hit a bit of a lull in a few weeks.
There is a lot of news to cover this week, so let's begin this week's Penn State football recruiting roundup.
Micah Parsons To Play Both Ways
We will start with some news regarding five-star class of 2018 defensive end commit Micah Parsons. On Saturday, Parsons Tweeted that he will be playing both ways for the Nittany Lions in college.
Pennstate just offered for me to play both ways blessed @CoachHuff @CoachPry_LBU

— #blessedMVP™ (@Micah_Parsons90) November 19, 2016
The thought of Parsons playing both ways in college is a very intriguing one. He is one of the most athletically gifted players I have ever seen. Evident by his three rushing touchdowns in Harrisburg's playoff victory last weekend.
While Micah Parsons will undoubtedly be a force to be reckoned with on defense in college, he can make a big impact on offense too. He could make an impact at tight end or as a short yardage back in college. And the Nittany Lions will give him the chance to make that two-way impact.
Penn State Makes The Cut
Four-star linebacker Anthony Hines Tweeted over the weekend that he will announce his college decision on December 2nd. He also announced that he will be choosing from a top six. This top six is Florida, Ohio State, Penn State, Texas A&M, TCU, and UCLA.
COMMITTING ON FRIDAY DEC. 2ND @ PESH 12:00 PM !!! BE THERE !!!(Edit by @Hayesfawcett3 ) pic.twitter.com/NLXPzX29B8

— Anthony Hines III (@TheAntHines_Era) November 21, 2016
Hines took an official visit to Penn State back in September to watch the Nittany Lions defeat Temple. While the Nittany Lions appear to be a long shot here, it is still extremely impressive that they are even a finalist here.
I am expecting Hines to commit to Texas A&M. However, Aggies' head coach Kevin Sumlin is very much on the hot seat. Due to this, I am hopeful the Nittany Lions stay on Hines.
Penn State Set To Host A Pair Of Maryland Commits
The Penn State football coaches could be on the brink of improving their recruiting class, while also helping to destroy Big Ten East rival Maryland's. This weekend, two of the Terps' highest-rated commits will be taking official visits to Penn State. Those two commits are five-star defensive end Joshua Kaindoh and four-star defensive tackle Cam Spence.
More from Victory Bell Rings
At one point Penn State led for both Kaindoh and Spence. And now the Nittany Lions are trending for both once again. Kaindoh's dad will also be joining them over the weekend, and that is very encouraging because Kaindoh's dad plays a huge role in his recruitment.
At this point, I have a hard time believing that Kaindoh will stick with Maryland. He took an official visit to Florida State back in October, and Alabama continues to push for Kaindoh as well. Personally, I think he ends up signing with Alabama, Florida State, or Penn State.
Kaindoh is slated to enroll early at whichever school he chooses. When you combine that with the looming dead period whatever will happen with Kaindoh is going to happen pretty quickly. Right now, I am cautiously optimistic that the Nittany Lions will flip Kaindoh. But getting him to officially visit this weekend is a huge first step toward that happening.
As for Cam Spence, his situation is a little different. While the Nittany Lions do not have any defensive tackle commits in their 2017 recruiting class yet, I am also not certain Spence is a take right now.
Space is limited in this recruiting class, and the Nittany Lions have at least three defensive tackles higher on their board than Spence. While Spence could still end up in this class, I do not expect him to be a take until players such as Elijah Conliffe and Dalyn Wade-Perry decide.
Penn State Set To Host A Florida Commit
For the second time in a month four-star defensive tackle Fred Hansard will visit Penn State this weekend. After visiting un-officially for the Iowa game, Hansard announced on Twitter that he will be officially visiting Penn State this weekend.
Penn State official this weekend #WeAre

— Fred Hansard (@Fred_Hansard56) November 22, 2016
Hansard is currently committed to Florida. But the New Jersey native has always been high on the Nittany Lions, and it is obvious his interest is still there. Due to some grade issues Hansard has not always been a take for Penn State. However, he has worked hard to improve that issue and is now visiting for the second time in a month.
Due to him visiting twice in one month I believe he could now be a take. If he is, Hansard flipping his commitment from Florida to Penn State would not surprise me at all. This is definitely one to keep an eye on this weekend.
That will do it for this week. This Saturday is a big day for the Penn State program both on and off the field. On the field the team can capture their first 10 win season since 2009, while also punching their ticket to the Big Ten Championship Game. And off the field the coaching staff could have a huge recruiting weekend.
This article originally appeared on