Penn State Football Morning Briefing: Nittany Lions Headed to Pasadena, Reaction to CFP Snub, and Other News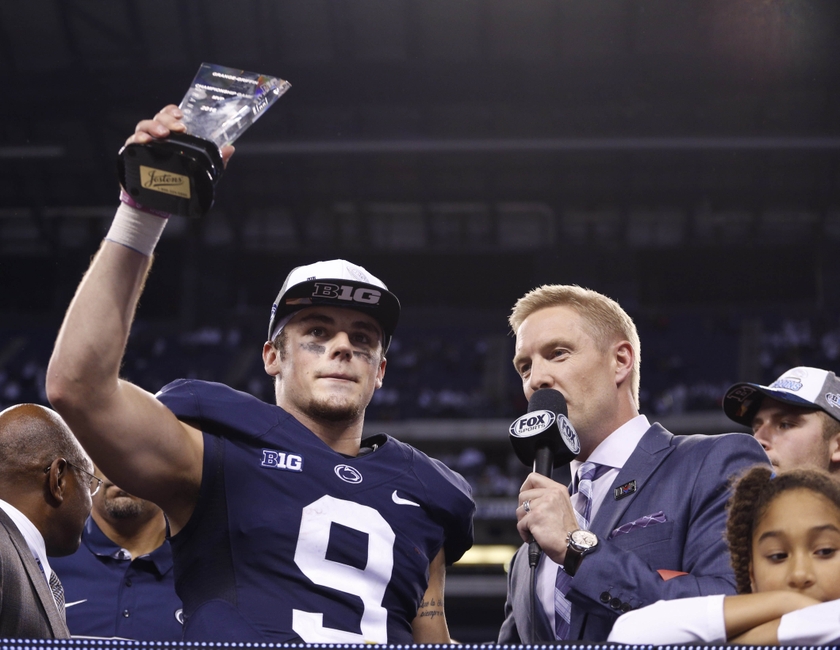 There are plenty of Penn State football news links from the busy weekend. 
The Penn State football program has enjoyed a lot of success this season. After starting the year 2-2, the Nittany Lions have won nine consecutive games.
Of course, there are plenty of posts to browse through about Penn State's comeback victory over the Wisconsin Badgers in the Big Ten Championship. Since the Nittany Lions won that game, they had a chance to make the final four in the College Football Playoff.
Despite the debate, Penn State ultimately ended up ranked No. 5 and will head to the Rose Bowl to take on USC.
In other news, oft-injured linebacker Nyeem Wartman-White will not go after a sixth year of eligibility and will declare for the 2017 NFL Draft. Also, Penn State players relished the pressure of the big moment in the Big Ten Championship.
Finally, the Nittany Lions have opened up as early underdogs against the Trojans.
Morning Links: 
Penn State to Face a Pac-12 Foe in the Rose Bowl (Leonard- Victory Bell Rings)
Penn State Football: College Football Playoff Snub Stings, but It'll be Okay (Leonard- Victory Bell Rings)
Nyeem Wartman-White Declines to Pursue Sixth Year of Eligibility, Declares for the 2017 NFL Draft (Aydin- Black Shoe Diaries)
Rose Bowl Ticket Sales Announced (Colucci- StateCollege.com)
The Nittany Lions Are Your Big Ten Champions Because They Never Gave Up (Connelly- Onward State)
Penn State Left Out of the College Football Playoff, Headed to Rose Bowl (Leonard- Victory Bell Rings)
Penn State players relished the big game pressure (Centre Daily Times)
Penn State opens as an underdog against USC; Lions have covered eight straight (Pickel- PennLive)
TWITTER REACTION: PENN STATE PLAYERS AND COACHES ARE EXCITED TO PLAY USC IN THE ROSE BOWL (Treb- Roar Lions Roar)
Penn State on Twitter: 
🌹! #BeatUSC

— Penn State Football (@PennStateFball) December 4, 2016
The Rose Bowl

No. 9 USC vs. No. 5 Penn State pic.twitter.com/jJG0LQ4bC4

— ESPN CollegeFootball (@ESPNCFB) December 4, 2016
Watch @coachjfranklin's reaction to @PennStateFball's Rose Bowl bid and their upcoming trip to Pasadena. 🌹 https://t.co/GWf4OsUuiQ

— Penn State On BTN (@PennStateOnBTN) December 4, 2016
More from Victory Bell Rings
This article originally appeared on