Penn State Football: Keys to the Game vs Rutgers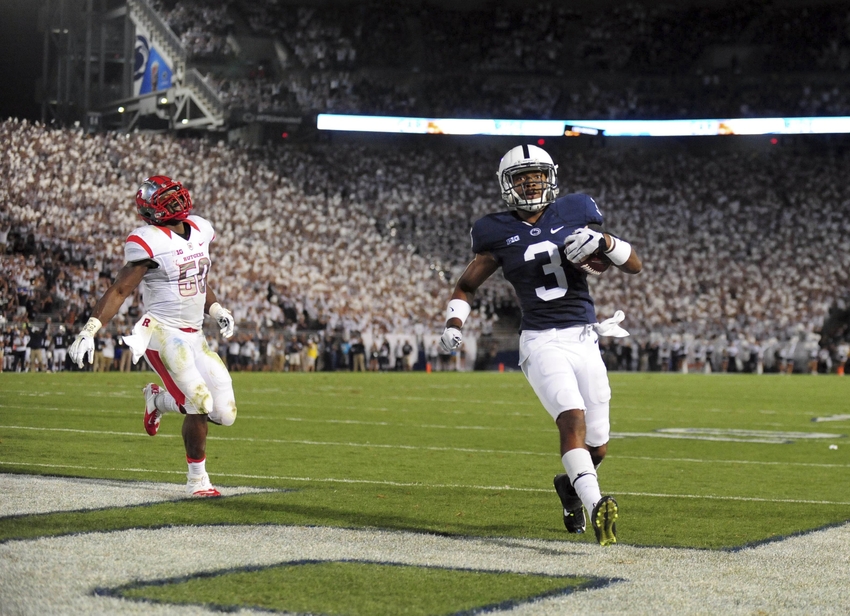 See what the Lions need to do to emerge victorious at Rutgers Saturday.
The road to a Big Ten Championship or a birth in the College Football Playoff is often littered with debris of close games or important moments that test a team's mettle.  Last Saturday at Indiana was just such a moment for a young Penn State team.
After being utterly dominated by Michigan, Penn State has come a long way.
The Nittany Lions have forged a bond, a trust, that only comes from being in the trenches with fellow teammates.  Lasting relationships cultivated from the belief your teammates are your brothers.  That trust and brotherly love has translated into six straight victories and has put Penn State on the precipice of an unthinkable Big Ten East title.  While dreams of hoisting the Stagg Championship Trophy are palpable, Penn State still has work to do on the gridiron.  Not to mention Ohio State must help the Lions by defeating Michigan next weekend in The Game.
This week Penn State travels to Piscataway, NJ to go up against the Rutgers Scarlet Knights.  And, as Penn State head coach James Franklin would like to to remind, at an almost hilarious rate, the focus needs to remain on Rutgers, Rutgers, Rugters.
Rutgers, uncomfortable silence, Rutgers, uncomfortable silence, Rutgers, uncomfortable silence!

    Control the controllables!#WearWhite
— James Franklin (@coachjfranklin) November 16, 2016
Coach Franklin has implored Nittany Lions fans to White Out High Point Energy Stadium to blunt the Rutgers faithful.
Rutgers enters the game in the basement of the Big Ten East and remains the only winless team in the conference.  Despite the obvious tendencies to look past this showdown and on to Michigan State, the Lions must win out if they want to entertain any grandiose postseason aspirations.
See what Penn State needs to do to leave Eastern New Jersey with a win.
Key No. 1 – If It Ain't Broke Don't Fix It
Look, just because everyone in the place knows it, doesn't mean you go away from it.
What am I talking about?  I am referencing the fact that Rutgers ranks dead last in the Big Ten and 124th out of 128 1-A schools in rush defense.  In fact, in Rutgers last eight contests, only Indiana (147 yards) and Iowa (193 yards) rushed for less than 200 yards.  Michigan and Ohio State both racked up over 400 rushing yards and four scores.  I would expect Penn State to be able to at least post 200 rushing yards.  I expect a full force unleashing of the Say Say train after he was bottled up last week.
Even though Barkley was bottled up for most of the day, he still managed to bulldoze his way into the endzone as seen here:
I would dare say that when Barkley gets to the second level, there aren't too many running backs in the country that run with as much speed and power as him.
To unleash the poetic fury that is Saquon Barkley, look for the Lions to feed him the rock at least 25 times Saturday night.  Every Big Ten team has rushed at least 40 times per game against Rutgers.  I don't see that trend changing this weekend.
 Key No. 2 – Who Are You?
Perhaps the opening is a bit facetious, but it may not be off the mark.  The Nittany Lions offensive line is a MASH unit.  By my count, this Saturday night will mark the fourth different starting offensive line that coach Matt Limegrover has employed.
This was the starting offensive line game 1 against Kent State:
LT – Brendan Mahon
LG – Ryan Bates
C – Brian Gaia
RG – Derek Dowrey
RT – Andrew Nelson
The emergence of Connor McGovern pushed Derek Dowrey to a reserve position prior to the Minnesota contest.  As a result, the offensive line shaped up like this:
LT – Brendan Mahon
LG – Ryan Bates
C – Brian Gaia
RG – Connor McGovern
RT – Andrew Nelson
A season-ending injury in the Maryland game for Andrew Nelson forced Brendan Mahon to slide to RT.  Paris Palmer then filled in for Mahon at LT.
LT – Paris Palmer
LG – Ryan Bates
C – Brian Gaia
RG – Connor McGovern
RT – Brendan Mahon
Last week versus Indiana the Lions scrambled to fill offensive lines holes after Palmer went down with a season-ending leg injury and McGovern left with an undisclosed injury.  McGovern returned to practice this week.  All indications are that he will be able to play.  Even still, the offensive line for Saturday night is shaping up to be a who's who of the Lions depth chart.
LT – Ryan Bates
LG – Steven Gonzalez
C – Brian Gaia
RG – Connor McGovern
RT – Chasz Wright
The one constant has been center Brian Gaia.  The red shirt senior has been the glue that has held the line in tact.  His steady guidance and leadership has steered the Lions offensive line through some murky waters this season.  More will be expected if the Lions are to indeed run the table.
 Key No. 3 – Rutgers Pass Defense
The Scarlet Knights do have some redeeming qualities – their pass defense is one of the best in the Big Ten.  Of course there are some reasons why Rutgers has such a good pass defense.  Since teams are running the ball essentially unfettered, why pass the ball?  A fair question given that every team that has faced Rutgers has attempted at least 30 rushes.
Another reason for such a staunch pass defense is the play of the Rutgers defensive linemen, especially defensive end Julian Pinnix-Odrick – half brother to former Penn State standout Jared Odrick.  This week Penn State labeled the linemen as potential "game-wreckers".  Of course only time will tell if they are able to thwart the Penn State offensive game plan.
Pinnix-Odrick leads the Scarlet Knights with 4.5 sacks and 8.5 tackles for loss while fellow defensive end Darnell Davis has a sack and 6.5 tackles for loss.
Those are just a few reasons why Rutgers has only allowed three teams to even pass for 200 yards in a game. On Saturday night look for the Lions to throw a few deep early hoping for a long connection or two.  That should loosen the defense for Barkley to romp.
 Key No. 4 – Jump on Them Early
Rutgers is wounded.  They are limping to the finish.  They have been shut out three times, including last week.  This team will take every opportunity to fold if Penn State forces the issue.  As long as the Lions don't get sloppy with ball possession to keep them around, they should have no problem dispatching the Scarlet Knights.
To enhance that position, Penn State could once again do something that they have done in their past three contests, score on their opening possession.  A fun fact: Penn State is 5-0 when they score first.  If the Nittany Lions can rattle off a score, or perhaps two, it might just be enough to sink the Scarlet Knights.
More from Victory Bell Rings
This article originally appeared on