Penn State Football: Keys to the Game at Michigan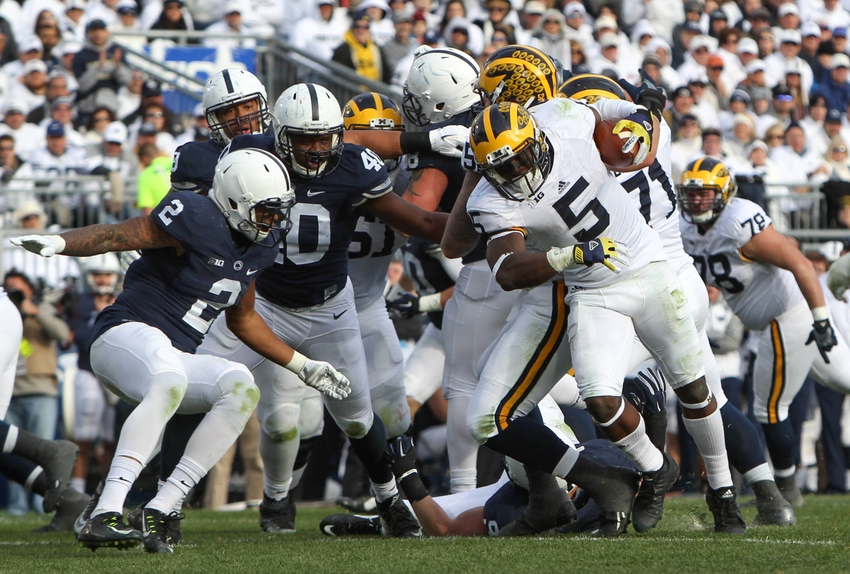 No In-Editor Preview for CINE Videos
Video Details
ID: fansided-college-ncaa/juliano-can-psu-hang-michigan
Source: CINE
Penn State begins Big Ten play with a trip to Ann Arbor, Michigan.  Michigan Stadium has hosted some classic games between the Nittany Lions and Wolverines.  Will this week be another classic?  Find out what Penn State must do to pull off the upset.
Penn State closed out the non-conference portion of their schedule by narrowly defeating Temple by a score of 34-27.  A win over the Owls exacts a measure of revenge for last year's defeat, but in the process, the Nittany Lions have seen their defensive depth severely tested.
Fifth-year senior Nyeem Wartman-White was forced to leave Saturday's contest after tearing the ACL in his right leg.  This is the second consecutive year that he has sustained a torn ACL against Temple.  Head Coach James Franklin was emotional when speaking about the loss of Wartman-White to this Penn State team:
I feel for Nyeem because he's had two years in a row now where he's missed the season and has worked really, really hard and has had an unbelievable attitude from a leadership standpoint as well.
His injury was a devastating blow to an already thin linebacking corps.  Penn State also played without the services of starting middle linebacker Jason Cabinda and outside linebacker Brandon Bell.  Couple that with previously sustained injuries to defensive end Evan Schwan and cornerback Grant Haley, and Penn State has themselves a mash unit.  This week they face off against one the nation's most prolific offenses.
The Nittany Lions mantra has always been 'next man up', and while these injuries certainly hurt, Penn State has reserves that have shown ability and promise when given their chance.  Against Temple, redshirt junior Brandon Smith was thrust into competition with the Wartman-White injury.  Smith showed his skill by recording eight tackles, including one tackle for a loss and a pass break up.  In the secondary, cornerback Amani Oruwariye has been vital.  Oruwariye has contributed five tackles as well as an interception for a score in replacement of injured starter Grant Haley.  Against an extremely potent offense like Michigan, players like Brandon Smith and Amani Oruwariye need to step up if the Nittany Lions are going to pull off the upset.
Offensive coordinator Joe Moorhead has the Lions offense scoring at a rate not seen since the 2008 season.  Penn State is averaging 35.3 points per game, good for 50th nationally.  Last season the Lions averaged 23.2 points per game and were ranked 100th nationally.  The Lions will need all the offensive output they can muster as they battle Michigan.  The Wolverines have averaged 53 points per game (4th nationally).
Here are a few key points I think the Nittany Lions need to do to walk out of Michigan Stadium a winner on Saturday.
Game Keys:
1. Convert on 3rd Downs:
Penn State MUST control the time of possession against Michigan to keep the Wolverine's potent offense off of the field.  To do that, Penn State needs to convert third down opportunities.  No team in the Big Ten is worse at converting 3rd downs than Penn  State (27.3 percent efficient).  And, no team in the Big Ten is more proficient at keeping opposing team from converting 3rd downs than Michigan (opponents are 10.5 percent efficient in converting 3rd downs chances).  With that in mind, look for Penn State to feed Saquon Barkley more than they have in previous games, as well as short, simple, high percentage passes from Trace McSorley.
Penn State does not need to get into a shootout with Michigan to win the game.  They do, however, need to possess the ball and make wise choices on offense.  Turnovers Saturday will likely spell doom.
2.  Pressure Michigan Quarterback Wilton Speight:
Michigan quarterback Wilton Speight has gaudy numbers after three games.  The junior is 50-81.  That is a 63.8 percent completion percentage, and he has thrown eight touchdowns with only a single interception.  What the numbers do not tell you is how he fared last week against Colorado, a team that was able to bring pressure.  The Buffaloes sacked Speight three times.Not only were the Buffaloes able to sack Speight, but they also forced him into many hurried throws, leading to just over 50 percent completion percentage for the game.
Penn State must also find a way to generate pressure from their front four linemen.  Look for starting defensive end Evan Schwan to return for the Lions this week.  Torrence Brown, typically on the second defensive rotation and perhaps the fastest defensive linemen on Penn State's squad, could also see time opposite Schwan.  Both of these players, along with Garrett Sickels, must find a way to disrupt Speight's timing.
3. Exploit Your Strengths:
There are only a few places where Penn State has a competitive advantage against Michigan.  One such place is the Nittany Lions receiving group against the Wolverines secondary.  Michigan is expecting the return of all-conference cornerback Jourdan Lewis.  I expect Lewis to be matched up on Penn State receiver Chris Godwin.  Penn State has tremendous pass catchers in DaeSean Hamilton, DeAndre Thompkins, and Mike Gesicki.
Last week, Colorado's quarterback Sefo Liufau threw for 246 yards and three touchdowns on the Wolverines.  The addition of Lewis will certainly help Michigan's secondary, but Penn State will have their shots to move the ball through the air.
4. Sweeping on a Jet Plane:
Hopefully some of you got the faint Peter, Paul, and Mary reference.  Even if you did not get the reference, it's meant to mean that Michigan is going to run, run, run at the Penn State defense.  Speedster De'Veon Smith and  super athlete Jabrill Peppers have to be licking their chops to see this Lions defense coming to town.  The Michigan run offense is averaging nearly 200 yards per game on the ground, while Penn State has given up a little over 176 yards rushing per game.
Penn State has struggled mightily with jet sweeps and misdirection plays.  In fact, it is something Penn State coaches are aware of, but still have not found a way to stop.  Look for Michigan to spread their formations to stretch Penn State's defense.  Expect Michigan to counter with Smith and Peppers, and red shirt senior Jehu Chesson on jet sweeps and misdirection plays. The speed of the Michigan offensive skill players will give the Lions fits unless they can find a way to maintain gap control (a phrase Franklin has worn out in his weekly press conferences) and make the initial stop.
5.  Luck Be a Lady Tonight:
Lady luck needs to smile on Penn State to pull off this win.  A turnover, a big return in the kicking game, a few mental mistakes from Michigan.  Anything that gives Penn State a short field or extra possessions will be a big help for the Lions.
The last time Penn State was a 20-point underdog (current line is Penn State +17.5) was in 2013 when they traveled to Camp Randall Stadium to play Wisconsin.  Head Coach Bill O'Brien and his "fighters" took the "us against the world" approach and pulled off the huge upset.   Penn State will definitely need to take the same approach on Saturday.
There is a decent chance that Jim Harbaugh will try to light up the scoreboard.  Perhaps you remember the Big Ten media days back in July, and James Franklin's reference to negative recruiting, according to the Daily Collegian.  While Franklin has since backed off his comments, I highly doubt Harbaugh has forgiven him!
More from Victory Bell Rings
This article originally appeared on