Penn State Football: James Franklin Rutgers Week Press Conference Recap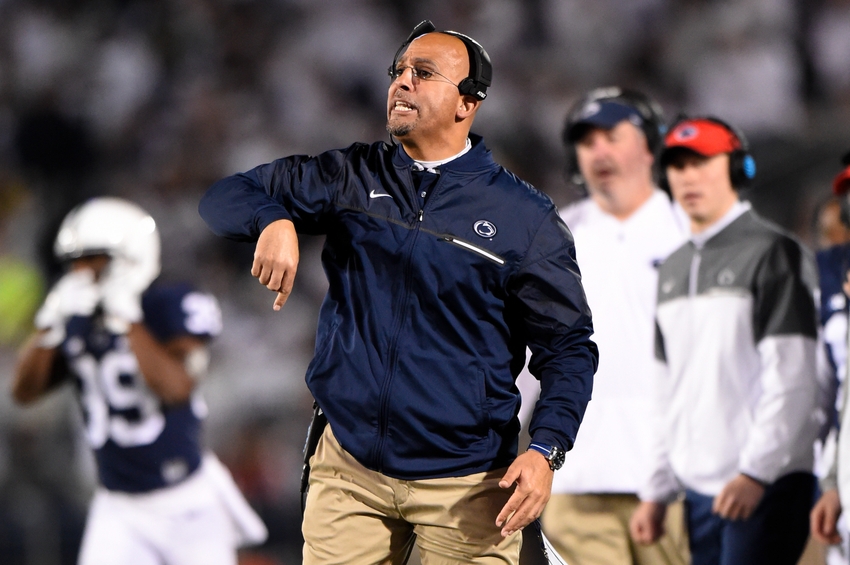 James Franklin met the media Tuesday to talk about his 8-2 Nittany Lions. 
After gutting out an important win at Indiana last week, Penn State heads back on the road this week to take on Rutgers. James Franklin held his weekly press conference to recap the win over the Hoosiers and discuss the upcoming game with the Scarlet Knights.
With the way the team has been playing, there has been extra excitement this year among the fan base. Franklin was quick to praise the support he and his team has been receiving. "I want to thank the fans for the support we've been getting all year long. It's been unbelievable. I want to thank the support of the media coming out and covering all the great stories we have on our team each week."
As for the win last week, Franklin pointed out that ball security and the offense's ability to make big plays were key to the win.
More from Victory Bell Rings
The big negative form the game is the fact that left tackle Paris Palmer was lost for the season. He's the third offensive tackle to be lost to injury this season. Franklin had tons of praise for the offensive line unit, as well as coach Matt Limegrover, for the way they've fought through adversity.
"I'm really proud of that group. Ryan Bates hadn't taken a rep at tackle since he's been here, and we moved him out last week, and he really did a nice job for us. So I'm proud of the mentality we had at linebacker earlier in the year when we faced some adversity and challenges, and same thing on the offensive line right now. So I am really proud of Coach Limegrover and that entire unit."
The injuries on the offensive line are a concern for Penn State, but fortunately, a matchup with lowly Rutgers is next up on tap.
Of course, Franklin doesn't like to downplay any opponent and referenced Penn State's upset loss to the Scarlet Knights in 1988. "In 1988 Penn State was ranked No. 15 in the country and lost to Rutgers. So obviously we want to make sure we study our history so we don't repeat it," Franklin said.
The entire transcript of the coach's press conference can be found on GoPSUSports.com. Highlights of what Franklin said are below.
On Possibly Burning Red Shirts on the OL:
"I did bring Michal Menet and Will Fries into my office and that conversation went really well. Both those young men and their families are perfectly comfortable with us doing whatever we have to do to win and put the team first, so that conversation went really well."
On Monitoring Saquan Barkley's Carries:
"So, yeah, we monitor it. He typically hasn't had those types of numbers. I do like the fact that we didn't abort the run game and kept working it in there. He had a big run late in the game for a first down. That was impressive and we talked about after the game. But, yeah, it's something we monitor at every one of these positions. Running back is included in that."
On the Leadership of Brian Gaia:
"He's playing well, but I would say where his value has come all off-season and during the season has been his leadership. Obviously we all know he's the one guy that we have that's started all season long. He did a great job in the off-season in terms of preparation. He's like 295 pounds, but I think he's got 12 or 13-percent body fat, which is unreal for a guy that size. He's smart. Football's very, very important to him. It's something we talk about all the time in the recruiting process.
There's a way to figure that out. There is a big difference between guys that like football and guys that love football. And Brian Gaia is a guy that loves the game, loves the preparation, and love the camaraderie with his teammates and coaches. I've known Brian and his family for a long time. He's done a great job for us: leadership of the younger players, mentality, organizing film sessions and all those things."
On His Concerns With Rutgers:
"I think they're a talented team. That's with a new coaching staff and all the changes that come with that, which I can relate to. There is an adjustment period that goes on. And there's going to come a point where it clicks for them. Obviously they've got really, really good coaches. One of their coaches, Jafar Williams, played for me as a wide receiver at the University of Maryland. They've got a really good staff, they've got really good people, and they've got talent. So at some point it's going to click for them offensively. They're really multiple. Whether it's empty, whether it's unbalanced or whether it's what we call formation of the sideline, a lot of things they try to do to cause conflict, and they do it from similar personnel groups."
On How the Winning Streak has Helped Recruiting:
"I think we're so far along in the process for this year, and we just don't have a lot of scholarships for this year. It is having an effect, I think, with visits and things like that and guys calling us and showing more interest. But I think where it will have its biggest impact is in 2018, because the 2017 class is pretty much done, except for a few spots."
This article originally appeared on