Penn State Football: James Franklin Ohio State Week Press Conference Recap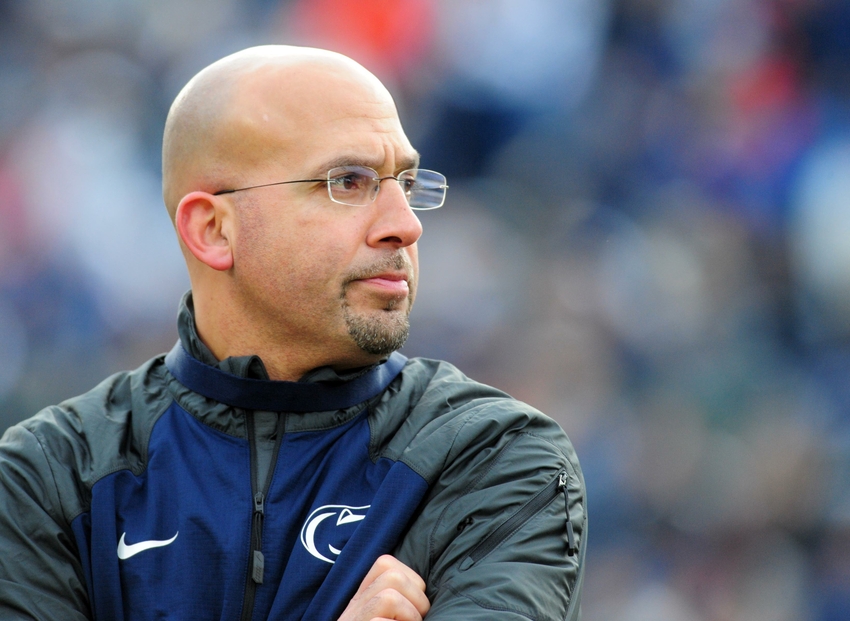 Penn State head coach James Franklin met with the media to discuss the upcoming conference game with Ohio State. 
James Franklin was back in Beaver Stadium Tuesday to greet the media ahead of the Nittany Lions' huge home battle with the Buckeyes. There was no game to recap from last week, so he started the conference by talking about his visit to Nittanyville. Over 600 students have set up camp awaiting entrance into Saturday's game.
After discussing the benefits of the week to rest for his team, Franklin wasted no time getting into the upcoming game. "We are looking forward to this opportunity. It should be a great environment on Saturday. I think it could be one of the better environments come Saturday night at the White Out," Franklin said.
The Buckeyes present a tough challenge, and that point hasn't been missed by the head coach. He praised the play of quarterback J.T. Barrett and how important it will be to stop him.
More from Victory Bell Rings
Fortunately, Franklin knows that Beaver Stadium during a night game can be one of the toughest places for opponents to play.
"We're going to need our fans. We're going to need our alumni. We're going to need everybody. This is a tremendous challenge that we're facing all together and we're going to need the stadium to be the most difficult environment in the history of college football come Saturday night," Franklin said.
Below are some highlights from Franklin's chat with the media. You can check out the entire transcript on GoPSUSPORTS.com.
On the Potential Return of Players:
"I think it helped a little bit. As you guys know, we've had a significant amount of injuries, specifically at some positions, but I think there's a chance we could get [Jason] Cabinda back this week."
"Now we have to remember, he hasn't played football or practiced in a long time. So to think jumping back in there after missing that amount of time is going to be a challenge. It's the same thing with Brandon Bell and Jake Cooper. There's a chance we could get those guys back, but we'll see. We'll see how it plays out."
On the Effect of the White Out on Recruiting:
"I don't know. I think if you talk to our players, a lot of the guys on our team were at Penn State for a White Out, either for an unofficial or for an official visit at some point. It's interesting, I went back and looked at that Michigan, four-overtime White Out, and somebody had posted pictures of all the guys that were at that game and a bunch of guys that signed with us that are on our team. And you kind of look at them and they look like babies, it's amazing."
"I think it has a factor. I don't think there's any doubt about it. Again, the most important thing for us right now is to continue to develop our guys, continue to make sure they are graduating and then go out and play well. That's the most important thing that we can do is continue to play well. The last two weeks, we've taken some really nice steps in the right direction."
On Kicker Tyler Davis:
"I'm really proud of him. He's not the most vocal guy. He's very mature for his age, which I think is important for that position because we do have some youth at that position with Gillikin and with Joe Julius. So to see an older guy that kind of goes about his business in school, goes about his business in football, and doesn't get too high or too low and is very consistent in his approach; I think it's been really important, specifically for the specialists."
On Walk-On Linebacker Brandon Smith:
"So Brandon, we're just really pleased with. He's a great example for all of us; all of our young players, all of our older players, scholarship players, walk-on players, players from all different backgrounds. Brandon is a guy that's persevered, worked hard, waited for opportunities and when opportunities came, he was ready."
On the Ohio State Offense This Year Compared Last:
"They have really recruited so well that — and they play a lot of guys. If you look, they are playing true freshmen. Even if they are not getting a lot of reps, they play them. They have been able to keep this thing rolling, even by losing a lot of guys to the NFL. There's an expectation of winning there. They were recruiting at a high level before Urban got there and they are recruiting at a high level now since Urban has been there."
"When you have a returning starter or a quarterback who has been very successful and productive, I think they have leaned on him heavily, especially early in the year, and now their running backs are really playing well, as well, and the offensive line, as well."
This article originally appeared on