Penn State Football: James Franklin Michigan State Week Press Conference Recap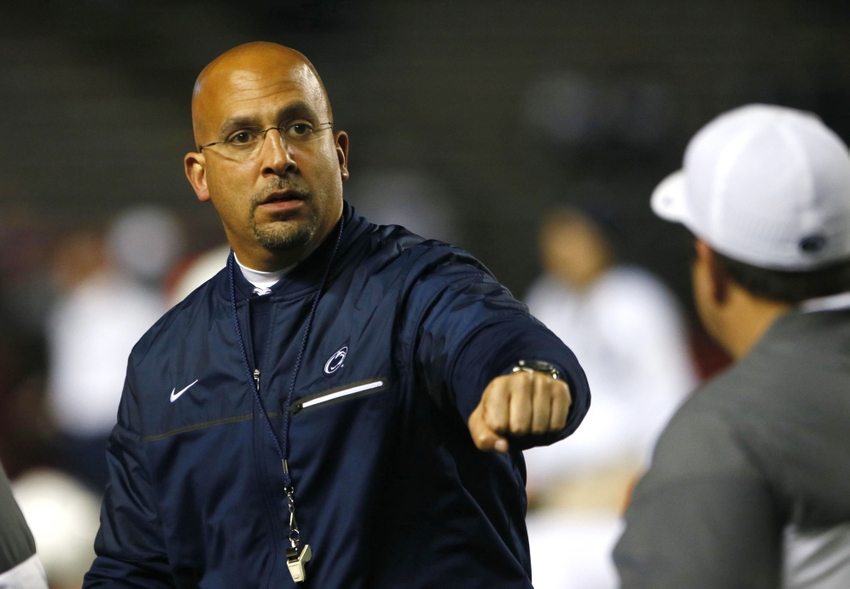 James Franklin met with members of the media Tuesday to discuss Penn State's game with Michigan State this week. 
Penn State has a huge game this week at home against the Michigan State Spartans. Head coach James Franklin held his weekly press conference Tuesday to first discuss last week's win at Rutgers before delving into this week's important contest.
"First of all, I want to say great team win. I think the thing that probably stood out to me the most is they were probably the worst weather conditions that I'd ever coached or played in," said Franklin. The coach praised the fans who traveled to New Jersey and stayed through the horrible conditions to cheer on the Lions.
More from Victory Bell Rings
Penn State racked up 549 yards of total offense and 39 points against the Scarlet Knights. The team did not commit a turnover, and according to Franklin, did not allow a sack in the game. "They listed a sack that was a zone read by Tommy Stevens behind the line of scrimmage. The official stat book will say it's a sack. It is not a sack."
Coming up this week is a tough test against a Michigan State team who played better than its record last week against Ohio State. That point isn't lost on the head coach. "We're playing a good football team there. They're talented. They're well-coached. Obviously Coach Mark Dantonio has done a great job there. It's going to be a real challenge for us."
With a lot riding on the game, Franklin is hoping that the fans show up like they have all season. The school is trying to make special accommodations to make it easier for students to return from break to attend the game.
"I know Thanksgiving week sometimes is a little bit of a challenge. Our lettermen are stepping up for us, are unbelievably excited on social media. I know it sounds like a bunch of students are coming back, getting into the dorms Friday at 3:00. We're very appreciative of the university, of President Eric Barron, of Sandy Barbour, our athletic director, of helping us with that as well. We're appreciative of the people that work in the dorms, clean the dorms, because that's going to be important for us on Saturday."
The Nittany Lions will kick things off in Beaver Stadium at 3:30 on Saturday.
Highlight's of Franklin's presser are featured below. An entire transcript can be found on GoPSUSports.com.
On the Seniors:
"They've been unbelievable, they really have. These guys I'll kind of remember forever. I think Penn State will remember those guys forever. Their five years, they ought to get together and write a book because they've seen a lot in a short period of time and have overcome adversity and stuck together."
On Michigan State:
"We know what to expect. We're going to have a team coming in here that's going to play with a tremendous amount of pride, passion. They're well-coached, talented. They've recruited well there. They've always been a good staff in developing talent. In the last couple years they've recruited at a very high level. They're talented."
On the Play of Evan Schwan:
"I think Evan probably is a really good example of our team in general. He comes into this year, he hadn't had a sack until this year. Had played a decent amount of time as a backup. This was kind of his year. He put a lot into it in the off-season. Really had a great attitude. He's had a great attitude for three years."
On Addressing the Outcome of OSU-UM:
"I think that's a fair question. I think that's a great point. We've discussed it as a staff. We're going to talk about it with the team. That game is right before ours. How that game plays out, who wins, who loses, how people look at that and how that impacts our future. There's no doubt that's going to be a factor. So we're going to discuss it ahead of time."
On Showing the OSU-UM Game in Beaver Stadium:
"It's going to be a discussion. There's no doubt there's going to be a discussion. There's been a lot of things we've been doing to get some of the fans into the stadium a little bit earlier when they're trying to finish up games in the RV lots, thing like that. I get that. But we just have to have a plan. That's something we've started talking through. Need to talk about it with the administration a little bit, need to talk with the coaching staff. We are going to address it with the team."
This article originally appeared on