Penn State Football: James Franklin Indiana Week Press Conference Recap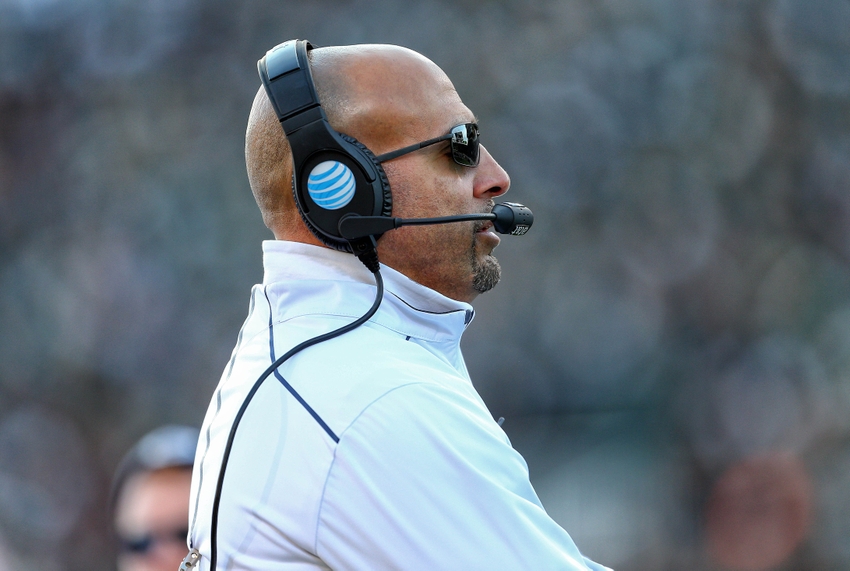 James Franklin discussed the current state of Penn State and its upcoming game at Indiana. 
Penn State head coach James Franklin met with the media on Tuesday inside of Beaver Stadium. The Nittany Lions are as hot as any team in the nation and are currently riding a five-game win streak. Last week, Penn State had a dominating performance over Iowa at home.
Franklin started by discussing the energy of the crowd and the environment against the Hawkeyes.
"For Iowa, people were wearing white, they were excited, from the time we got off the bus, to be honest with you, the whole bus ride from the hotel all the way to the drop off point, there was energy along the entire way, really kind of set the tone and we're very, very thankful and appreciative of that."
The win over Iowa was perhaps the most complete game that the Nittany Lions played all season. Penn State was solid, except for carless penalties, in every facet of the game.
More from Victory Bell Rings
According to Franklin, special teams was a key to the win last Saturday. "Special teams, kickoff return and kickoff, played well. Helped us win the field position battle."
As for this week's game in Indiana, Franklin didn't miss the fact that recent games with the Hoosiers have been tight. It will be important for the Nittany Lions not to sleep on the Hoosiers, especially since they lost there in 2013.
At the end of his opening statement, Franklin requested that Penn State fans travel and fill Memorial Stadium this weekend. "The next step for us is to travel well. And how cool would it be to fill that stadium up with white on the road with all of our alums and lettermen and fans that we have in that region," Franklin said.
Highlights from the coach's weekly press conference can be found below. The entire transcript can be found at GoPSUSports.com.
On the Play of Paris Palmer:
"We're proud of him. He's bigger and stronger than he's ever been. He's more confident. He's doing really good in school. He's just going to be really successful."
On the Play of Backup QB Tommy Stevens:
"He's grown a lot from the skinny kid that showed up here as a mid-semester grad, tall and lanky with a big 'ole smile on his face. He was about 185 pounds at the time and now he's 220, knocking on 225. Confident, doing really well in school, got a great supportive family."
On the Punt Return Team:
"We're still just trying to kind of work that out. We feel good about John. We feel good about DeAndre Thompkins. We feel good about Mr. Gregg Garrity. We think all of those guys can go back and do the job. Josh McPhearson has been working on it all year long, as well. There's different variables that we could use."
On the Feeling of Excitement on Campus and Around Town:
"For right now my focus is on Saturdays. I know driving from the hotel to the stadium, there was a difference. All along the bus route, there was electricity, people banging on the side of the bus. Monica gets nervous every time she sees that; the police officer that works with us, she gets nervous every time she sees that. The guy that's leading on the scooter, doesn't, because the cop who is leading, he's actually high-fiving the fans along the way."
"But the stadium was rocking. Although it was not an official White Out, it was fairly white. It was a great crowd. They had a huge influence in the game and then obviously people are excited. This town, this community, the professors, the faculty, the administrators, the president, the board, the players, the student athletes. This is important to all of us."
On the Amount of Recent Penalties:
"There's the penalties that are completely avoidable that are focus penalties: jumping off-sides, substitution penalties, things like that, from a focus and from an organizational standpoint that drive you crazy. They are the ones that you take so much pride in and that you spend so much time working on. They are the ones that you have to eliminate as much as you possibly can."
This article originally appeared on