Penn State Football: Big Ten Honor for Connor McGovern Highlights Rapid Improvement for Offensive Line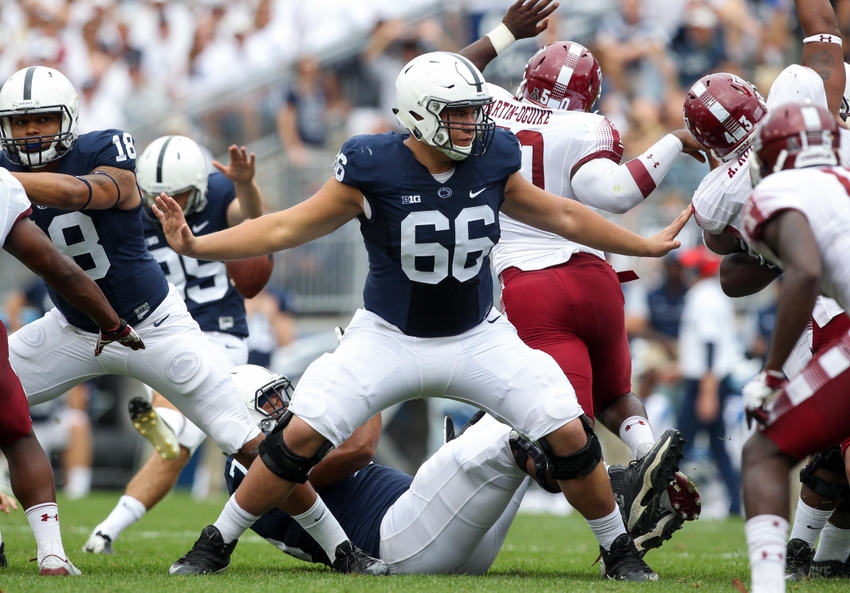 The Big Ten Conference gave a weekly honor to Penn State offensive lineman Connor McGovern. 
The talk surrounding Penn State the last few seasons has been about the awful play of the offensive line. However, a new coach and some new faces have worked to change that narrative. True freshman guard Connor McGovern was honored as the Big Ten Freshman of the Week for his efforts against Iowa.
McGovern helped pave the way for the Nittany Lions to put up 41 points and 599 yards of total offense Saturday night against the Hawkeyes. He is just the third offensive lineman to ever be given a weekly honor by the Big Ten and the first ever to be named Freshman of the Week.
More from Victory Bell Rings
That a Penn State offensive lineman would be recognized for such an achievement was unfathomable just a year ago. However, the Nittany Lions have made rapid improvements on the offensive line this season. In fact, the play of the guys up front has been one of the biggest factors in Penn State's recent surge.
Head coach James Franklin knew that things had to change on the offensive line if his team had any hopes of competing in the Big Ten. He's been focused on recruiting offensive linemen, and that focus is starting to pay off.
Aside from bringing in new talent, the returning offensive linemen have had another year to grow and develop.
Franklin's decision to bring in Matt Limegrover as offensive line coach has already paid huge dividends. After watching former quarterback Christian Hackenberg spend much of the time running for his life, it's refreshing to see a unit that's able to keep opponents out of the backfield.
Sure, it hasn't all been perfect, but there's been huge strides already made. Instead of being near the bottom of the conference in sacks allowed, the Nittany Lions are in the middle with 17 sacks allowed through nine games.
The Penn State offense as a whole has improved this season, but it all starts up front. McGovern's honor for last week's performance shows that the Nittany Lions are defiantly trending in the right direction.
This article originally appeared on