Penn State Football: 3 Nittany Lions to Watch at Indiana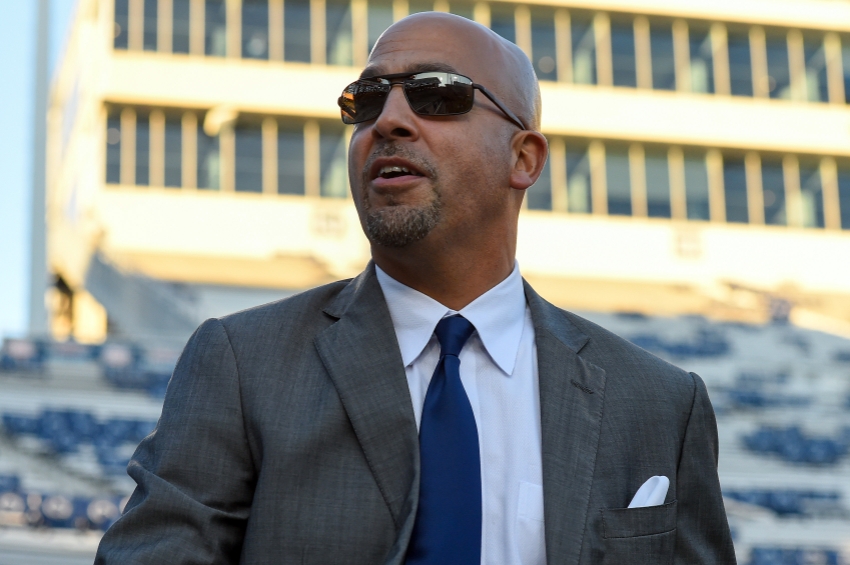 When Penn State takes the field in Indiana this week keep an eye on the following Nittany Lions. 
Penn State enters this week's game with a five-game win streak and a No. 10 ranking in the latest edition of the College Football Playoff rankings. The Nittany Lions have turned a major corner since dropping to 2-2 on the year after a blowout loss at Michigan. Sitting at 7-2, Penn State has a real possibility at a 10-win season.
More from Victory Bell Rings
This week's game won't be easy, as road games, especially during the James Franklin era, rarely are. However, the Nittany Lions are playing as good as they have in a long time.
Finally feeling comfortable in Joe Moorhead's offense, quarterback Trace McSorley has become a major key to the recent success of the team. Running back Saquon Barkley is one of the best in the country and makes teams pay attention to him on every play.
Also a key to recent success is the fact that the defense has greatly improved. That's thanks in large part to the return of starting linebackers Jason Cabinda and Brandon Bell. Ranked as one of the worst units statistically in the nation earlier this year, the Nittany Lions, have been able to shut down opposing offenses lately.
This week's opponent will test the Nittany Lions on defense thanks to the passing ability of quarterback Richard Lagow.
If Penn State is going to keep its winning streak going, the following Nittany Lions will play a big part in that this week.
DE Evan Schwan 
Despite losing three starters from the defensive line last year, coach Sean Spencer has been able to once again put together a unit that's been very effective. After a few growing pains at the start of the year, the defensive line finally seems to have gelled with the right mix.
Evan Schwan, who was tabbed by many as a breakout player last year before dealing with injuries, has stepped up his game this year. He's been an important player on the edge of the Penn State defense.
The senior has 18 total tackles and is second on the team with four sacks, including one last week against the Hawkeyes.
This week, Indiana will likely be forced to put the ball in the air a lot. That should provide several opportunities for Schwan and his line mates to get into the backfield and pressure Indiana's Richard Lagow.
Schwan has a chance to play a key role this week, so be sure to keep an eye focused on the defensive end.
RB Miles Sanders  
Penn State has had many struggles on special teams the last few seasons, particularly in the return game. However, that trend has recently taken a turn for the better.
Freshman running back Miles Sanders was a top recruit in the 2016 class and too talented for James Franklin to give him a redshirt. However, finding carries in a backfield that features Saquon Barkley isn't easy.
Due to that, Franklin decided to use Sanders' talent in a different way.
Sanders is now an explosive kick returner who has the ability to break off a big run whenever he touches the ball. So far he has 19 returns for 419 yards. His 48-yard return on the first play of the game against Iowa set up the Penn State in great position to go down the field and put points on the board first.
Be sure to watch Sanders this week, as he'll try to set the Nittany Lions up with great field position on every kickoff.
QB Trace McSorley  
It isn't a surprise that Trace McSorley has shown up as a Nittany Lion to watch nearly every week. At this point, the offense clearly runs through the young quarterback. He has improved each week continues to improve his decision making.
McSorley is coming of a great game last week in which he threw for 240 yards and two touchdowns in the win over Iowa. He threw the ball just 18 times, but completed 11 of them. He also added 40 yards on the ground and a touchdown.
The young quarterback now has full command of Joe Moorhead's offense. The Nittany Lions have transformed into a high-powered offense that can put up points in a hurry.
Perhaps most importantly for McSorley is the fact that he's learned to minimize the mistakes. After throwing four interceptions in the first four games, he's gone  five games without a pick.
If the Nittany Lions are going to keep the winning streak going, McSorley will play a key role. HIs ability to scramble away from pressure when the protection breaks down is a luxury Penn State hasn't had for a number of years. He still has some flaws when throwing the ball, but has been able to move forward each week.
Until he shows signs of slowing down, McSorley will remain as a Nittany Lion to watch.
This article originally appeared on