Penn State at Indiana: Prediction Roundtable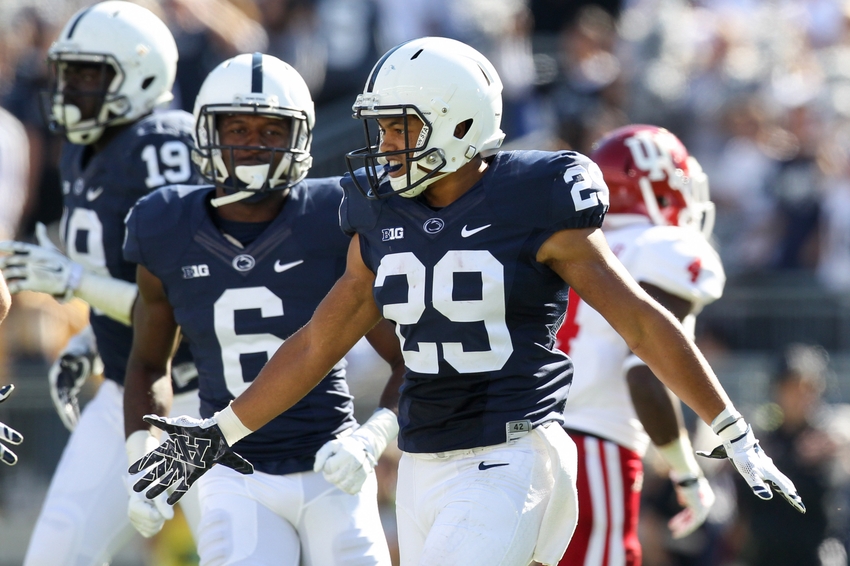 See how the VBR staff thinks things will shake down this week when the Penn State Nittany Lions travel to Indiana to take on the Hoosiers. 
Penn State enters this week's game at Indiana in the middle of a five-game win streak. On paper, the Nittany Lions should be able to leave with yet another victory. Indiana has struggled at times this season, and Penn State owns an 18-1 all-time record over the Hoosiers.
However, anything can happen in college football and as the saying goes, "That's why they play the game."
With a possible bid in a New Year's Six bowl on the line, the Nittany Lions will need to close out the season with wins in the final three games. That starts this week in Bloomington.
Will the Nittany Lions prevail? Check out how the staff pictures things going this week.
Site Expert Barry Leonard Jr. 
The Nittany Lions have been rolling on offense behind the stellar play of quarterback Trace McSorley and running back Saquon Barkley. On the defensive side, the return of starting linebackers Brandon Bell and Jason Cabinda has sparked the unit to play some stellar football.
As for this week, the Hoosiers are not great defensively, opening the door for the Nittany Lions to have a big day on offense.
McSorley should be able to hook up with his talented receivers against the No. 11 pass defense in the Big Ten. Barkley should also be in line for a big day and will be looking to once again go over 200 total yards.
Indiana has played tough at times this year and does present a problem to opposing defenses with its talented passing attack. Quarterback Richard Lagow is second in the conference with 2,574 passing yards.
The Hoosiers will score some points, the but quick-strike potential of the Nittany Lions will be too much. This game could be close in the first quarter simply because of the fact it's a noon start on the road. However, Penn State's talent will take over and the Nittany Lions will head back East with a total record of 8-2.
Penn State 41
Indiana 20
Contributor Marty Leap 
On Saturday, the Penn State Nittany Lions will look to earn their sixth consecutive victory when they travel to Bloomington, Indiana, to battle the Indiana Hoosiers. The Hoosiers enter this game with a 5-4 record and will be looking to earn bowl eligibility.
This season, Indiana's offense has not been as potent as a Kevin Wilson offense normally is. The Hoosiers have not run the ball as well as they have in the past. However, they have a dangerous quarterback in Richard Lagow.
Lagow has thrown for 2,574 yards and 15 touchdowns this season. HIs yards put him second in the Big Ten. However, he is also a turnover liability. Lagow's 13 interceptions lead the Big Ten.
This game, like the Purdue game two weeks ago, has slow start written all over it for the Nittany Lions. They are on the road, it's a noon kickoff, it is coming after an emotional win at home in front of an electric atmosphere, and the atmosphere in Bloomington will most likely be pretty bleh.
Penn State's secondary will be tested on Saturday afternoon. This also puts pressure on the defensive line which must continue to do a great job of pressuring the quarterback. Lagow will get his yards, the key is to force a turnover or two and contain the Hoosiers' passing attack.
I believe Penn State will trail at some point in the first half on Saturday. While they are a much more talented team than Indiana is, the Hoosiers are still a dangerous team. In the end though, I believe Saquon Barkley and the Nittany Lion offense will be too much for the Hoosiers.
Penn State 38
Indiana 24
Contributor Corey Hunter
Penn State is rolling along, having won their fifth straight in convincing fashion over Iowa.
This week, the Lions travel to Bloomington, Indiana to face off with the Hoosiers. Indiana comes into the game needing one more win to secure bowl eligibility. A win over a top-10 ranked Nittany Lions squad would make their year.
In many ways, Indiana reminds me of Purdue, only more efficient. Both Purdue and Indiana posses solid passing games that like to spread the field. Indiana, though, also has a strong running game led by Devine Redding.
For Penn State to emerge with a win from this potential letdown game, they will need to come out of the gate focused and ready for the Hoosiers best shot. The game is another noon kick so a sleepy start is a real possibility.
Indiana ranks near the bottom of the Big Ten in pass defense, so I expect Penn State to put the ball in the air quite a bit, especially stretch passes. No doubt Barkley will get his yards on the ground, too. Will it be another 200 yard rushing performance? Not sure, but every time he touches the rock, he has a chance to take it to the house.
In the end, look for Penn State to be in a dog fight all game. I do think they are the stronger team and will assert themselves in the fourth quarter. That said, they should be able to make more plays than Indiana and escape Bloomington with a win.
Penn St – 34
Indiana – 27
Contributor Shane Lunnen
Looking to continue the winning streak, the Nittany Lions travel to Bloomington this weekend to take on the Indiana Hoosiers.  The Hoosiers probably present the biggest threat left to Penn State achieving a 10-win season.
On offense, Indiana runs a well-balanced attack, led by quarterback Richard Lagow. He is a pocket passer who has an accurate arm but is not a threat to run.  If Penn State can pressure him early, they might be able to rattle Lagow and cause a turnover or two.  Hoosier running back Devine Redding has nearly 800 yards on the ground this season and is also a threat as a receiver so the Lions will have to watch out for him.
Indiana is much better on defense this year than it has been in the past. However, if Penn State continues doing what they have been doing the last few games, they should not have many problems moving the ball.  Just get the ball to Barkley and let him do his thing.
This game could start similar to the Purdue game with it being close through thirty minutes of play.  However I think the Lions only enemy now is themselves.  They seem to playing with such focus lately and I don't think any team on the remaining schedule can stop them.  Penn State pulls away in the end.
Penn State 41
Indiana 21
More from Victory Bell Rings
This article originally appeared on