Penn State Advances to Big Ten Championship With Win Over Michigan State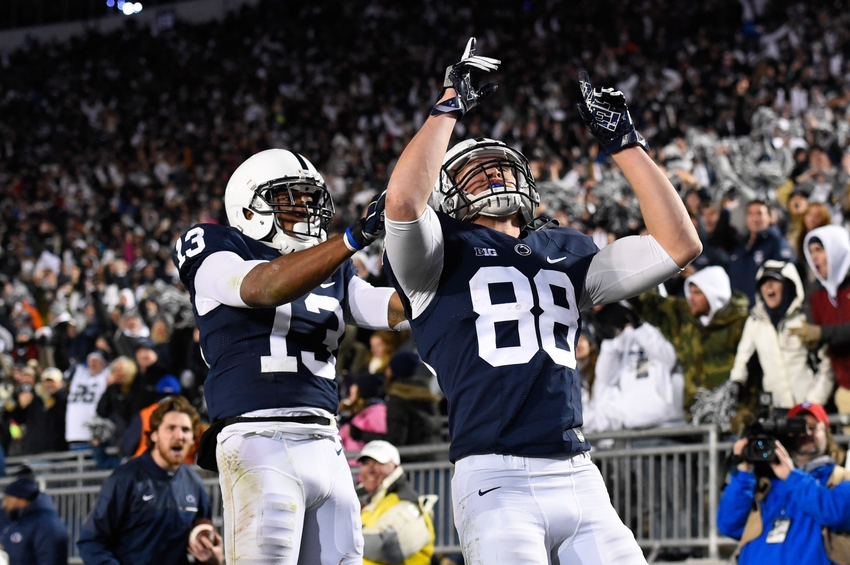 Penn State is headed to the Big Ten Championship after a 45-12 victory over Michigan State Saturday.
Penn State entered the contest knowing how big of a day it could be in Happy Valley. With an Ohio State victory over Michigan, and a Penn State win, the Nittany Lions would head to Indianapolis next week to represent the Big Ten East in the Big Ten Championship.
The Ohio State game wasn't over at kickoff, as the Buckeyes needed two overtimes to pull out the win. There seemed to be a distraction inside of Beaver Stadium until that outcome of that contest was known.
Unfortunately, another slow start by the Nittany Lions seemed to take some of the energy out of the stadium.  The Nittany Lions found themselves down 12-10 at the break, but came out and scored 21 points in the third quarter. 
On a day in which the Michigan State defense was keyed in on running back Saquan Barkley, it was up to quarterback Trace McSorley to make plays through the air. He struggled in the first half, but threw three beautiful third quarter touchdowns.
A 34-yarder to Chris Godwin,a 45-yard pass to tight end Mike Gesicki, and a 59-yarder to Godwin helped the Nittany Lions set the tone and pull away in the second half.
McSorley finished the game 17-23 for 376 yards and four scores.
Godwin led the Nittany Lions with 135 yards and two touchdowns. Gesicki added 64 receiving yards and a score.
Barkley was bottled up the entire game and finished with just 14 yards. He did provide a highlight touchdown in the first quarter by leaping over the pile. Unfortunately, he left in the second half after an apparent ankle injury.
The defense really struggled in the first half, as Michigan State was able to seemingly march down the field at will. However, halftime adjustments were made, and the defense looked much better in the second half. Michigan State racked up 256 yards in the first half, but finished with just 343 total.
Linebacker Brandon Bell had a huge game for the Nittany Lions, racking up 18 total tackles.
With the win, Penn State has punched its ticket for a date with Wisconsin . The Nittany Lions will meet the Badgers in Indianapolis next week in the Big Ten Championship.
More from Victory Bell Rings
This article originally appeared on