Penn State 34, Temple 27: Players Of The Game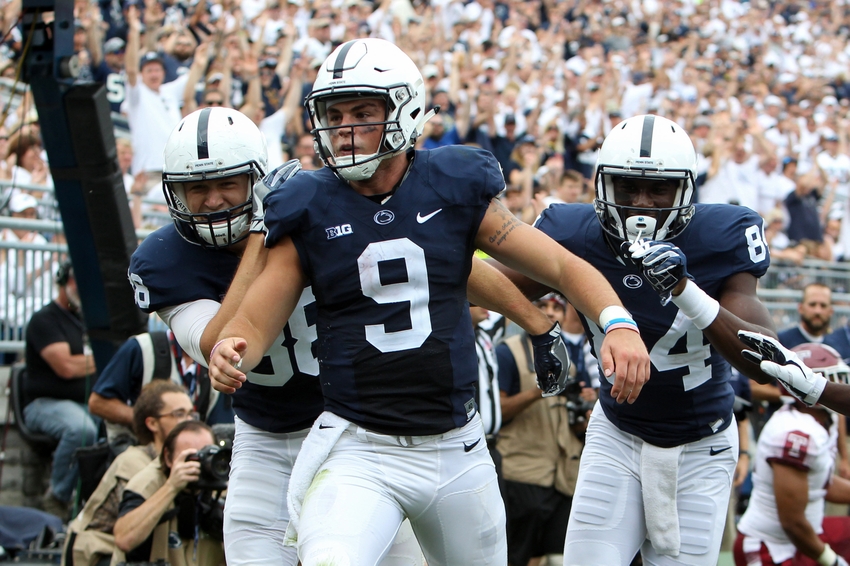 One week after a heartbreaking loss to in-state rival Pitt, Penn State responded with a 34-27 victory over another in-state opponent the Temple Owls.
Saturday's win was not a pretty one for the Penn State Nittany Lions, but it was a win. Despite out-gaining Temple 403 to 324 in total offense, the Nittany Lions had to hang on to earn a seven-point victory over the Owls. With the victory the Nittany Lions are now 2-1 on the season.
Just as they were in their loss against Pitt last week turnovers were a huge bugaboo for Penn State on Saturday. If not for turnovers, the Nittany Lions probably wins this game by two or three touchdowns. Moving forward the offense must clean up the turnovers. Here are the Penn State players of the game from their victory over Temple on Sautrday.
Offense – Quarterback Trace McSorley
Trace McSorley made his third career start for Penn State on Saturday, and the redshirt sophomore continued to play well. On Saturday, McSorley did it with both his arms and his legs, leading the Nittany Lions to victory.
McSorley finished the day 18/24 for 287, a touchdown, and an interception through the air. He  also ran for eight yards on nine carries, and recorded his first career rushing touchdown. Penn State did not have superstar running back Saquon Barkley for chunks of the game on Saturday, but McSorley more than made up for it.
Despite a very bad interception that led to a Temple touchdown, McSorley's decision making was strong on Saturday. His throws were accurate, he made good reads on run pass option plays, and he was a leader on the field for the Nittany Lions. Trace McSorley is rounding into a good quarterback for Penn State.
More from Victory Bell Rings
Honorable mention: WR Chris Godwin, TE Mike Gesicki
Defense – Linebacker Brandon Smith
When the 2016 season began, walk-on linebacker Brandon Smith found himself about seventh on the depth chart. However, a rash of injuries led to him seeing significant playing time on Saturday. And Smith responded extremely well to this extended playing time.
Smith finished with double digit tackles on Saturday and was extremely active on the field. He was all over the place and seemed to always have his nose in on just about every tackle. He also recorded a pair of quarterback hurries, a sack, and a pass break up in the victory.
While Penn State undoubtedly needs to get healthy at linebacker, and fast, it was nice to see Brandon Smith step in and play so well on Saturday. He played a large role in the Nittany Lion defense, holding Temple to just 38 rushing yards.
Honorable mention: DT Parker Cothren, Safety Malik Golden
Special teams – Place kicker Tyler Davis
Place kicker Tyler Davis remains perfect in his collegiate career. In Saturday's victory Davis was two-for-two on field goals and four-for-four on extra points. Davis is now 13-for-13 on field goal attempts, and 22-for-22 on extra point attempts in his Penn State career.
Quietly, Davis is turning into a very reliable place kicker for the Nittany Lions. After some of the struggles Penn State had kicking the ball early last season this is a great thing to see happen.
Honorable mention: Punter Blake Gillikin, Punt returner John Reid
That will do it for Saturday's victory. Moving forward Penn State needs to get healthy on defense and clean up mistakes on offense. Due to turnovers, Temple's last two touchdown drives on Saturday covered a combined total of ten yards. That simply can not happen.
As I said above, the Nittany Lions are now 2-1 this season. Next they will travel to the Big House to take on one of the best teams in the country in the Michigan Wolverines. If Penn State's defense does not get healthy, and start playing better, by Saturday this one could get super ugly.
This article originally appeared on