Pac-12 Week 1 Recap: Standings, Scores and Highlights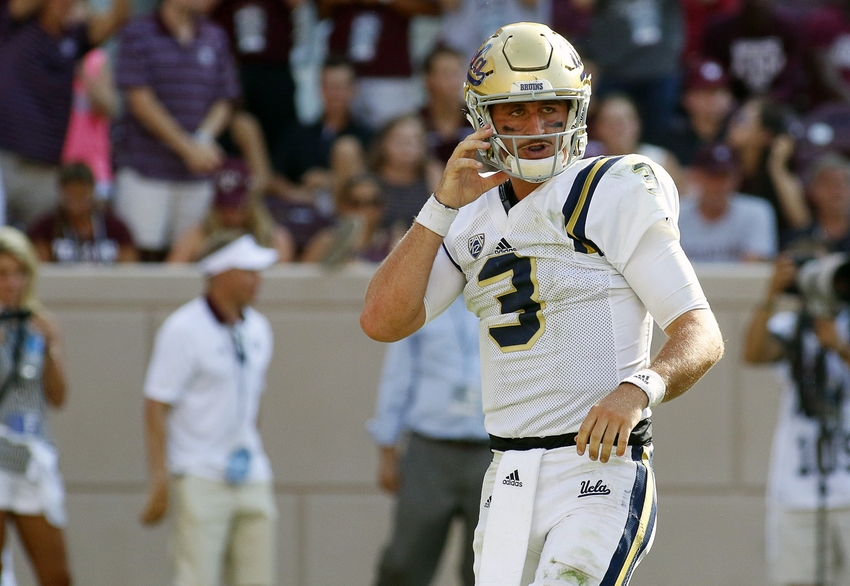 It was a rough start to the 2016 college football season for the Pac-12, with a disappointing showing for the Los Angeles schools in national match ups.
The conference actually captured the first victory of the year when the California Golden Bears beat the Hawaii Warriors and first-year head coach Nick Rolovich 51-31 on Friday in Sydney, Australia.
Cal Quarterback Davis Webb, a graduate transfer from Texas Tech, cemented his status as a top draft prospect leading the Bear Raid offense with 441 passing yards.
Cal's Bay Area rival, Stanford, opened the season with a workmanlike 26-13 win over the visiting Kansas State Wildcats on Friday night.
Do-it-all Heisman Trophy candidate Christian McCafferey amassed more than 200 total yards for the Cardinal, including 126 rushing yards and 2 rushing touchdowns on 22 carries.
The Pac-12's other two California teams didn't fair nearly as well.
After trailing Texas A&M by a score of 24-9 late in the fourth quarter, UCLA was able to rally and force overtime behind a spectacular touchdown catch from wide receiver Kenneth Walker III.
Meanwhile, USC was trounced in Arlington, Texas by the Alabama Crimson Tide.
SEE MORE: USC's Loss To Alabama Proves Trojans Have Long Way To Go
Back in the Pacific Northwest, conference contenders Washington and Oregon both looked impressive with blowout 35 and 25-point wins against Rutgers and UC Davis, respectively.
Unfortunately, the Ducks and Huskies' in-state brethren couldn't follow suit.
Oregon State lost a close one to Big Ten foe Minnesota, 30-23. The Gophers scored 13 unanswered points in the fourth quarter against the Beavers to spoil the upset bid.
Likewise, in Pullman Washington State fell victim to their FCS opponent Eastern Washington in Heartbreaking fashion, 47-44.
A long 30-yard touchdown run by the Eagles' Gabe Gubrub late in the fourth quarter proved to be the winning score as Mike Leach's ball club dropped to 0-1 on the year.
The Pac-12's two newest members, Colorado and Utah both held serve in Week 1.
The Utes blanked in-state opponent Southern Utah by a score of 24-0 behind 272 passing yards from new quarterback Troy Williams.
Rival Colorado earned bragging rights with its 44-7 victory over Colorado State in the 87th annual Rocky Mountain Showdown at Sports Authority Field in Denver.
Down in the desert Arizona and head coach Rich Rodriguez suffered a two-point loss to BYU on Saturday night. The Cougars' victory came late on the leg of kicker Jake Oldroyd whose 33-yard field goal with four seconds left put BYU on top for good.
Over in Tempe, Arizona State started the year off with a 44-13 win over the Northern Arizona Lumberjacks.
After posting a 7-5 record during college football's opening weekend the Pac-12 looks to right the ship with a handful of exciting matchups in Week 2 that include BYU at Utah, Virginia at Oregon, and Utah State at USC.
This article originally appeared on