Pac 12 Power Rankings Week 4: Three teams remain undefeated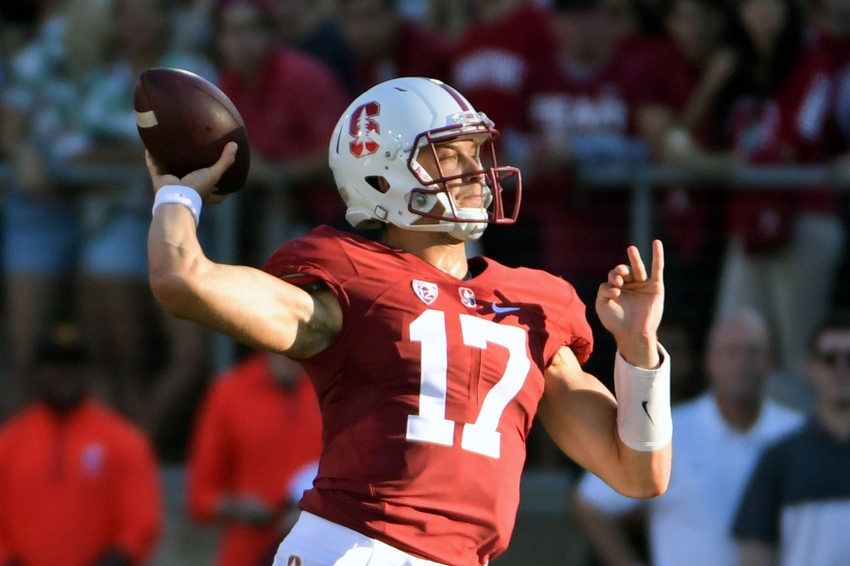 The Pac-12 Week 4 Power Rankings are out. Which of the three undefeated teams will be next to fall?
The Pac-12 football Week 4 power rankings are now out, and three teams remain undefeated. I will be taking a look at each team and rank them based on performance and their previous ranking.
The Pac-12 has started conference games this week. Only Oregon State (1-2) played out of the conference against Boise State (3-0). The other five teams battled it out and tried to establish control inside the conference.
On Friday, the games kicked off as #24 Utah Utes (4-0) fought the USC Trojans (2-2). The Trojans took a 17-10 lead at the half and lead 27-17 going into the fourth quarter when the Utes turned on the comeback boosters. Utah scored 14 points in the final quarter to win 31-27.
There were no particular upsets this week, even though #7 Stanford Cardinal (3-0) somehow crawled through with a victory in the last minute to defeat the UCLA Bruins (2-2). After this week, we are still confused about how good the California Golden Bears (2-2) are. They beat #11 Texas last week but went on to lose to Arizona State (4-0) this week.
The one surprising team I see in this conference is the Colorado Buffaloes, who are now 3-1 with the win over Oregon Ducks (2-2). The #9 Washington Huskies (4-0) maintained their pace with a victory over Arizona Wildcats (2-2).
Top 25 ranked games included:
UCLA vs. #7 Stanford
#9 Washington vs. Arizona
USC vs. #24 Utah
I will be using my week three article Pac 12 Football: Week Three Power Rankings as a springboard for my Week 4 Power Rankings article.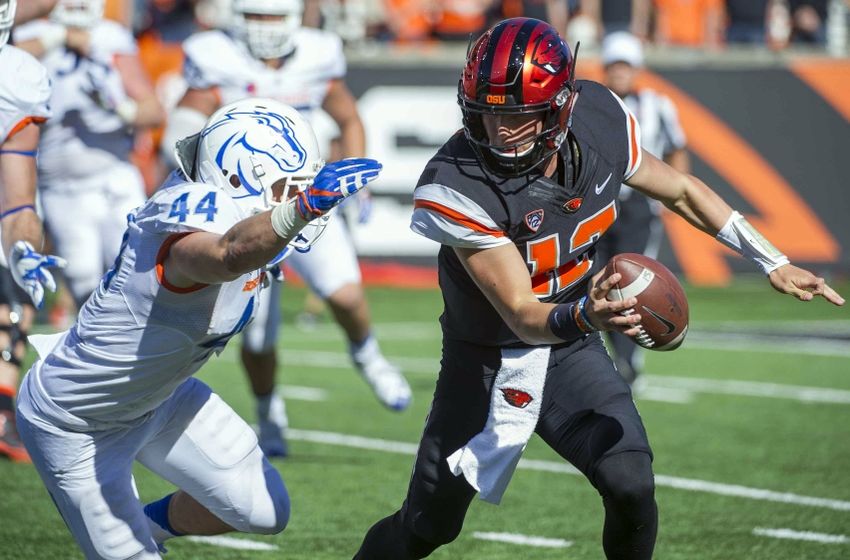 12
Oregon State
Beavers
(1-2)
Last week:
L 38-24
Last rank:
12th
The Oregon State Beavers need to stick with teams like Idaho, as they beat them for their first victory in ten games. Against Boise State, there was no difference as they probably will go on another losing streak to finish out this season.
Starting quarterback Darell Garretson (11-of-16 for 53 yards) was awful and couldn't make it out of the tunnel after halftime. Freshman Connor Blount (11-of-18 for 138 yards) took over for Garretson to start the second half. Even though Garretson was accurate, he only averaged 4.8 yards per pass. Blount could now turn this into a quarterback competition as Garretson just has not gotten much done this season. On the season he only has 453 yards passing with three touchdowns and one interception.
Ryan Nall has become a bright spot for the offense. He carried the rock 14 times and 66 yards with two touchdowns and caught two passes for 10 yards. Nall on the season has 176 yards and three touchdowns. The sophomore is averaging 4.4 yards per carry, which is around 20th overall in the Pac-12, and indicative of how weak their offense is.
Seth Collins, the primary receiver, is the former quarterback. He also has performed well in this lackluster offense. He too is around the 20th-ranked receiver statistically with 16 receptions for 185 yards and no touchdowns.
Oregon State had just a small chance of winning this game. The Beavers tied the game at seven points apiece, and that would be the closest it would get. By the end of the first half, the Broncos had a 31-7 lead. It was cruise control after that, and Oregon would end up putting up another 17 points in the second half while Boise State added a touchdown to make the final score 38-24.
[nextpost teaser="11. Washington State" slider="true"]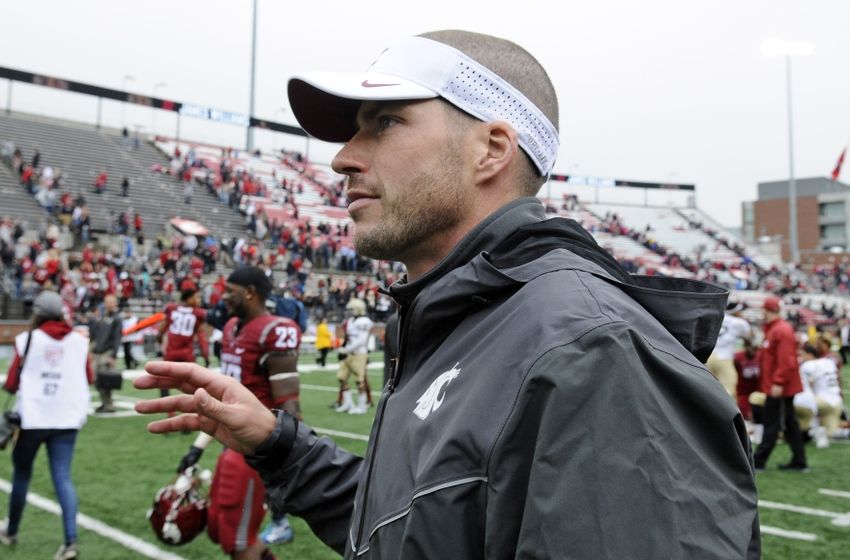 [power_ranking order="11″ city="Washington State" teamname="Cougars" score="(1-2)" lastweek="BYE" lastrank="11th" teamlogo="washingtonstate" league="ncaa"]
The Washington State Cougars are on their bye week. This coming Saturday they will be playing the Oregon Ducks at home then on to Palo Alto to face #7 Stanford.
Luke Falk has completed 117 of 158 attempts for 1124 yards and 11 touchdowns with two interceptions. James Williams leads the rushers with 19 carries for 140 yards and one touchdown, while Gabe Marks leads the receivers with 27 receptions for 242 yards and four touchdowns.
[nextpost teaser="10. USC" slider="true"]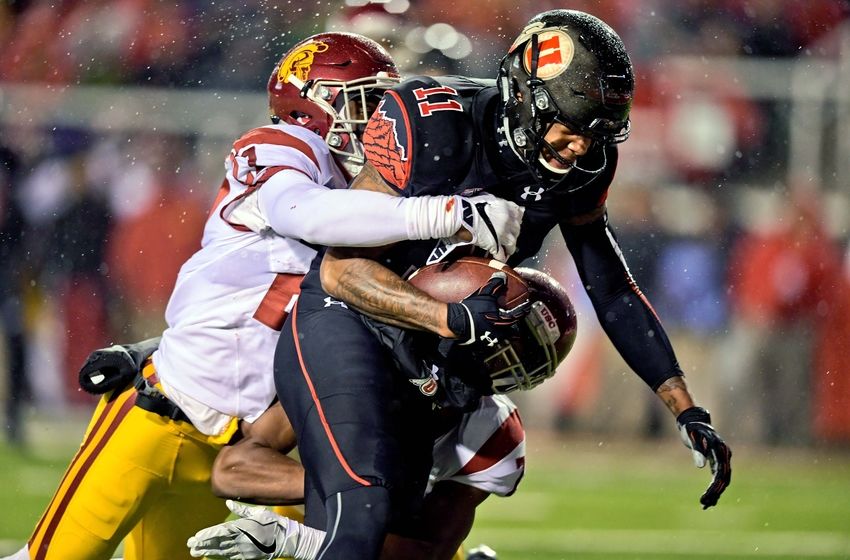 [power_ranking order="10″ city="USC" teamname="Trojans" score="(1-3)" lastweek="L Utah 31-27″ lastrank="9th" teamlogo="usc" league="ncaa"]
The USC Trojans are falling down that slippery slope. They have lost to Alabama, Stanford and now Utah. Those aren't bad teams to lose to, but when you consider they have been outscored 117-88 it takes on a new meaning. With teams not named Idaho State, the Trojans have been outscored 110-43. The Trojans, however, led the whole game and led 24-10 at one point in the third quarter. Unfortunately, a 14-3 fourth quarter led Utah to another win, with the Utes now 4-0 on the season.
Quarterback Sam Darnold played reasonably well. He did not throw for a touchdown but also didn't give up an interception. Darnold finished with 18 for 26 passing and 253 yards. He also rushed for 41 yards and a score.
The running back position was supposed to be owned by Ronald Jones II. However, he was outplayed by Justin Davis. The senior had 126-yards and a touchdown against the Utes, while Jones finished with just 15-yards.
At the wide receiver spot, there should have been more promise there as well. JuJu Smith-Schuster is one of the top receivers in the Pac-12, but in his first three games, he just has not gotten it done. He had one of his better games against Utah as he finished with 98 yards on eight receptions. On the season, he has 19 receptions for 197 yards and two touchdowns. Both those scores came against Utah State.
[nextpost teaser="9. California" slider="true"]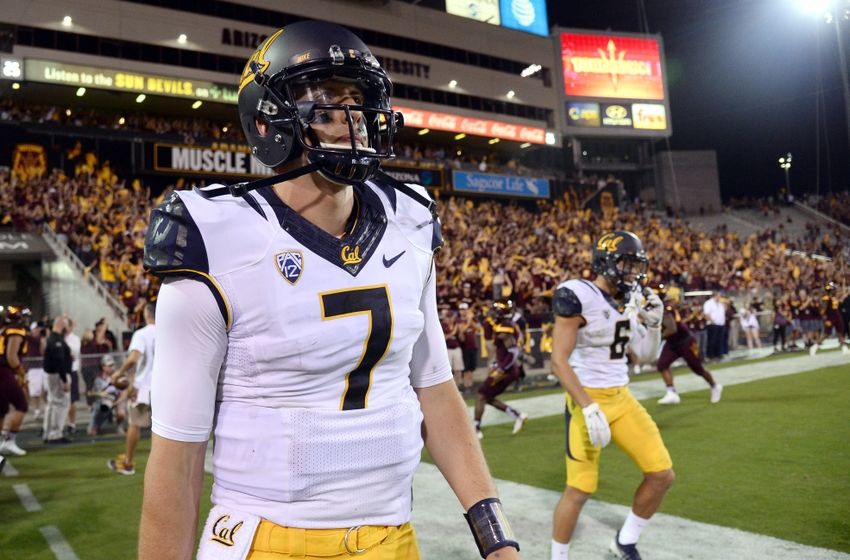 [power_ranking order="9″ city="California" teamname="Golden Bears" score="(2-2)" lastweek="L 51-41 Arizona State" lastrank="8th" teamlogo="cal" league="ncaa"]
Davis Webb has been a tremendous quarterback all season long, but with just over six minutes remaining in the fourth quarter of Saturday's game, he wasn't so great. Davis would go on to throw two interceptions in back-to-back drives after he threw a screen pass to Tre Watson who blazed a 74-yard touchdown which put the Bears up by seven. Both interceptions cost the senior quarterback ten points and a three-point lead that they would never get back again.
Webb finished the night going 32 for 56 and 478 yards with five touchdowns. However, it was his two interceptions that led to the loss. On the season he has 1,837 yards with 18 touchdowns and just five interceptions. He is making a solid case for himself going into the NFL next season.
Cal runs a committee of running backs. Vic Enwere is the primary ball carrier of the three used. Enwere was mostly invisible against Arizona State, but on the season he has 293 yards and two touchdowns and carries a 6.0 yards per carry average. Next up is Khalfani Muhammad (34-212-1). He had most of the yardage leaving the Arizona State game (12-84), but could not find the end zone. Lastly, there is Tre Watson. The junior has 31 carries for 126 yards and no touchdowns.
The wide receiver most responsible for what goes right for Cal is Chad Hansen. One of the better receivers coming out of the Pac-12, he stood tall against Arizona State and caught ten passes for 110 yards and a touchdown. At this point of the season, Hansen has 50 receptions for 656 yards and six touchdowns. The junior has caught ten or more passes in his last four games and has gone over 100 yards each time as well.
[nextpost teaser="8. Arizona" slider="true"]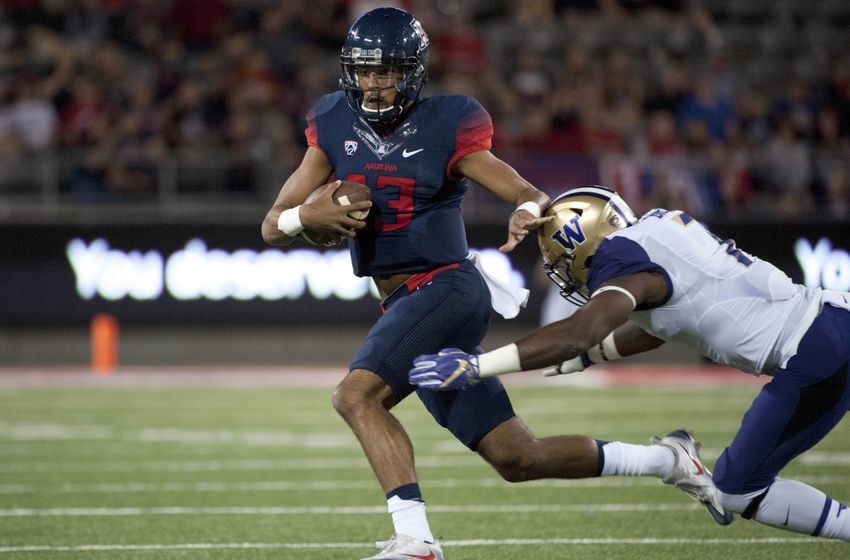 [power_ranking order="8″ city="Arizona" teamname="Wildcats" score="(2-2)" lastweek="L Washington 35-28 overtime" lastrank="7th" teamlogo="arizona" league="ncaa"]
Quarterback Anu Solomon just played one game before he went out with a knee injury and Brandon Dawkins has played the last three contests. He has been good on 61.7 percent of his passes for 625 yards and three touchdowns with only one interception.
Brandon Dawkins and J.J. Taylor have split carries this season. Dawkins with 44 carries and 391 yards and seven touchdowns, while Taylor has 261 yards on 38 carries and two touchdowns. Both players combined for 173 yards and three touchdowns last Saturday against Washington.
Right now there is a crew at wide receiver that show the offense likes to spread the ball around. Shaun Brown, Trey Griffey, Samajie Grant, and Nate Phillips all have around 10-13 receptions, but Brown distancess himself from the group with 213 yards, while Griffey is second with 159. Both Brown and Griffey have one touchdown each.
The Sun Devils put a scare on Washington last week. Washington held onto a seven-point lead most of the game, but Arizona tied it at 28 when Brandon Dawkins hit Josh Kern for a four-yard touchdown. Washington scored a touchdown on their first possession then forced Arizona to go for it on fourth down, which the ball fell incomplete.
[nextpost teaser="7. Oregon" slider="true"]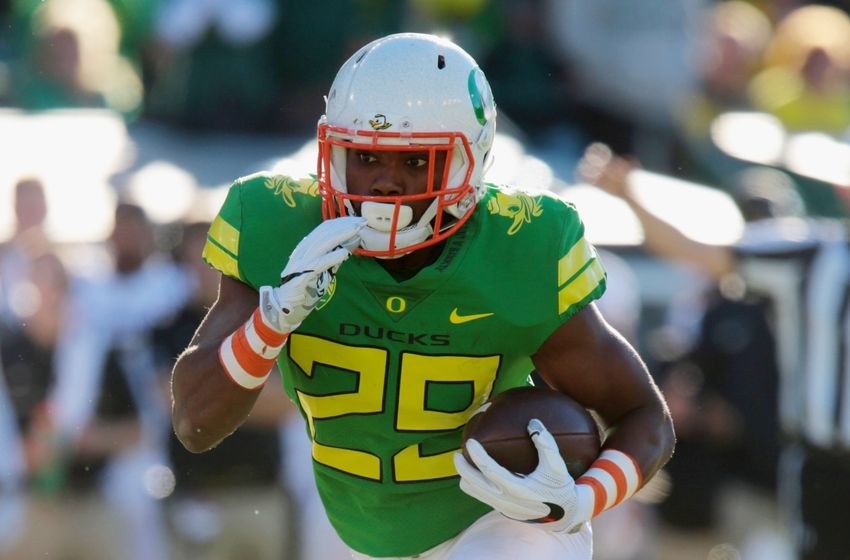 [power_ranking order="7″ city="Oregon" teamname="Ducks" score="(2-2)" lastweek="L Colorado 41-38″ lastrank="4th" teamlogo="oregon" league="ncaa"]
Dakota Prukop has had an excellent start to the season. He has completed 66.7 percent of his passes for 1,041 yards and eight touchdowns with just one interception. That interception came on Saturday against Colorado. Prukop completed 22 of 33 attempts for 293 yards and two touchdowns. His interception came at the wrong time as it ended the game for the Ducks.
Royce Freeman has been out with an injury (leg) and has been replaced by Tony Brooks-James and Kani Benoit. The two backs have split time in Freeman's absence and have rushed for 441 yards on 63 carries to go along with eight touchdowns. Freeman has 325 yards on 37 carries with four touchdowns.
Darren Carrington II and Charles Nelson have been the keys in the passing game. Carrington II has 19 receptions for 280 yards and three touchdowns, and Nelson has supported with 18 receptions for 202 yards. Carrington II scored two touchdowns against Colorado. His first came on a 25-yard reception to pull Oregon within nine points. Carrington II second came on an 18-yard pass that put the Ducks up 38-33 and gave them the lead for the first time in the game.
Oregon will now play against the Washington Cougars in Washington and then take on #10 Washington at home.
[nextpost teaser="6. Colorado" slider="true"]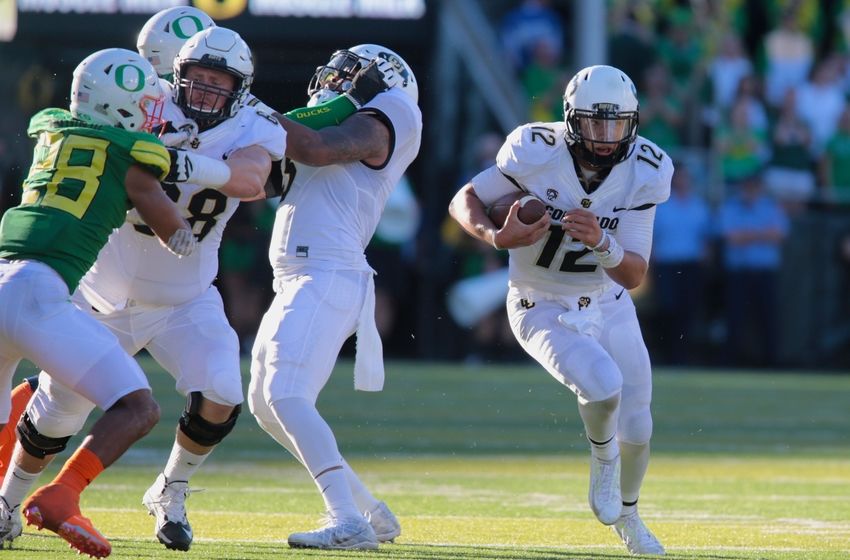 [power_ranking order="6″ city="Colorado" teamname="Buffaloes" score="(3-1)" lastweek="W Oregon 41-38″ lastrank="10th" teamlogo="colorado" league="ncaa"]
Sefo Liufau is the starting quarterback but was out last week with an injury. On the season he has completed an excellent 71.1 percent of his passes (54 for 76) for 768 yards and six touchdowns and has not thrown an interception. Last Saturday, freshman Steven Montez filled in for Liufau and played at a high level. His 450 yards passing and five touchdowns were a highlight of its own, but his 165 rushing and one touchdown showcased his overall talent.
Phillip Lindsay is the primary ball carrier, and Kyle Evans lends support. Lindsay has 54 carries for 248 yards and five touchdowns. Evans has shown fewer carries (37) and rushing yards (171) touchdowns (2) but has played an active role in the offense. Both are average producers but get the job done. They split carries against Oregon as they carried the ball 25 times for 133 yards and one touchdown.
Devin Ross is the primary wide receiver for Colorado. On the season, he has 25 receptions for 355 yards and five touchdowns. Ross played a significant role in defeating Oregon on Saturday. His seven receptions for 153 yards and a touchdown help build a 33-17 lead over the Ducks in the third quarter with just under 13 minutes left to play.
Colorado will now take on Oregon State at home and then travel to Southern California and battle USC.
[nextpost teaser="5. UCLA" slider="true"]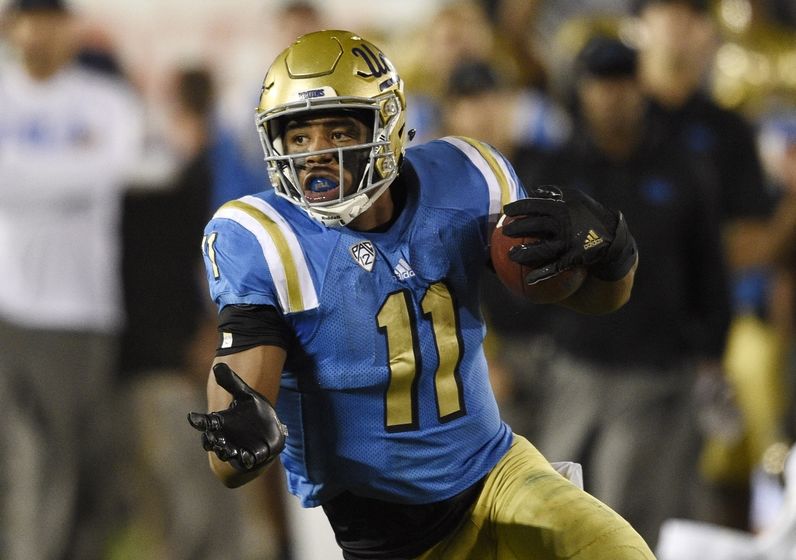 [power_ranking order="5″ city="UCLA" teamname="Bruins" score="(2-2)" lastweek="L Stanford 22-13″ lastrank="5th" teamlogo="ucla" league="ncaa"]
Josh Rosen probably played his best football all season. Unfortunately, it wasn't enough to defeat Stanford. Rosen connected on 18 of his 27 passes (66 percent) for 248 yards and one touchdown. He also added 19 yards on the ground. UCLA took the lead against the Cardinal when Rosen found Nate Lese for a 10-yard touchdown pass to take a 7-3 lead. On the season, Rosen has 1,165 yards passing with five touchdowns and four interceptions.
Soso Jamabo was having a solid season before he went down with an injury. He returned to Stanford and didn't get much action. He split time with both Nate Starks and Bolu Olorunfunmi. The unit rushed 28 times for 92 yards and zero touchdowns. Jamabo on the season 198 yards on 41 carries with three touchdowns.
The offense is spread to several receivers. Darren Andrews, Kenneth Walker III, Eldridge Massington, and Jordan Lasley have combined for 44 receptions for 598 yards and two touchdowns. Interestingly, Iese was the leading receiver against Stanford. He finished the game with five catches for 89-yards and a touchdown.
[nextpost teaser="4. Arizona State" slider="true"]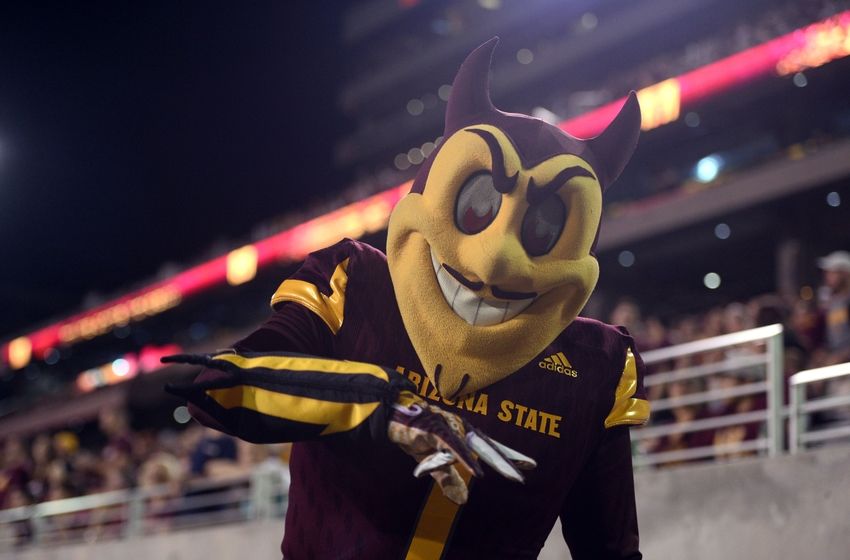 [power_ranking order="4″ city="Arizona State" teamname="Sun Devils" score="(4-0)" lastweek="W California 51-41″ lastrank="4th" teamlogo="arizonastate" league="ncaa"]
Many Wilkins most likely had his best game of the season against California. Wilkins connected on 21 for 30 attempts and 290 yards with one touchdown and one interception. Wilkins was also the full-time running back as he rushed 23 times for 72 yards and three touchdowns. Even though the Sun Devils only had 20 points at the end of the third quarter and down by a touchdown, he drove Arizona State to 24 points in the fourth quarter to win the game.
Demario Richard has been the leading ball carrier, but you can't overlook what Kalen Ballage has done. Richard had 19 carries for 66 yards against Cal. Ballage only carried the ball six times for 22 yards, but Ballage has nine total touchdowns on the season as he scored 8 in one game against Texas Tech. Richard even though is more of the ball carrier only has 3.9 yards per carry and 348 yards on 90 carries, while Ballage has 6.4 yards on average on 43 carries on 277 yards.
Tim White had 21 receptions for 221 yards and no touchdowns on the season and had six receptions for 86 yards with no touchdowns against Cal.
Arizona State will now take on USC on the road and then UCLA at home. The Sun Devils have put themselves in an excellent position to win the Pac-12 South, but they will need to go through Utah, Colorado, and Washington to make it out alive.
[nextpost teaser="3. Utah" slider="true"]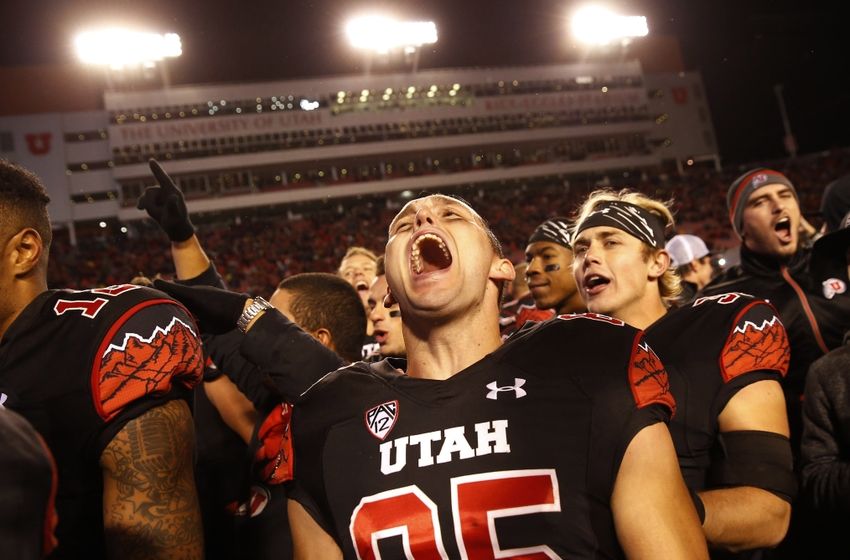 [power_ranking order="3″ city="Utah" teamname="Utes" score="(4-0)" lastweek="W USC 31-27 record" lastrank="3rd" teamlogo="utah" league="ncaa"]
What happens when a quarterback grows up and showcases his skills as a dual-threat quarterback rated No. 1 in the nation? He gets ignored and has to go to another school, but this school just so happened to be Utah. Williams was dominant the whole game and threw 270 yards and two touchdowns while running for another score in the come from behind victory over USC.
Tim Patrick catching an 18-yard touchdown pass at the pylon with 16 seconds remaining to cap a 15-play, 93-yard drive. Patrick had his third 100-yard receiving game of the season. USC was ahead for most of the contest and was leading 27-17 in the fourth quarter. Then Utah turned on the scoring machine by putting up 14 points and holding the Trojans to just three.
Utah wanted to establish the run against USC, a team that ranks 98th against the run in the nation, which opened the door for Williams, but that plan didn't work as well as Utah hoped and had to change their game plan. Even though the Utes had 132 yards on the ground before halftime, they finished with 186 yards total.
Utah will now face Cal at Berkley and then Arizona at home. Utah is in a good spot to win the South but has stiff challenges in #10 Washington at home against Oregon and on the road at Colorado. Then will have to match up against Arizona State and UCLA.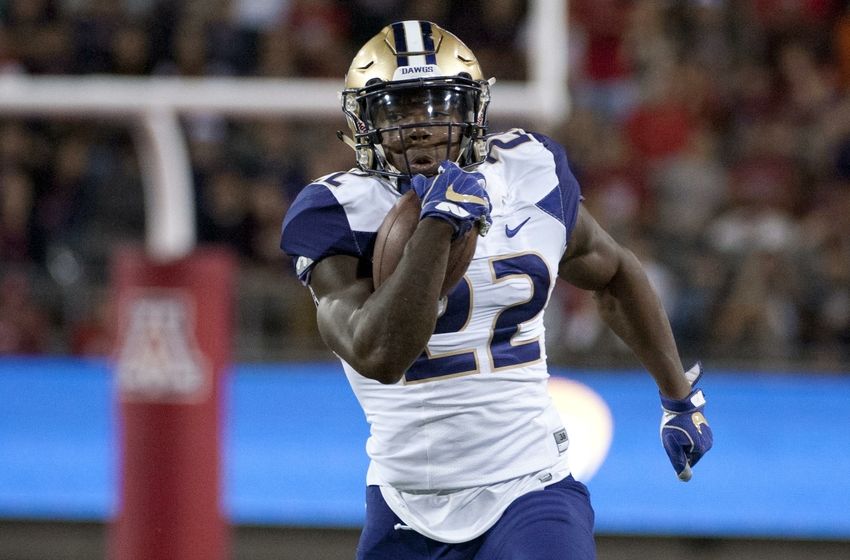 2
Washington
Huskies
(4-0)
Last week:
W Arizona 35-28
Last rank:
2nd
The Washington Huskies had just come off a cake walk of a schedule playing Rutgers, Idaho, and Portland State. As a result, the Arizona Wildcats were the toughest team they faced all season and it showed. The Huskies had to go into overtime to beat Arizona 35-28.
When Jake Browning hit Dante Pettis for a four-yard touchdown and defended their goal to stop Arizona from scoring, it allowed Washington to remain undefeated (4-0). Arizona showed toughness and shocked the Huskies when they were down to their fourth-string running back and the defense couldn't shut down the run game after not allowing a touchdown in their first three games.
Washington also had troubles with mobile quarterback Brandon Dawkins. The sophomore Dawkins was good on 61 percent of his passes and connected on one touchdown and one interception to go along 167 yards. He overwhelmed the Washington defense with his feet. With 13 carries and 176 yards to go along with two touchdowns.
"We can do better than that," Washington coach Chris Petersen said.
It also didn't help that place kicker Cameron Van Wrinkle missed two field goals that were between the forty yard range. He made two of three earlier in game one against Rutgers, so he has the leg. On top of all that Jake Browning threw for just 160 yards two touchdowns and one interception. He was also very accurate as he completed 14 of 21 throws (66 percent).
Myles Gaskin had a difficult time going. Arizona really focused and shut him down. Gaskin rushed for 85-yards on 24 carries (3.54 yards per carry). They didn't count on the Lavon Coleman. The junior dominated with 181 yards on just 11 carries and had one touchdown.
The Huskies finally got battled tested and they somehow passed and got through it. Which translates into playing bad, but finding a way to win the game as good teams do. The negative side is this the real Washington Huskies team? Are they worse than the #10 ranking they have now?
We will get some of those answers when they meet up with undefeated #7 Stanford on Thursday and then travel to Oregon the following week.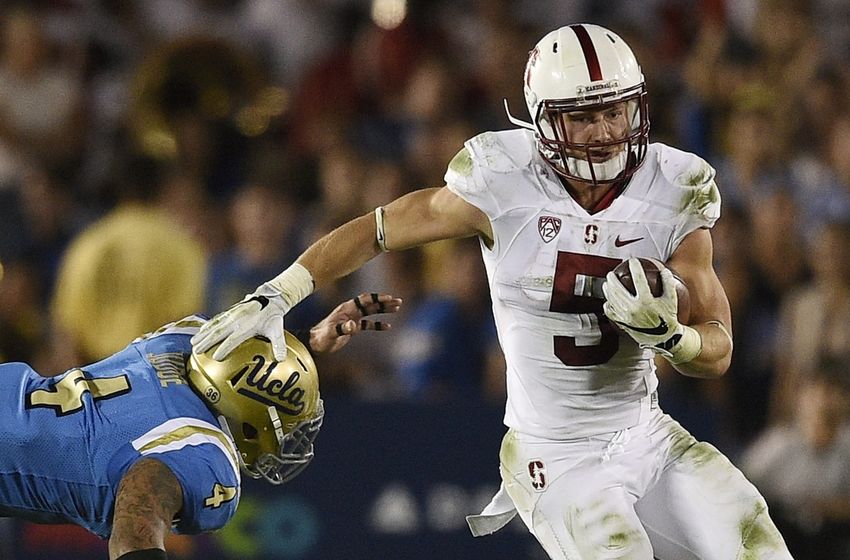 1
Stanford
Cardinal
(4-0)
Last week:
W UCLA 22-13
Last rank:
1st
UCLA figured how to stop Christian McCaffrey for the most of the game. McCaffrey finished with 138 yards on 26 carries and caught only two passes for 13 yards. They also kept most of the offense quiet through three quarters of play. Stanford could only manage six points up to that point and UCLA had a 10-3 lead at one point.
In the fourth quarter, Stanford finally came to life and began to put some points on the board. The first points came via field goal which UCLA responded with a field goal of their for the only points they would score in the final quarter and a 13-9 lead. With just 24 seconds left, the Cardinal finally found the end zone when Ryan Burns connected with JJ Arcega-Whiteside for an eight-yard touchdown. Which put Stanford up 16-13.
The Cardinal capitalized on the last remaining six points when Joey Alfieri sacked Josh Rosen on his blindside and knocked the ball free before he could launch a Hail Mary pass. The ball bounced right to the feet of Solomon Thomas of Stanford and he ran the remaining 42 yards for a touchdown as time expired.
Up to this point the Cardinal quarterback Ryan Burns had not been tested. The offense was left on the shoulders off Christian McCaffrey and few passes by Burns to keep the defense honest. But, when the game went late into the fourth quarter it meant that Burns would be finally relied on to win the game for Stanford.
Starting on their own 30-yard line, Burns began the winning drive with 1:58 remaining in the fourth. The senior signal caller went five for eight for 70-yards and the game-winning points. The Cardinal may now have to rely on him more when they face #10 Washington on the road and then return home to play Washington State.
More from Saturday Blitz
This article originally appeared on