Pac-12 Football: RB Nick Wilson tops Christian McCaffrey in Week 1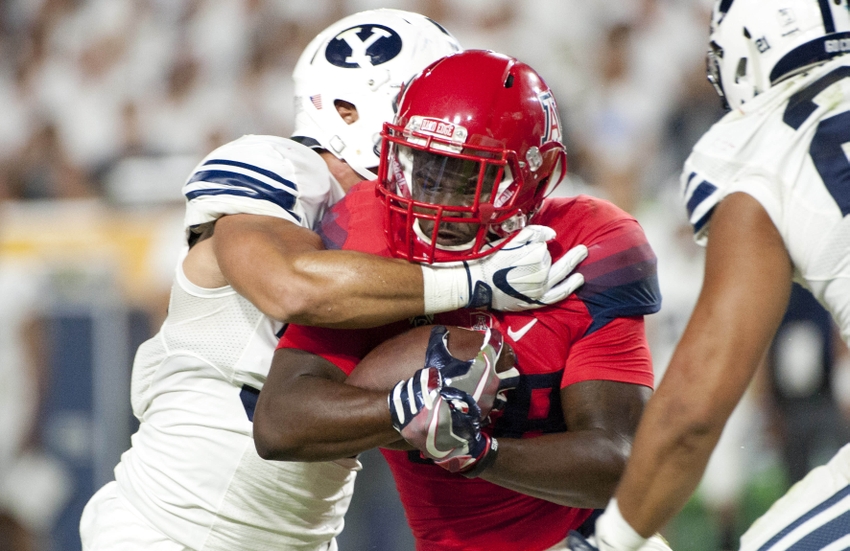 He's baaaaaaaack! Nick Wilson is back in the saddle so to speak, after a fantastic performance against BYU.
It's been a very long drought for Arizona Football, as neither the players or the team had been mentioned in weekly Pac-12 Football press released with any regular frequency, if at all. This week, Nick Wilson's name was the first listed.
That all changed this week. This week, in the first paragraph, the press release stated that Arizona's Nick Wilson was one of two Pac-12 rushing performances in Week 1. Wilson outperformed Heisman trophy nominee Christian McCaffrey out of Standford, so that is something Wilson can be proud of.
The league's top rushing performances in week 1 belong to ARIZONA's Nick Wilson (138 yards vs. BYU) and STANFORD's ChristianMcCaffrey (126 yards vs. Kansas State)
That was the only mention in the release, but it was nice to see. This weekend, Arizona takes on Grambling State. Last season Cal beat the Tigers 73-14.
The bears ran 39 times for 185 yards (Average of 4.7 yards per carry) scoring 4 touchdowns. Cal's senior RB Khalfani Muhammad had the longest against the Tigers with a 42-yard run.
Wilson started his career at Arizona off with a bang! He carried the ball 236 times for 1,375 yards including a Bowl game in his freshman season. The following season, in 2015, his production dropped off about 50 percent, but his career totals ranked in the Arizona Football record books.
According to Arizona's Athletic department, Wilson totaled 2,104 career rushing yards (12th most in program history(, and 24 career rushing touchdowns (seventh-most in school history). After six games that season, Wilson played hurt in three more, never able to be healthy to play for the rest of the season.
Rushing & Receiving Table
Rushing
Receiving
Year
School
Conf
Class
Pos
G
Att
Yds
Avg
TD
Rec
Yds
Avg
TD
*2014
Arizona
Pac-12
FR
RB
13
236
1375
5.8
16
12
90
7.5
1
*2015
Arizona
Pac-12
SO
RB
9
133
736
5.5
8
4
52
13.0
0
2016
Arizona
Pac-12
JR
RB
1
17
138
8.1
2
2
11
5.5
0
Career
Arizona
386
2249
5.8
26
18
153
8.5
1
.
Last weekend against BYU, Arizona RB Nick Wilson silenced critics, he is fully healthy and ready to have a stellar senior season. Without Wilson's two rushing touchdowns, Arizona would not have been in a position to win last Saturday. The team would have won the game save a last second field goal after a timeout stopped the clock.
Canyon Allis from Fox news and others interviewed Wilson this week in preparation for Grambling State:
It's going to get very interesting moving forward as Nick shares snaps with sophomore Orlando Bradford and freshman J.J. Tayor. Let's hope all three make it into the Pac-12 press release after killing it at home against Grambling State. BearDown Nick! Congrats!
This article originally appeared on