OU Football: Sorry, but Big 12 Title Won't Get Sooners Into Playoff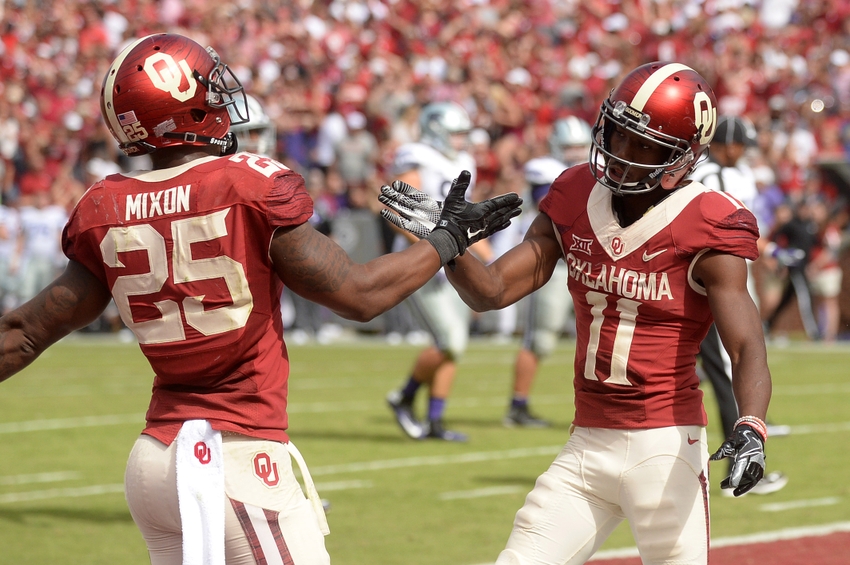 It's time to put all this talk about the Big 12 and OU football, in particular, still having a glimmer of hope of making the College Football Playoff, to bed, once and for all.
All this does is fuel false hope and, more than that, headlines and story angles that are attempting to keep interest in the Big 12 high at a point in the season when most experts both inside and outside of Big 12 country have written off  the conference as the weakest of the Power Five leagues this season.
A couple of reasons that the Sooners have not been totally written off as a Playoff contender is because:
The chaos that has begun to build as the late-season matchups become increasingly important and the conference championship games loom, and
The value that the CFP selection committee places on strength of schedule, particularly the nonconference portion.
Oklahoma is unbeaten in six consecutive games since losing to Ohio State in the third week of the season and has been slowly moving back up in the national rankings as a result.
The Sooners re-entered the top 10, at No. 9 this week, which has sparked speculation that if they are able to continue winning, which would give them a perfect 9-0 conference record and a 10th Big 12 championship, and if utter chaos forces a total shakeup in the nation's top teams over the next three weeks – and if ifs and buts were candy and nuts… – there would still be a sliver of a chance that the Sooners could sneak into college football's Final Four.
You can go on an hold out hope, if you want to, but I'm telling you it will all be to no avail.
I don't mean to sound like a cynic or a killjoy, and I'm not at all down on Oklahoma football. In fact, I'm feeling just the opposite. I couldn't be a bigger fan right now, the way the Sooners have fought off an unusual number of injuries and adversity and a season in which the defense has struggled mightily more times than not.
Oklahoma has brushed aside six Big 12 opponents and has not lost a game in nearly two months and boasts one of the most explosive offenses in the country, averaging 44 points and 558 yards per game. How could anybody not be energized by that?
And the next three games – against Baylor, West Virginia and Oklahoma State, all three ranked in the top 25 this week – will be filled with all the drama you could expect in a season ending trifecta.
After suffering devastating defeats in two of it first three games, against teams that at the time were both ranked among the top 15 in the country, the best Oklahoma could hope for was a 10-win regular season, something Bob Stoops' teams have done 13 times in 17 seasons. That in itself would require going through a very competitive, nine-game Big 12 schedule without a loss.
The Sooners are now six games into that journey without a blemish, but the hardest part of the journey is straight ahead. I believe OU is a lock to come out on top in at least two of its final three games and a better than 50-50 bet of completing the hat trick.
That would constitute a fantastic finish in a season in which most anyone with an authoritative voice in college football believed the Sooners would lose at least once in the conference if not twice, even when they were ranked No. 3 in the preseason.
Unfortunately, even a nine-game win streak to end the season (which, incidentally, would give the Sooners 16 consecutive wins in the conference) will be too little, too late as far as the 2016 College Football Playoff is concerned. The reason being: OU's nonconference schedule, which is the only thing that would weigh in the Sooners' favor in the eyes of the Playoff selection committee is also the factor that will keep them on the outside looking in when the final Playoff rankings are revealed on Selection Sunday.
High fives to the Sooners for playing a strong nonconference schedule when so many teams choose to stack the front end of their seasons against opponents of inferior ability in an effort to pick off three or four easy wins before beginning their more competitive conference schedules.
Had Oklahoma not been beaten by both Houston and Ohio State in such dominating fashion, we might be having a different conversation right now. Given, however, that the outcome wasn't really close in either game, makes it hugely difficult, if not impossible, to consider the Sooners one of the top four teams in the country.
Even with a 9-0 record and a conference championship (although without a 13th game to further validate the title) to finish off the regular season, a team with a highly subpar defense – by elite standards, anyway – that has to rely on outscoring its opponents to win games has no business being matched up against teams like Alabama or Clemson in a championship playoff.
We've already seen how the Sooners fared against Clemson the past two bowl seasons, and Oklahoma's defense was much stronger in its Big 12 championship season a year ago.
As I have been beating the drum for several weeks now, so what if Oklahoma is not going to achieve its ultimate preseason goal of playing for the national championship. All is hardly lost in 2016.
Win the Big 12 championship, and the Sooners will be guaranteed a spot in the Sugar Bowl, one of the prime postseason bowl assignments. Assuming Alabama continues on and takes one of the four College Football Playoff spots, a Big 12 champion Oklahoma team would be matched up with the second best team in the SEC, assuming that two SEC teams don't make it into the Playoff.
Tell me that doesn't qualify as a primetime bowl matchup and an opportunity for the Sooners to make good on their poor showing to begin the season.
The Sugar Bowl is certainly realistic and reachable outcome for the Sooners this season, and clearly a pretty nice consolation prize, but even that depends on Oklahoma continuing to win, something that rightfully has a number of Sooner fans cautiously optimistic.
More from Stormin in Norman
This article originally appeared on