OU Football: Notable Numbers From a Sooner Statement Saturday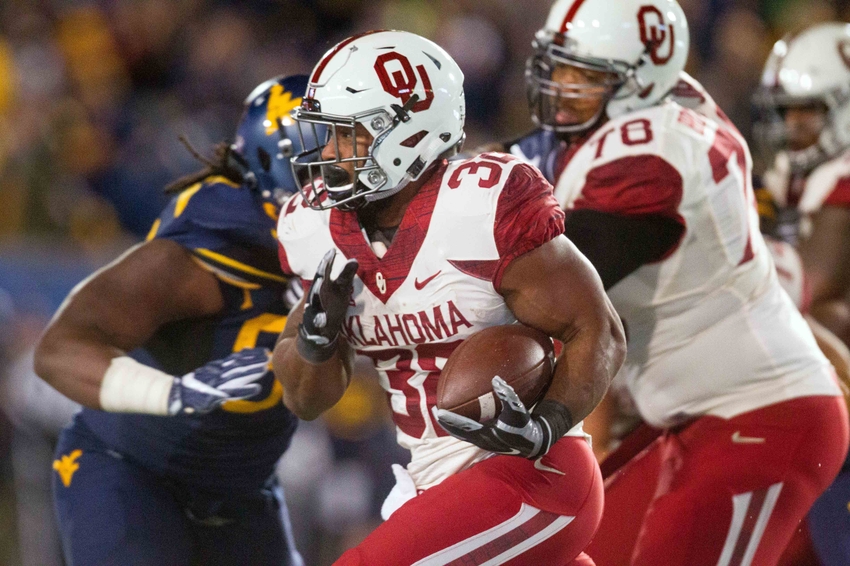 If all you saw was the final score, it would be easy to jump to the conclusion that Sooner quarterback Baker Mayfield had another banner night in leading his team to its eighth conference win without a loss and just a single victory away from a 10th Big 12 championship for OU football.
Given the wintry conditions – cold, snow, wind – on Saturday night in Morgantown, W.Va., you wouldn't have imagined that nearly 100 points and 1,000 yards of total offense would be produced. But then, we're talking about the Big 12, where offensive firepower rules the weekends and defenses take a far back seat.
The Sooners put up 56 points – 34 before halftime – but also gave up 579 yards of offense to West Virginia in the process.
Head coach Bob Stoops called it a game that played out in three distinct parts: a beginning in which the Sooners' shined, largely because of West Virginia's self destruction; a middle part in which the Mountaineers scored 21 unanswered points and made the game interesting; and Oklahoma scoring two fourth-quarter touchdowns to put the game on ice (no pun, intended).
Here are a dozen notable numbers that help tell the story of the game and the season for Stoops and the Sooners:
4 – Baker Mayfield had two rushing touchdowns and two rushing TDs vs. West Virginia. The Sooner quarterback has accounted for at least four touchdowns in nine of Oklahoma's 11 games this season.
5 – Oklahoma is 5-0 against West Virginia since the Mountaineers became members of the Big 12, and 3-0 in games played at West Virginia during that span.
15 – The win at West Virginia was Oklahoma's 15th consecutive victory over a Big 12 opponent and 10th consecutive Big 12 road win, the longest streak in OU history and the second longest in Big 12 history.
15 – Season-low number of passes thrown by Baker Mayfield in the win over West Virginia. Mayfield had been averaging 30 pass attempts per game in his 10 previous games this season.
20. 2 – Average points allowed by West Virginia before Oklahoma's 56 points on Saturday. The Sooners scored 21 points in the first quarter on Saturday night.
22 – Number of 1,000-yard rushers in OU football history. Joe Mixon joined that club on Saturday night with 147 yards on the ground.
30 – Oklahoma has scored at least 30 points in 16 consecutive true road games. The next closest to that among Big 12 teams is Oklahoma State with a streak of three games.
75 – Dede Westbrook caught only two passes against West Virginia, but one of them was for a 75-yard touchdown, his 15th TD catch of the season, tying him with Ryan Broyles for the most in a single season.
100 – Samaje Perine and Joe Mixon have each gone over 100 yards rushing in the last two games.
316 – Rushing yards by Oklahoma in the win at West Virginia. That is the most yardage given up on the ground by the Mountaineers this season. Before Saturday, the Mountaineers had been allowing just 156 rushing yards per game.
3,797 – Career rushing yards for Samaje Perine. His 160 rushing yards against West Virginia was enough to move him ahead of DeMarco Murray into sixth place on the OU career rushing list. He is 311 yards behind Billy Sims, Oklahoma's career rushing leader (4,118).
57,645 – Reported paid attendance at Saturday night's game at West Virginia. Less than half of that number was on hand through the second half.
More from Stormin in Norman
This article originally appeared on