Oregon Football: Is Phil Knight Pushing For A Coaching Change For The Ducks?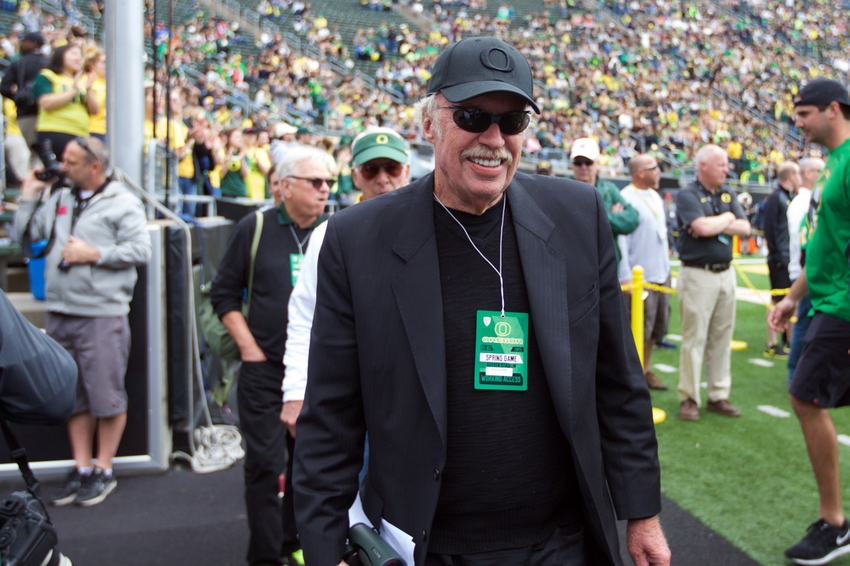 Oregon Ducks Benefactor Phil Knight has spoken and he believes it may be time for a Coaching Change.
The Oregon Ducks may not be competing in a Bowl Game this season. It is a far cry from where they were just two seasons ago. The Ducks have lost six of their last seven games with what was a Heisman Candidate at Running Back, but the team is in a rebuilding year, and a Defensive year that has players playing out of position in the new 4-3 Defensive Scheme. According to one member of the media, the above may not be enough to save the Coaching Staff.
ESPN Business Reporter Darren Rovell sent out a tweet before halftime on Saturday when the Oregon Ducks were flailing against USC that could spell out the future of the Oregon Coaching Staff and it's not good. Rovell does his homework and his sources are reliable.
There's talk heating up in Oregon that Phil Knight is ready to throw insane $10M+ a year money at a football coach. He's 78, wants a title.

— Darren Rovell (@darrenrovell) November 5, 2016
Patience with the current situation at Oregon may be up with Phil Knight. He has even spent time with Chip Kelly in recent weeks and according to Rovell is set to make someone very happy and very well paid to come in and 'fix' the Ducks. Honestly, with the switch to the 4-3 Defense it is recruiting that will make the biggest difference, but the double-edged sword is that Oregon has already lost it's luster. The team is reeling and signing a big name Coach may be the only thing to save the Ducks even though it may take a few seasons for the team to return as a Contender in the Pac-12.
Oregon needs to win their final three games of the year to become Bowl Eligible. After the game against USC I'm not sure three wins are in the cards for this team the rest of the way. The talent is definitely there as is the will to win, but the rest of the Pac-12 has caught up to the Oregon Ducks. The team needs to find a way to innovate. We have been patient with Helfrich and how he has held this team together this season. I don't know if the team can do enough the last month of the season to save his job.
One game at a time. It starts with Stanford on Saturday at Autzen Stadium. Kickoff is set for 1pm Pacific Time on Pac-12 Network.
This article originally appeared on