Oregon Football: 5 Potential Defensive Coordinator Candidates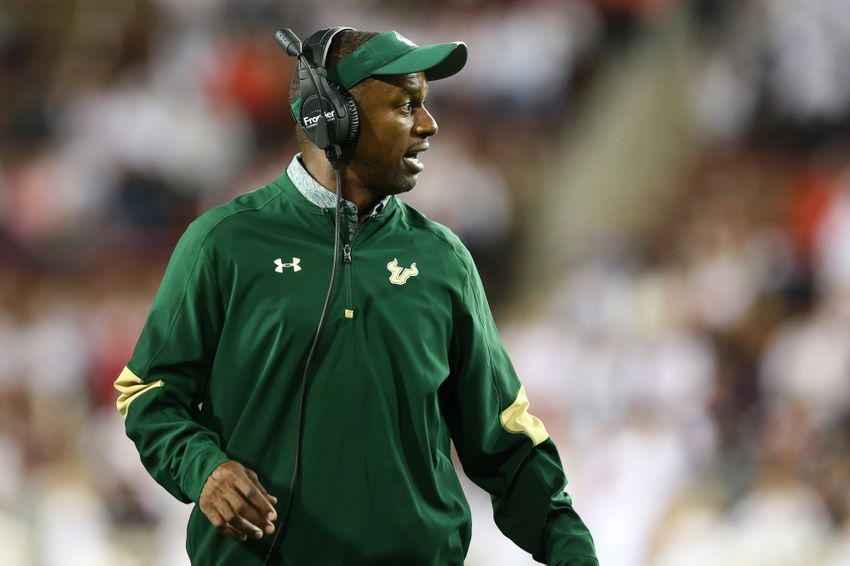 With the Oregon Football hire of Willie Taggart official, we wanted to look at 5 potential candidates for Defensive Coordinator.
Well they did it. After what seemed like a lifetime of secret meetings and will-they-wont-they, the Oregon Duck's finally hired a new football coach. What home run hire did the Duck's land after firing their previous 37-16 head coach? Chip Kelly in his triumphant return? Jon Gruden? Dan Mullen? The ghost of Bear Bryant? (hey, a friend of a friend said his ethereal form may be looking for a way back to the corporeal world) Nope. Willie Taggart. Who?
Yes, while the hire of USF's Willie Taggart, who has a 40-45 career coaching record, may not carry the name recognition or national heft that Duck fans were hoping for, the hire has been met with near unanimous praise from those in the know. Including the likes of Tony Dungy and John Harbaugh.
Taggart has been praised as a fiery leader who knows how to motivate kids, as someone who has turned dying programs around and as a bit of an offensive guru. One thing he's not known for, however, is that very same problem that has plagued Oregon for years. The thing that most directly contributed to Mark Helfrich's dismissal, defense.
This last year at USF, Taggart's defense ranked near the bottom. 120th out of 128 to be exact. 6 spots better than Oregon Football. Now that the head coach has been hired it's imperative that the Ducks get the defensive side of the ball sorted out. So here are 5 potential candidates for Willie Taggart's Defensive Coordinator
1. Charlie Strong
A long shot candidate but one whose name has creeped into conversations at this early hour of the Taggart hire. Strong's name was first mentioned on Twitter by Luther Campbell, he of 2 Live Crew fame.
@thatsean don't be surprised Charlie ends up in Oregon as the DC

— LUTHER R CAMPBELL (@unclelukereal1) December 7, 2016
Why Uncle Luke would have any insight into Charlie Strong's coaching wishes is unkown. But the possibility is certainly an exciting one. While Strong flamed out as head coach at Texas he's always been known as a fierce motivator and someone who the players will rally around.2
2. Brady Hoke
Brady Hoke is in an awkward position. A former head coach at a big time program, fired then took a year off only to gamble by coming to Oregon last season as the DC. While many had hope that Hoke could turn Oregon's dismal defense around, or at the very least inject some life into it, the results were atrocious. Hoke came in seemingly unprepared for the task at hand and tried to run a defensive scheme he simply didn't have the personnel for. In the end Oregon's defense was worse than ever, often occupying the very last spot on defensive rankings. Nothing has really been said about what Hoke's future may look like since Helfrich's firing. While most assume that the long tenured staff of assistants at Oregon will also be looking for new jobs, Hoke was never part of that group. And though his first season was an unmitigated disaster the new coach and maybe the AD's office will want to keep him around to see if the flashes of less than awfulness that Oregon's D showed at times can turn into something good.
3. Justin Wilcox
This time last year Duck fans were ready to revolt should Justin Wilcox be named DC. Wilcox's history and ties to Oregon are well known leaving many to assume that sooner or later he will end up as a coach on Oregon's staff. And while he's defenses at Washington and USC were never great, and never able to stop the Ducks, he seems to have things completely turned around at Wisconsin. His Wisconsin defense is playing with all kinds of passion, energy and sound fundamentals and finished the season as the 4th ranked defense in the country. Hindsight is, of course, 20-20 but it's fair to say that if given the chance to go back and trade Hoke for Wilcox there isn't a single Duck fan that wouldn't jump at the chance.
4. Tom Allen
Allen was USF's defensive coordinator until leaving to take the same job with Indiana at the beginning of this season. Allen was able to make progress on the defensive side at the ball while at USF including coaching the group to a plus-10 turnover margin. At USF Allen ran a 4-2-5 scheme that relied on his players speed and athleticism. A system like that would, in theory, work great at Oregon were defensive personnel can trend more towards smaller quick players. And as we saw with Hoke, trying to shoe horn players into a system not designed around them has little chance of success. But Allen just left USF for the Illinois job and whether Taggart tries to coax him away to Oregon remains to be seen.
5. Tony Dungy
Pipedream alert. Dungy has connections to both Oregon and USF. His son Eric played for the Ducks for 3 years before transferring to USF for his final season. And Tony was a big proponent of Taggart and was reported to be pushing Oregon brass hard to hire him. Dungy is of course a Super Bowl winning and Hall of Fame head coach whose is famed for his defensive prowess, in particular his Tampa-2 defense that he installed in Indianapolis. If Dungy were ever looking to leave retirement, joining on as Oregon's DC and helping ensure Taggart is successful would be the perfect way to do it.
Of course this list is incomplete with other possibilities. What is known is Oregon needs help on the Defensive side of the ball. Whomever Taggert tabs as a Defensive Coordinator will be key to his time as Head Coach. We already know that a high octane Offense can only get you so far.
Willie Taggert will be officially introduced as Oregon Ducks Head Coach on Thursday.
This article originally appeared on